These free kindergarten writing worksheets will help your beginning kindergarten and first grade writers practice writing.
Download these kindergarten writing worksheets for your kindergarten or first grade classroom.
Use these pages when you are looking for printable writing activities for your students.
This is another free resource for teachers and families from The Curriculum Corner.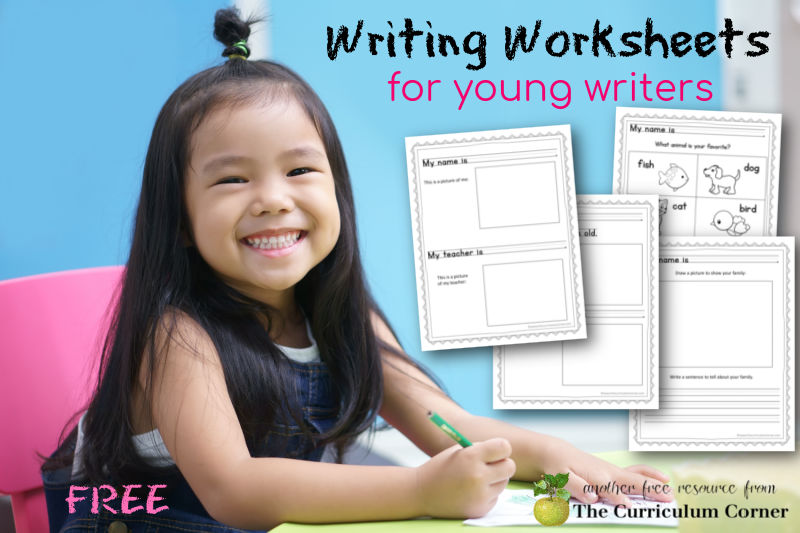 Working with Young Writers
As you begin working with young writers, often the best approach is to simply encourage them to write.
Give your students blank books for writing workshop. Help your students see that they can be authors.
Developing writers might tell stories with pictures. Or, they might add a few known words.
They can start with words of family members. They might find known words around the classroom.
Encourage your students to also begin exploring spelling. It is not necessary for them to spell words correctly – they will begin by using a letter or two and expand the spelling using phonetic patterns they are learning.
Beyond sharing the blank books with students, some also find it fun to be supplied with a variety of writing utensils. They might use colored pencils or markers.
One of your main goals it to help your students see that writing can be fun. You are working to install a love of writing while they are young.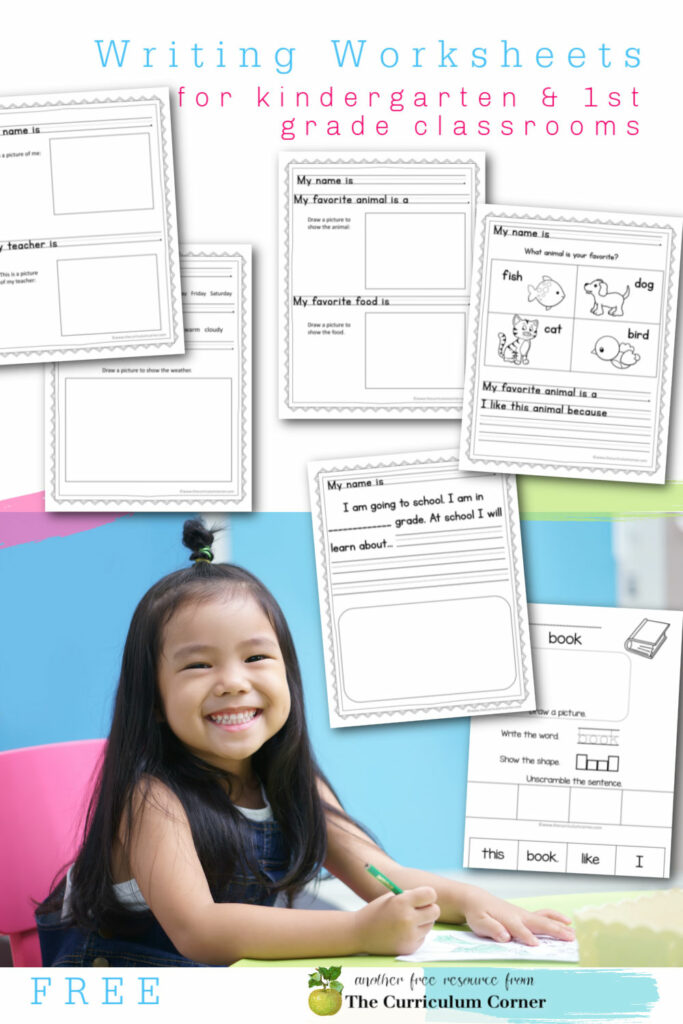 About these kindergarten writing worksheets
These pages have been created with kindergarten and first grade classrooms in mind. Of course, this is always dependent on your students.
This download of ten pages will give your students a little guidance as they are working on writing basic sentences.
Also, children will practice answering questions and sharing information through their writing.
Some children might work on these pages indepdently.
Others might benefit from a word bank you create with a small group.
You know your students best so provide the supports you feel will help them be successful.
You can download this free set of pages here:
As with all of our resources, The Curriculum Corner creates these for free classroom use. Our products may not be sold. You may print and copy for your personal classroom use. These are also great for home school families!
You may not modify and resell in any form. Please let us know if you have any questions.