Use these summer word puzzles to create an ocean themed literacy center for your young readers.
We have created these free summer word puzzles to help your readers work on building words.
Use this printable set to create a fun set for your next literacy center.
This is another free resource for teachers and homeschool families from The Curriculum Corner.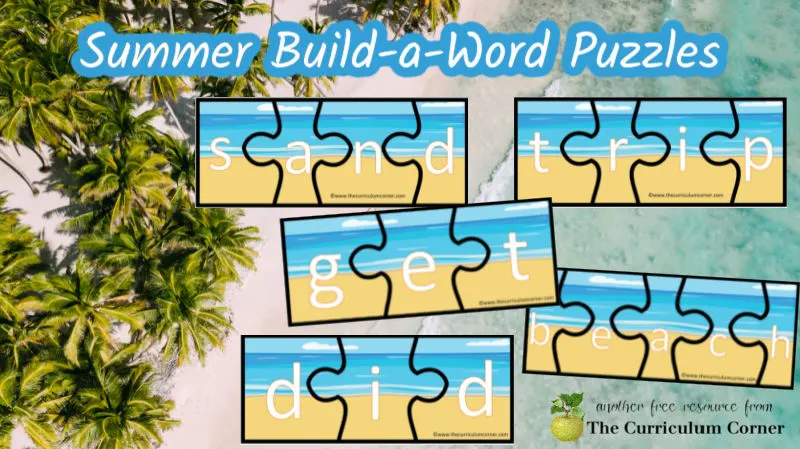 A fun summer focus
An ocean theme can make for a fun focus any time during the school year. Or, choose an ocean theme for your classroom décor.
Either way, these beach themed puzzles will help you create a fun literacy center for your students.
We have mixed some summer words with some sight words.
Each word has letters on different pieces of a word puzzle. There are 45 word puzzles (fifteen each of three letter words, four letter words and five letter words).
There is also a list of the 45 words provided and then each word on a separate card.
In case you want to build your own word puzzles, we have also provided a page of blank beach templates that you can write on.
(If you want to reuse these, you can laminate them first and write on them with a Vis-a-Vis marker.)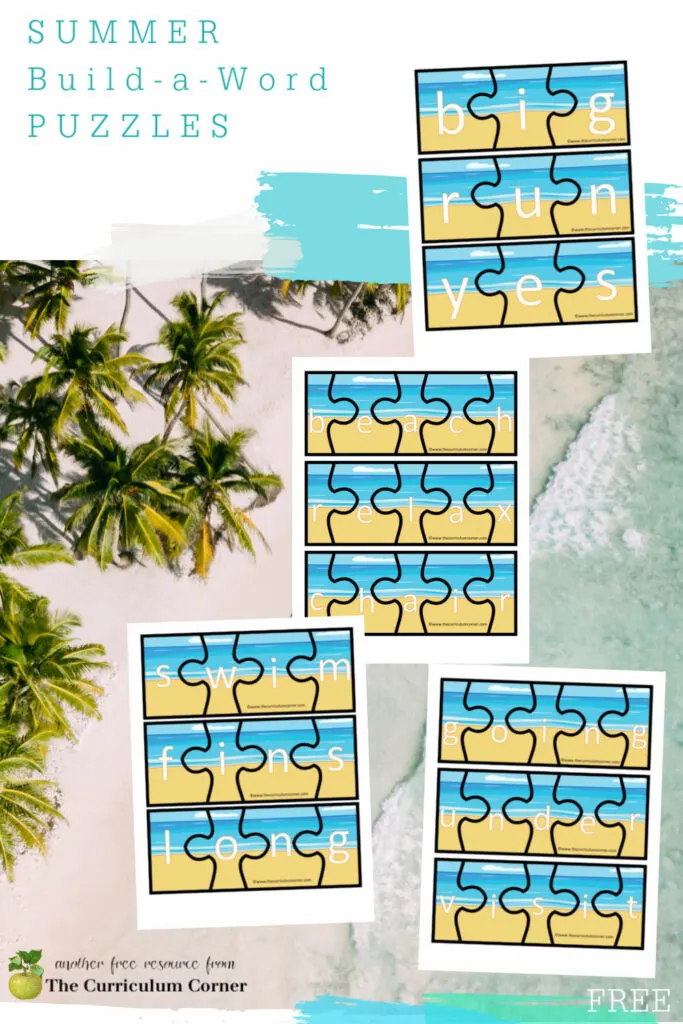 Creating your summer word puzzles
Begin by printing these pages on heavy white card stock.
Next, laminate the pages for durability.
Finally, cut apart the pieces.
For help keeping the words sorted, try marking each puzzle before cutting apart. You can color coordinate the pieces by putting a colored dot on each corner of the pieces. This will make for easier sorting when the words get mixed up.
If you have students who are still needing practice with building words from sounds these build-a-word puzzles might be a good fit.
Here are a few ways you might use these cards:
Put each word in its own baggie with the corresponding word attached (or written) on the front. Students pull out the pieces and simply build the word and then read it aloud.
Give students the set of letters for a word and then read the word aloud to them. Have them use the letters in front of them to build the word you said aloud.
Put all the words in individual baggies at a learning center. Then print the entire word list and laminate it for the station. Students open a baggie of letters, determine which word can be built from the letters and then put the word puzzle together.
You can download these free puzzle pieces here:
As with all of our resources, The Curriculum Corner creates these for free classroom use. Our products may not be sold. You may print and copy for your personal classroom use. These are also great for home school families!
You may not modify and resell in any form. Please let us know if you have any questions.