This set of rhyming word task cards can be a great way for students to practice producing and writing rhyming words.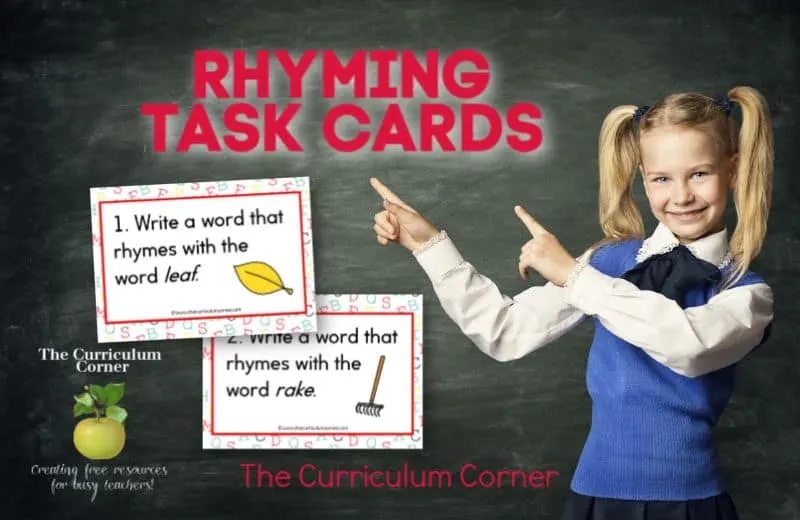 This is another free resource for teachers from The Curriculum Corner.
This set of rhyming word task cards gives your students practice with thinking of, saying and writing rhyming words. Pictures on the cards give clues to the words they are supposed to rhyme.
Task cards can be used in many ways – as center work, as exit tickets or even in small guided groups for practice and discussion. Another fun way to use them is as a Scoot game, where students literally "scoot" around the room writing the answers to the cards they see.
To use these task cards as a Scoot game, print and laminate the cards and copy a recording page for each student.
Ways To Use Our Write a Rhyming Word Task Cards
As a Scoot Game
First you need to determine if your students are ready for a little independence and responsibility as they will be "scooting" around the room to complete the tasks on each card.
If your students are at the point where they are ready to tackle some self monitoring, place all the cards at various locations in the room. This can be at student seats, on the floor, stuck to walls and even at the teacher's desk.
Next, tell students to find and walk to a card anywhere in the room.
They will begin the activity by writing on their Scoot recording page at the same number of the card where they are standing. (So if they walk to card #14, they will write their answer for that task in box #14.)
Students move from card to card at your signal (or other sound) writing rhymes for the words they read.
The activity continues until students have traveled to each of the cards.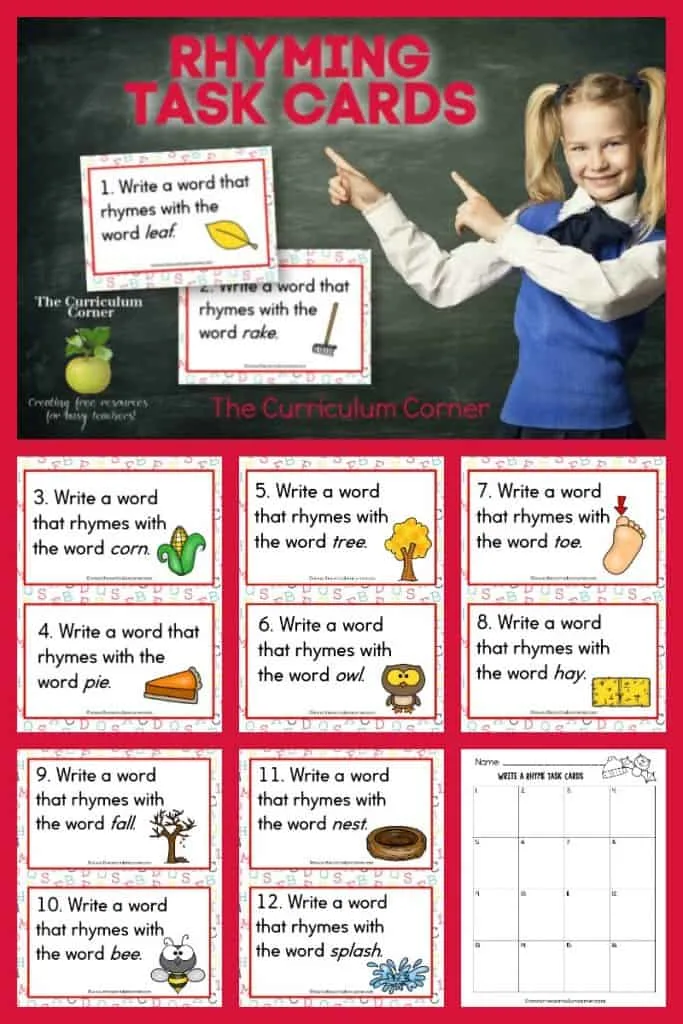 Some things to consider…
All of the rhyming word task cards have the same sentence (minus the words they are to rhyme.). If you are concerned your students will not be able to read the sentence, then we suggest you practice a few with the entire class so they will know the sentence and can focus on the task of writing rhyming words.
You may want to plan out a direction and path of the cards in numerical order before beginning, to help with the traffic flow in your room during the activity.
Depending on your students, you might also simply have them walk randomly to new spots when they hear the sound.
You don't have to use all the cards. You can use only the number of students in your classroom, but we have found that having a few extra helps with the flow of the scoot game.
You may wish to pair students to do the activity and challenge them to work together and write two rhyming words for each card.
You can make this activity a little less structured by letting students move to new cards (not in any specific order) as they are finished with the task at hand and not to a designated sound or signal from you. To do this be sure they understand WHERE to write answers on the recording sheet (corresponding to the number on each task card). Also be sure to place MORE cards around the room than you have students so they aren't waiting for task card spaces to free up.
If you would like to use only specific cards as task cards, we have also provided a separate recording page which is not numbered. You can use this page to assign specific numbers of tasks or even specific card numbers to particular students.
We have also provided a download that does not contain the background if you would like to conserve color printer ink.
You will find our set of Write a Rhyming Word task cards and the recording pages described above here:
You might also like:
Thanks to EduClips for the perfect clip art!