Focus on word work with this collection of free, printable fluency activities perfect for centers or small group work.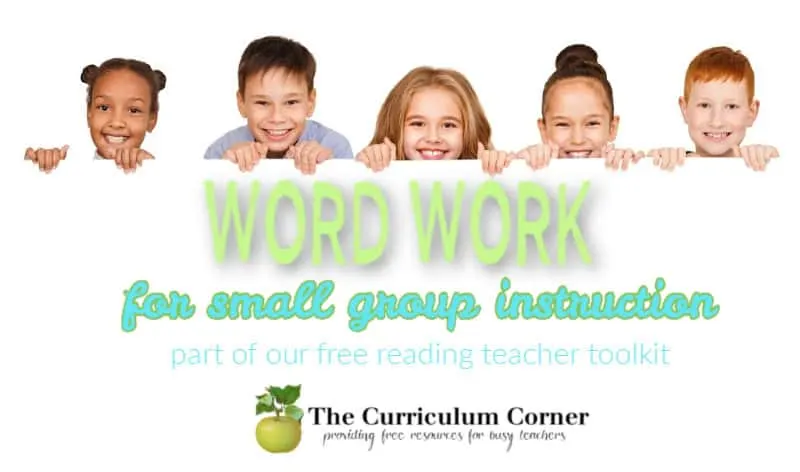 This is another free resource for teachers from The Curriculum Corner.
These word work practice activities are a part of The Curriculum Corner's Small Group Reading Instruction Toolkit.
Word work instruction can be an important part of the time spent with your small groups. For those students learning to decode words and build mastery of sight words, this is a piece of your time together that is very valuable.
Here we have created some go-to activities for quick and easy word work practice during your small group instruction. Print all of the activities and have them at the ready for your students who need them.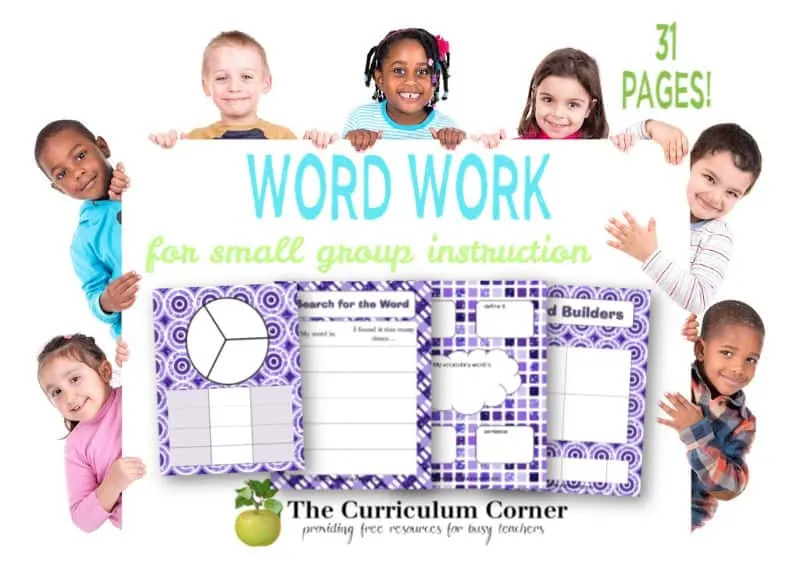 What is word work?
If you are just beginning to learn about teaching and common practices, it is good to begin with an understanding of the common parts of the day.
Word work encompasses many skills – how it will look in your classroom will depend on the needs of your students.
Word work can involve phonics, patterns, spelling and even word meanings. This time is not only for younger grades – a word work study in the upper grades can help students develop vocabulary skills.
This time in the classroom should be hands on exploration. Try using letter tiles or word cards.
We like to avoid having students simply complete worksheets. However, a quick pencil and paper check every once in awhile can be used as a part of your data collection.
Why should I focus on word work?
Word work is an important part of your small group instruction.
Because your small groups are designed to meet students where they are, this word work time is not just good for your students just learning to read. It also can benefit your stronger readers who would benefit from enrichment vocabulary activities.
This small group time is the perfect time to give your students word work practice that is specific to where they are as readers.

You will find your word work practice activities at the bottom of this post. Look for: Word Work for Small Groups.
This collection will provide you with word work activities for small group instruction. You will find a set of ready to go printables along with a small selection of editable activities.
We always try to implement a short word work lesson during our small group instruction in reading. It can sometimes be difficult to create new resources each week. With many different levels of groups and a variety of books, we know it's a challenge.
How these word work activities will help:
We have created these resources to be printed, laminated and at-the-ready for each of your small groups.
You will be able to add words that are suited to your group of learners, individual students and/or the focus of the lesson.
We suggest you prepare them all at once. Then, gather other needed supplies (such as chips, dry erase or Vis-a-vis markers, and/or eraser socks). Store them all in an organizer of some type near where you conduct your small groups.
Add our resources below to your current word work activities!

The first group is non-editable collection of PDFs. (There are both color and black & white versions available.)
The second group is editable so that you can tailor specific pieces to your class and students. (Black and white versions of these are also included.)
Resources within the Non-Editable Collection:
Sound Boxes
We read about sound boxes in Marie Clay's work and used them in our small groups. (You may have heard of them as Elkonin sound boxes.)
We have provided two, three, four and five letter templates.
Simply choose the one that fits the word a student is working on and grab chips for them to use. (If you aren't familiar with these, there are several tutorials on YouTube.)
Building Words: Onset / Rime Mats
For these mats you can quickly write a rime for each student in the center cloud.
Students will then create other real words with the same rime by adding different onsets.
Guess the Covered Word
This is a set of nine simple sentences about reading you can use to teach or reinforce reading strategies early in the school year.
Choose a word to cover with a small piece of a Post-it note. (Cut it so that it covers only the word and so that you can uncover the first letter or letters for the initial sound in the word.)
Students read the sentence (perhaps with guidance if needed) and then use context clues to guess what the word might be.
Ask them to think "What makes sense?"
After students brainstorm some words that would work in the sentence, you uncover the initial sound.
They then think of their list of possibilities and reevaluate what the word might be.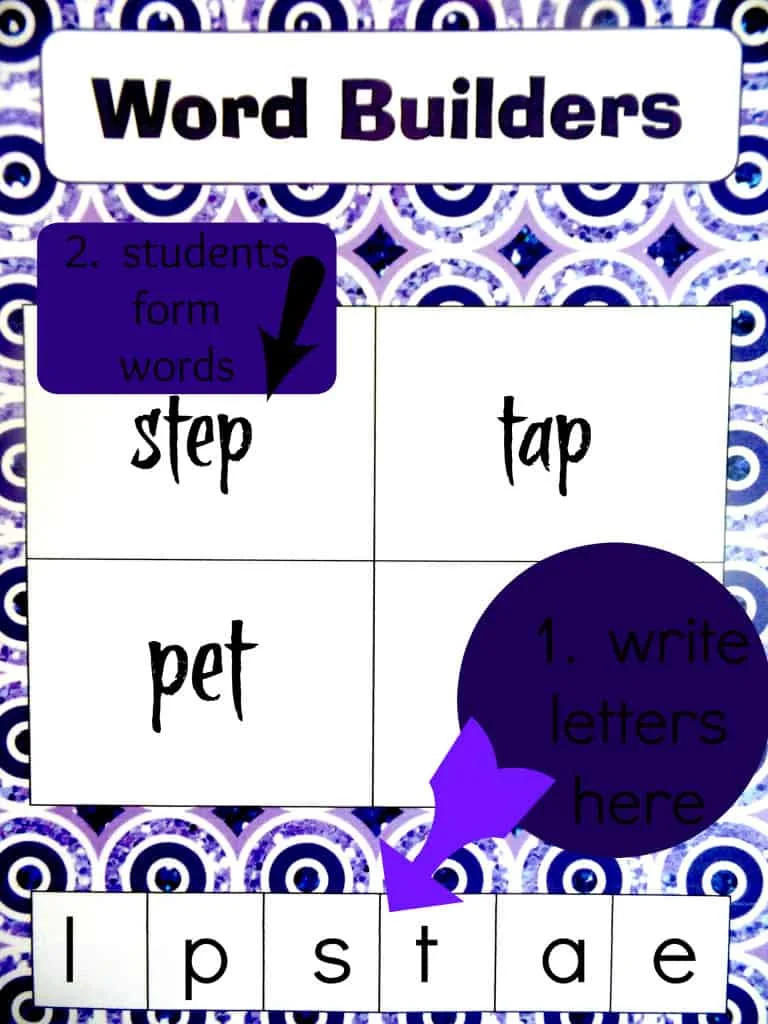 Word Builders
There are three work mats you can choose from.
Write letters in the boxes at the bottom. You may want to think of a word with the designated number of letters and then scramble them. This will create a "mystery" word using all the letters that students can figure out. Or, you may choose specific letters that fit the specific needs and abilities of your students.
They will think of smaller words that they can make with the letters in the bottom boxes and write them in the top boxes.
For more concrete or tactile learners, provide magnetic letters in the boxes so that they can maneuver them to determine words they can spell.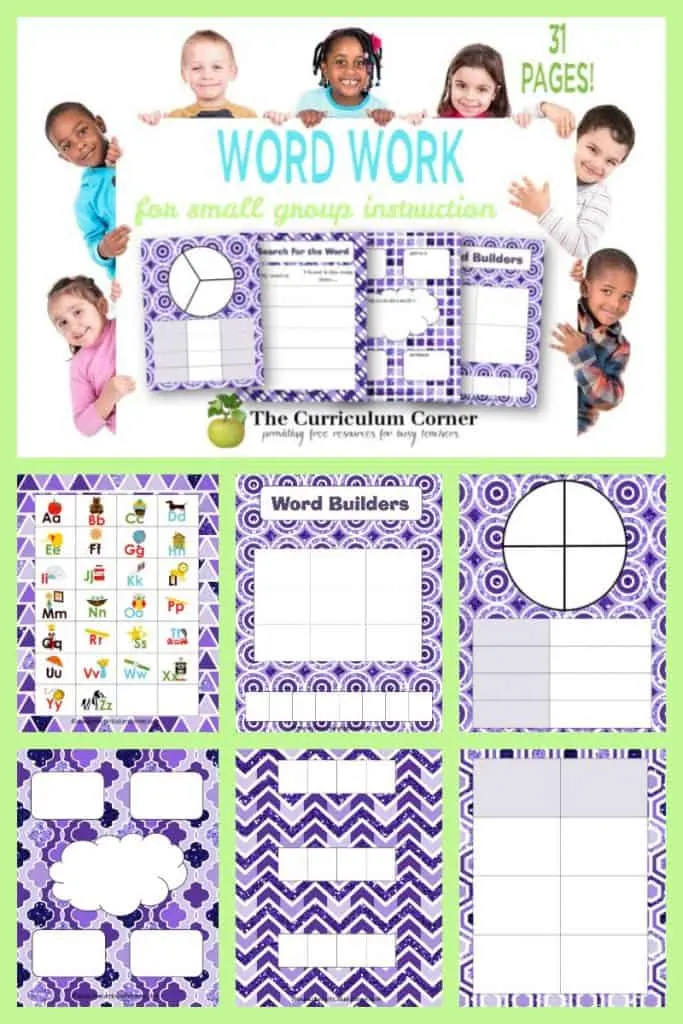 Vocabulary Mat
Print five or six of these so that each student in your groups can have one.
Use words from the story you will be reading.
This might best be used after you have taught the vocabulary words as a review.
(Note: In some cases you may need to tell your students that not all the boxes can be filled. It will depend upon the word(s) you choose for them to know and understand.)
Alphabet Chart with Pictures
For a group of emergent readers you might use this chart as a quick review of letters and sounds.
Use it at the beginning of each small group guided reading lesson until you feel they know them.
For other groups you might want to have it ready to refer to if you see a specific need or misconception about letter sounds.
Word Change Ladder
Print five or six of these ladder templates.
Students begin at the bottom as they write a word that you say aloud.
Once they have the word written you ask them to change one letter to create a new word. Continue as they work their way to the tops of the ladders. (For example, you have them write the word "cat" at the bottom. You then tell them to change one letter in the word "cat" to create the "car".
Once these are checked and discussed, you might tell them to change one letter in "car" to create the "bar".
Proceed in a similar manner, using blends and digraphs as students are able, until they reach the top of the ladders.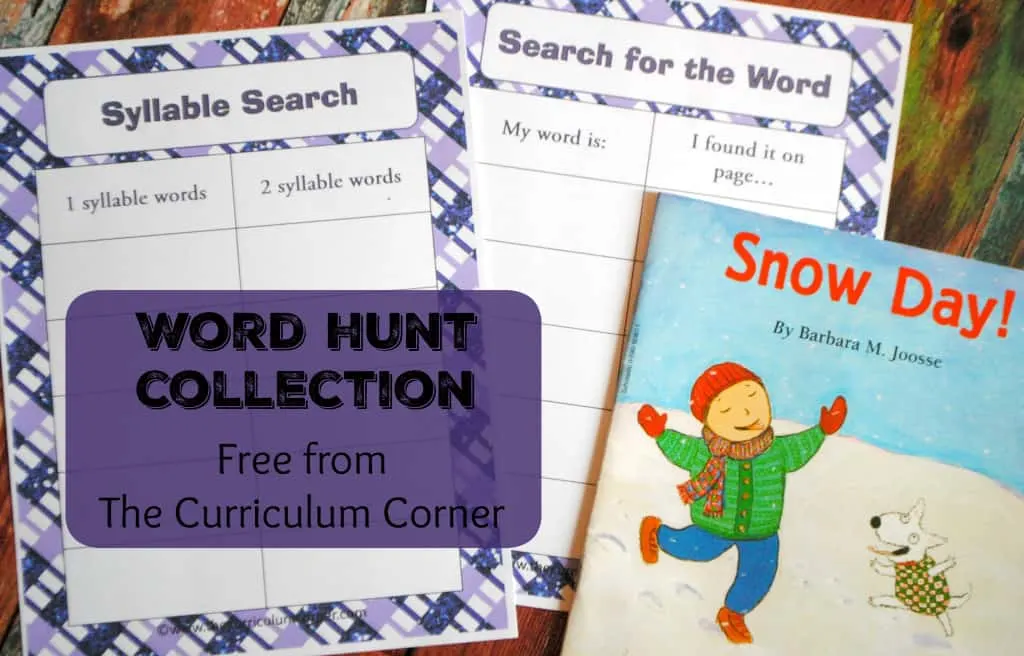 Search for the Word
There are two versions of this work mat.
As students are working on early Fry lists, you might want them to be able to identify some of those words in their reading texts. Look at the book you are reading with the group and choose words that you want them to find.
As students are reading aloud independently in the group (while you are moving from reader to reader and listening to them read) they will have a task to complete during their reading.
Syllable Search
There are three versions of this work mat containing various combinations of one, two, three and four syllable columns.
Students find words in their reading to match the number of syllables required.
---
Resources within the Editable Word Work Activities Collection:
Word Sorts
The word card page is editable so that you can type word sorts for your students.
Erase "word" and type rhyming words, words with endings, words with the same initial sounds, etc.
Another option is to delete the words, print & laminate several of the mats and then quickly write in sorts for the groups you are meeting with.
Use whichever of the four work mats included fits best with your sort. All you will need to do is print and have many of these ready to go.
Word Work Warm-Up Wheel
There are three versions of these warm-up wheels.
You can choose the sorts you would like to program.
You might include listing syllables, vowels and consonants or ask students to make words plural.
Program the tasks according to the skills you are practicing in class.
Students then use a paperclip to create a spinner.
Find It Charts
We have provided four possibilities for this activity.
Students find things in their texts to suit the categories listed at the top.
We have made them editable so that you can change the specific things students are searching for to suit your lesson and their needs.
Word Work for Small Groups
Download your free word work activities here:
Need to assess your students mastery of sight words? Take a look at our Fry Word Progress Lists to help you keep track of how they are doing.
Here are a few of our favorite materials for word work in the classroom. Contains affiliate links.
Try This: Cut Up Sentences Idea
Another favorite activity we have requires no printable, just sentence strips.
Have students tell a favorite part of the story, answer a question or give another simple sentence that fits with the story.
Record the story on a sentence strip and cut apart the words.
Students practice the words by putting them in order and then reading it to you.
You can also have students switch sentences for practice with reading other words.
Looking for additional word work activities for small groups? Start here:
---
As with all of our resources, The Curriculum Corner creates these for free classroom use. Our products may not be sold. You may print and copy for your personal classroom use. These are also great for home school families!
You may not modify and resell in any form. Please let us know if you have any questions.