Focus on informational text comprehension with this collection of free, printable comprehension activities perfect for centers or small group work.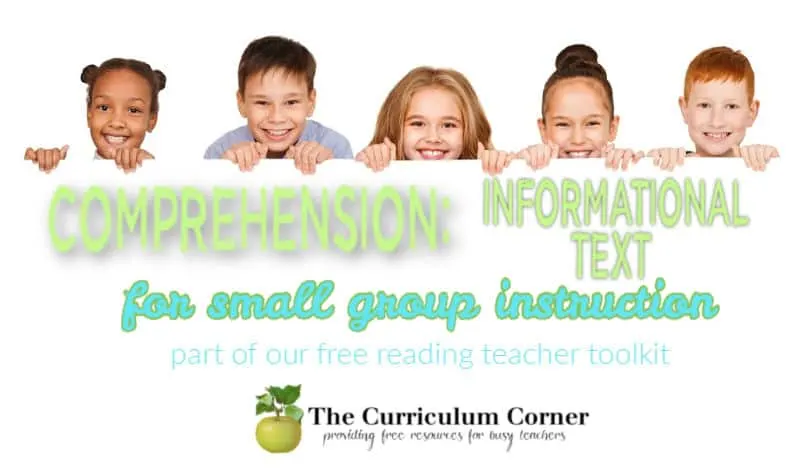 This is another free resource for teachers from The Curriculum Corner.
These informational text comprehension practice activities are a part of The Curriculum Corner's Small Group Reading Instruction Toolkit.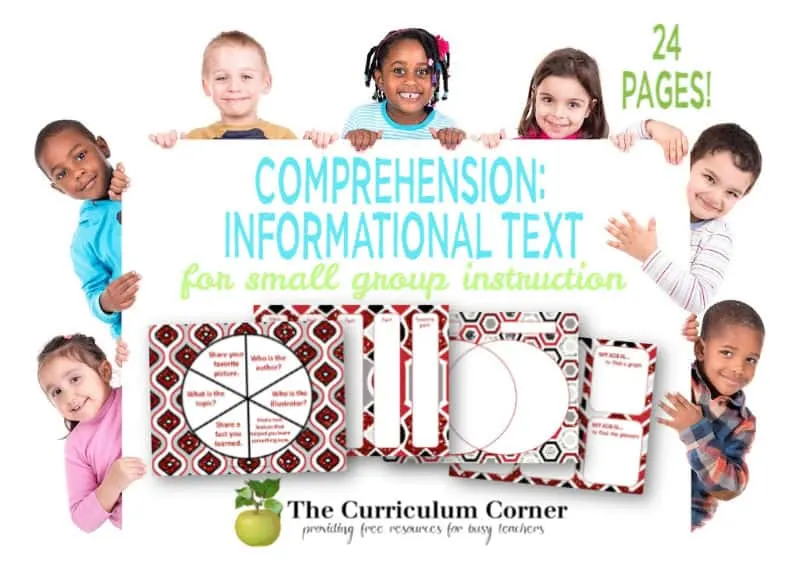 You will find your reading informational text practice activities at the bottom of this post. Look for: Comprehension for Small Groups.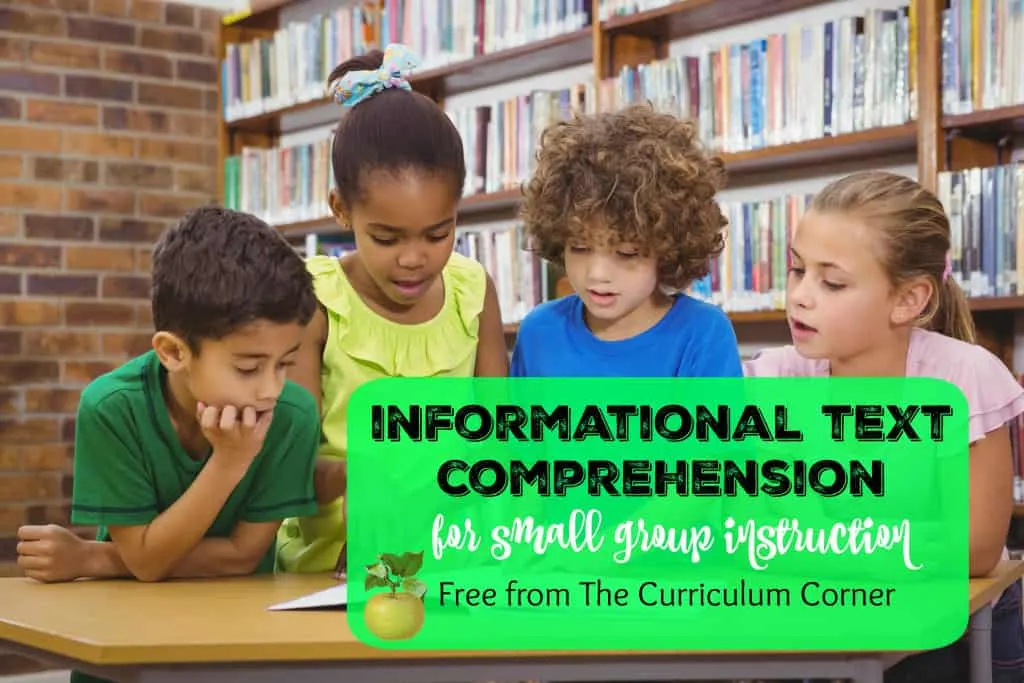 How will these informational text comprehension resources help?
Planning for small group instruction can be overwhelming. With multiple groups and books being taught throughout the week, we know it can be time consuming.
Our goal in creating our small group toolkit was to provide teachers with a few shortcuts in planning.
These resources will allow you to have reading comprehension activities ready for any of your small guided reading groups.
Print, cut and laminate the items you will use to add to your small group reading toolkit.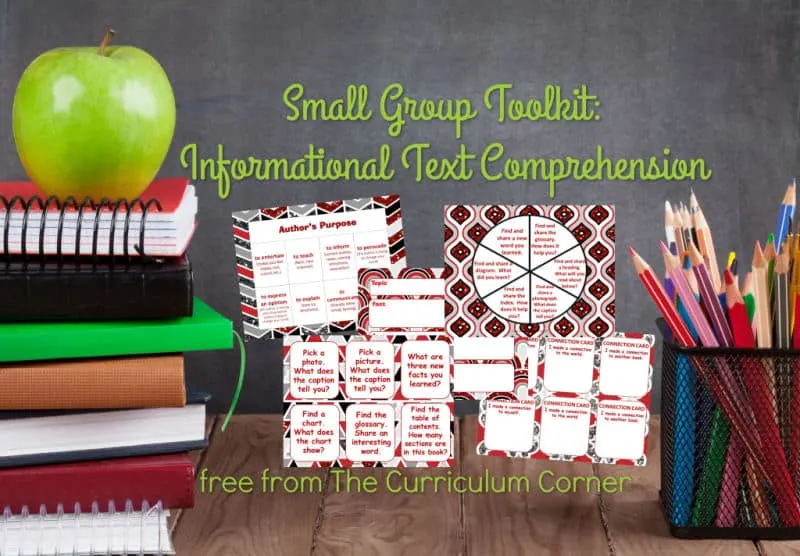 The materials we are sharing below will help make setting up your small groups easier.
You will be able to cover a variety of skills using any books your students are reading.

Our informational text comprehension activities include:
Connection Cards
These cards are meant to be used as students read and think. They will make different types of connections to share during a discussion of the text.
They should be encouraged to take a card and jot down some words that will help them to remember their connections.
Building Background Knowledge Boards
There are two versions of this poster. It provides a place for students to record what they already know (or think they know) about the topic of the text.
Once laminated, the students can each write what they know in individual boxes (or they can place a Post-It with their thoughts in the boxes).
Or, you might decide to use the group board and record everyone's knowledge together.
Author's Purpose Poster
This simple poster can be used as a teaching tool for helping your students understand the different reasons authors might have for writing.
After initial instruction on author's purpose, this poster can be used as a springboard for group discussions.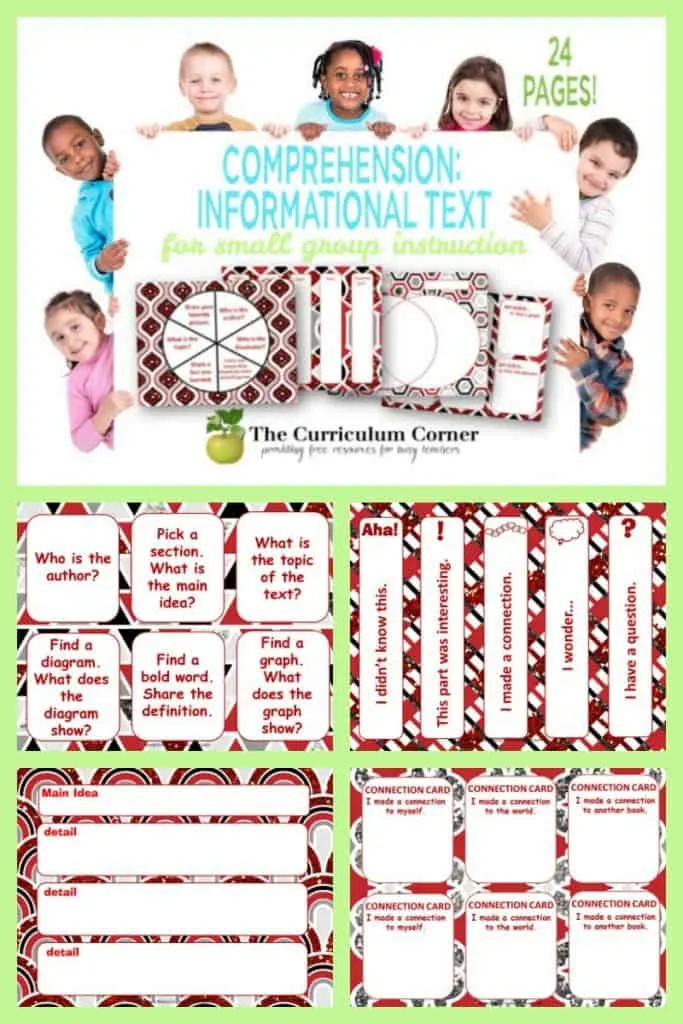 Questioning Mat
We always want to encourage our readers to ask questions as they read.
Print and laminate these question mats and have them available for students to record questions they have.
Reading Spinners for Informational Text Comprehension
We have created two levels of spinners so you can choose the one that is best for the text and small group you are working with.
These spinners can be used in a guided way after a text is read in its entirety. Or it can be modeled and completed independently.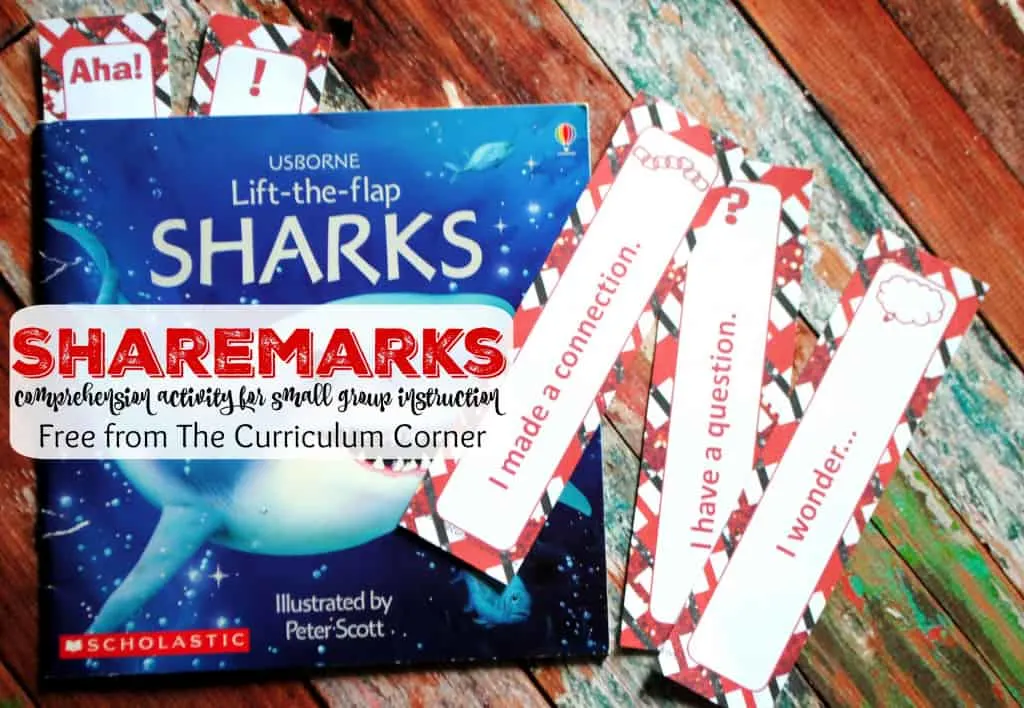 Sharemarks
This is a set of 9 bookmarks students can choose to use as they are reading the text independently and find something that they want to share.
The idea is that once the group begins discussing the text, the students can turn in the books to their sharemarks to talk about various parts of the text.
(We have left one of the bookmarks blank so that you can add a share mark that might be specific to a particular text you are using for a group.)
"My Share" Cards
Use these share cards as a way to spark discussions in your small groups.
Choose the ones that work with the specific texts you are reading.
Place them face down in a stack.
Each student chooses a card before reading and then will address the question during a discussion about the text.
"My New Learning" Mats
Laminate these mats and give them to students in your small group to work on independently as they read.
Use these mats for discussion purposes within the group or during a reading conference.
Topic/Fact & Main Idea/Detail Bookmarks
These are two sets of bookmarks. Students can use them as they read to signify & mark details or facts.
They can simply put the bookmarks into their books in order to share during a conference. Or, you can have them write (on the bottom of the bookmark) about their new learning.
I'm Stuck!
When we are working our way around our small groups to read with specific students, we want the rest of the group to be engaged in reading.
We have created this chart to give students reminders of what they might do until the teacher can talk with them.
(We have also provided a blank chart so that you and your groups can develop your own norms if you wish.)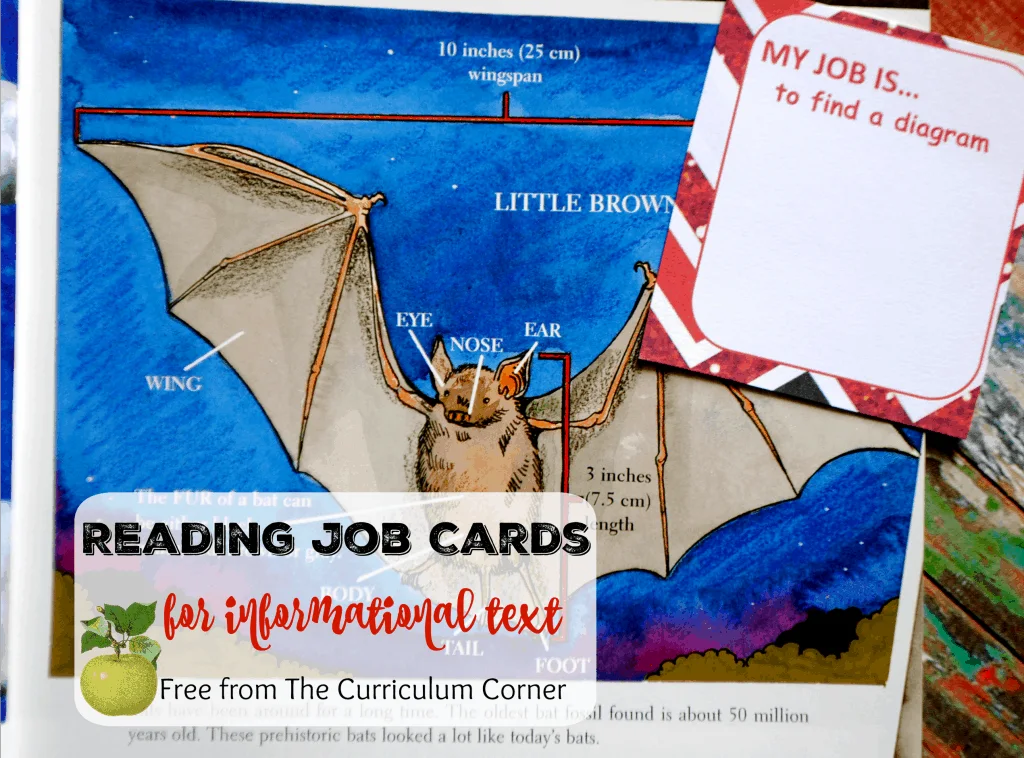 Reading Job Cards for Informational Text Comprehension
These jobs will set a purpose for student reading.
They can also be a guide for a discussion after reading.
Choose the cards that suit the text and students you are working with.
What We Have Learned Poster
This poster will serve as a final place for the group to record their new learning from the text.
Compare & Contrast Mat
In informational texts, there can be times when we want students to compare & contrast topics, concepts or ideas.
Laminate these mats and they will be ready to go for all of your informational texts.
Informational Text Comprehension
You can download the complete, free informational text comprehension collection here:
Looking for additional small group reading resources? Start here:
If you haven't used highlighter tape like this, we highly suggest you check it out! It is great for when you want your students to highlight but they are using real books. (Contains affiliate link.)
---
As with all of our resources, The Curriculum Corner creates these for free classroom use. Our products may not be sold. You may print and copy for your personal classroom use. These are also great for home school families!
You may not modify and resell in any form. Please let us know if you have any questions.