These free 2nd grade sub plans have been created by The Curriculum Corner and are perfect for when that unexpected illness pops up!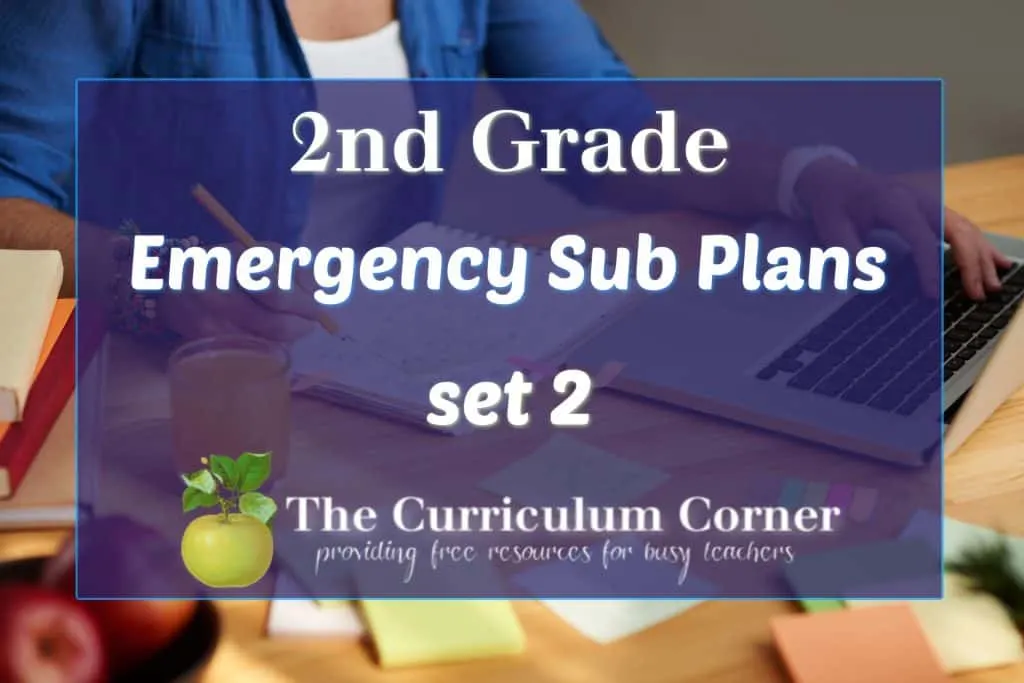 This is another free resource for teachers from The Curriculum Corner.
This is our second set of emergency sub plans for 2nd grade classrooms.
This post shares our 2nd grade sub plans.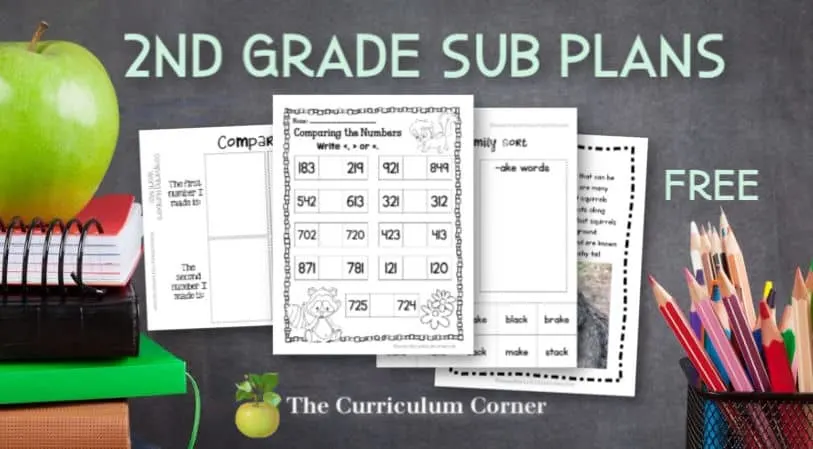 You can download the entire, free set of 2nd grade sub plans by clicking on the bold link at the bottom of this post.
Many of these resources have forest animal clip art, so some of the activities include books with forest animals as characters or topics.
These lessons, activities and practice pages that are a part of our 2nd Grade Sub Plans meet common standards for second grade.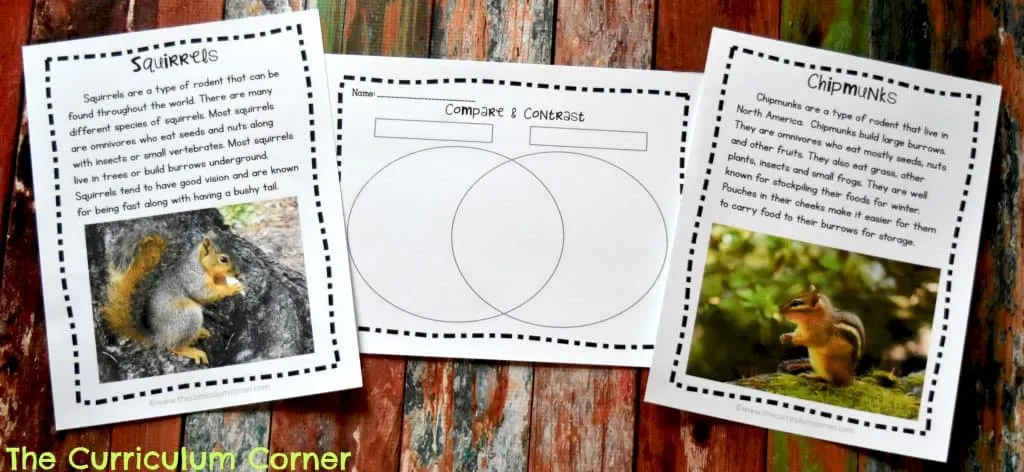 Setting up your Sub Plans
To make these emergency plans work in your best interest, plan ahead!
Type up your plans & directions and print these materials in advance. When you do need to call in, you can avoid driving to school in the middle of the night.
Unfortunately we all know what that's like and it's no fun!
Put your plans and everything a guest teacher will need into a tub and mark it clearly with the words "Sub Tub".
MATH
What is Your Number?
To prepare for this activity copy each page of number cards onto a different color card stock and cut them apart. (You may want to copy four or five of each page to make sure you have enough for all your students.)
This activity involves students drawing one number card from each color stack. They will then create a standard number in the thousands with the cards drawn. Finally, they will write that number on the recording page.
Your directions should indicate that the stacks of cards be placed in the centers of student tables or for small groups to share.
Copy a class set of our What is Your Number? page to put in your tub with cards.
As an extension (or if your students are ready), copy the other recording page that we provided which has students writing the standard and expanded numbers.
Comparing Numbers
This activity is used with regular playing cards, but you will need to take out the 10s and face cards before putting them in your Sub Tub.
You will need several decks to be sure all students have stacks to work with, but we suggest this as a partner activity so you don't need to provide decks for all of your students unless you want to. Simply rubber band the stacks, put them in a large Ziploc bag and place them in your Sub Tub.
You will also want to print and laminate Comparing Numbers work mats for each student. Copy a set of the recording page as well.
You will find work mats for numbers in the hundreds and also for numbers in the thousands.
Students draw three (or four) cards and place them on their work mats to create the first number, and then repeat for their second number.
Next, they record the numbers they made on their recording pages and use the <, >, = symbols to compare the two.
Extra Practice Pages
We have provided four extra math practice pages that go along with the above activities. Add them to your Sub Tub as time fillers in case they are needed.
Two contain numbers to the hundreds and two contain numbers in the thousands.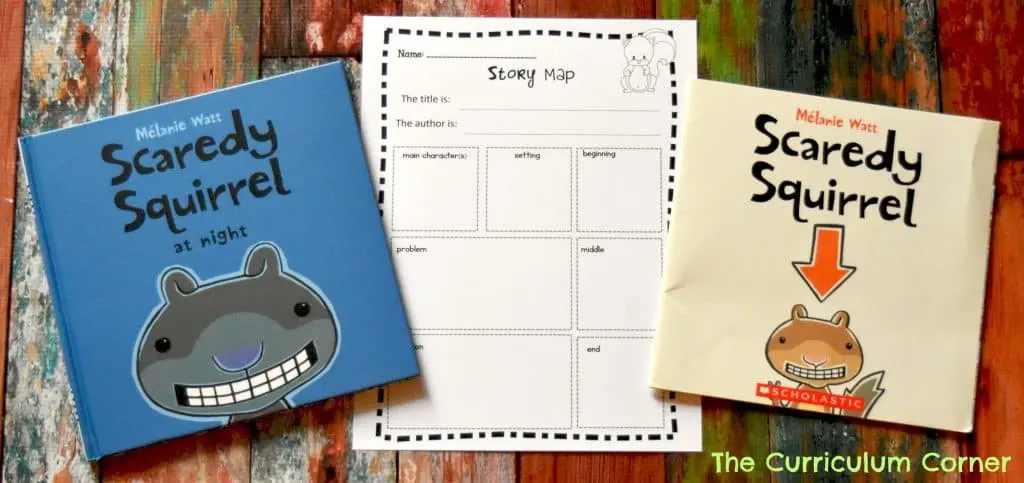 READING
Fiction Graphic Organizers
We have created a story map that can be used with any fiction book.
If you would like to keep with the forest animal theme, the book Scaredy Squirrel by Melanie Watt is a great choice.
The guest teacher reads aloud the book and then works with students to model how to complete the story map.
Copy a class set of story maps for students to use with fiction books during independent reading and place it in the Sub Tub with a book of your choice.
Informational Text Graphic Organizers
You can choose any nonfiction book for this organizer.
Have your guest teacher to read aloud an informational text about a forest animal (or another topic) and model how to fill out this info text graphic organizer.
It requires students to identify a main idea and four details from the text.
Again, copy a set of the informational text graphic organizers for your students to use during independent reading and place it in the Sub Tub with a book of your choice.
WORD WORK
Cut & Paste Word Family Sort
Students cut apart the word boxes and paste them under the correct word family.
Simply leave directions for the guest teacher in your plans, along with where they can locate scissors and glue in your classroom.
Forest Word Boggle
This activity is easy and fun for students, while helping them to spell new words.
Copy a class set of these pages and that is all that this requires. Students are to find forest-related words in the Boggle board and write them in the boxes below.
We suggest you set a minimum number of words for students to find, but many will try to fill all the boxes if you present it as a challenge.
Students can color or shade in words as they find them, much the same as a word search.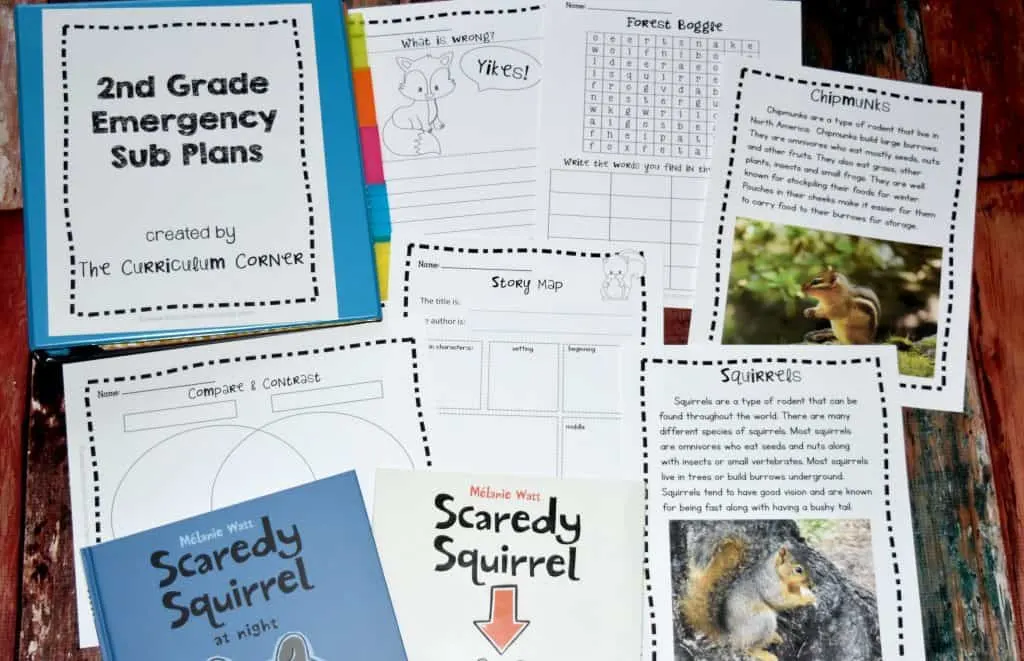 WRITING
Contractions
This activity will get the students up and moving a bit.
Print and cut out the word cards and place them in a baggie. Copy enough contraction recording slips for students in your class.
The guest teacher passes out one card to each student. The task is to search the room to find a partner who has a word that will create a contraction when placed with another word. Once a partner is found, the pair then get a recording slip, write their words and the contraction they create and stick the recording slip on the board to show they are finished.
Once everyone has found a partner the guest teacher can discuss the recording slips that are hanging to see if the contractions are correct.
Add to your plans – You may need to mention in your sub plans that if the students struggle finding a partner toward the end of the activity. This might be because another set of partners has made a mistake. The student can simply think of a word that would create a contraction with the word on their own card and write that on their own recording slip.
Writing Prompts
We have created three simple picture writing prompts.
You can allow students to choose their own or assign the same one to all members of the class.
Just be sure to leave enough sets in your Sub Tub. Students write a sentence or two about the picture and then color it. We like the idea of having the guest teacher model an example with the class before students are set off on their own.
We have also provided an additional blank templates in case you would like to assign a topic of your choice – either with a forest animal theme or something completely different.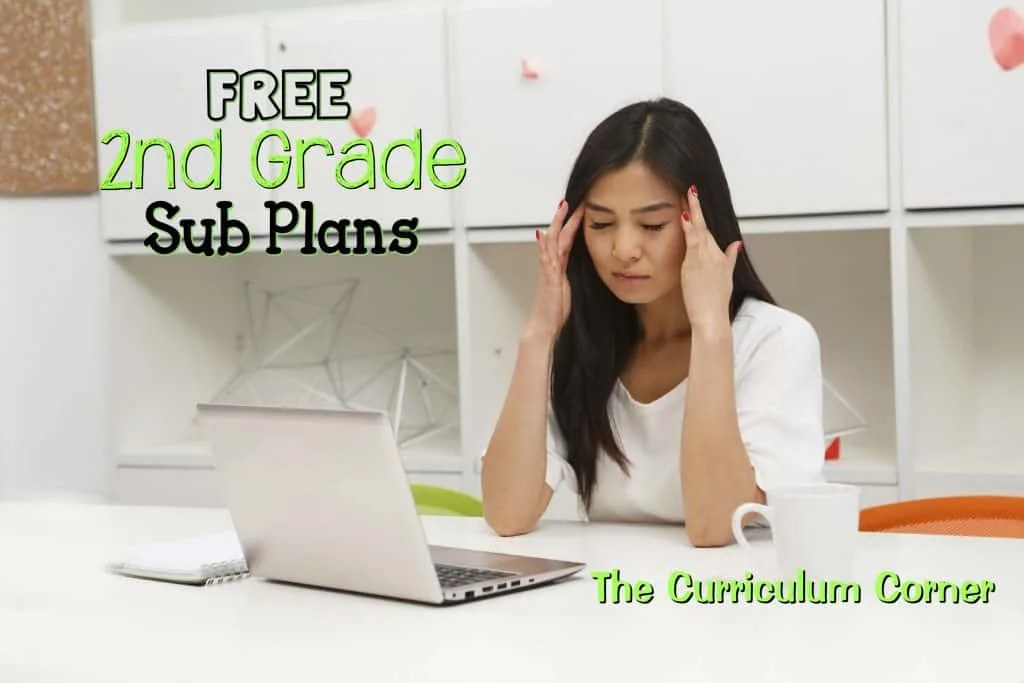 SCIENCE
Chipmunk & Squirrel Comparison
For this comparison activity we have provided two simple picture/text information pages that you can print for your guest teacher to read aloud and discuss.
Encourage your guest teacher to ask students for background information they may already know about chipmunks or squirrels during the discussions as well.
Once both animals have been presented, the guest teacher can work with the class to fill out the Venn diagram comparing the two animals.
If your students are very familiar with Venn diagrams, then you may want to think about this being a partner activity instead of whole class.
Just be sure to copy enough of the text info pages to go around if students are working on filling out the Venn diagram with partners.
You can download the complete set of 2nd grade sub plans here
---
As with all of our resources, The Curriculum Corner creates these for free classroom use. Our products may not be sold. You may print and copy for your personal classroom use. These are also great for home school families!
You may not modify and resell in any form. Please let us know if you have any questions.