This 4 Corners: Getting to Know You Game is designed to help you start the school year.
Use this 4 Corners: Getting to Know You activity for back to school time.
This activity was designed to be displayed on your classroom SmartBoard.
This is another free resource for teachers from The Curriculum Corner.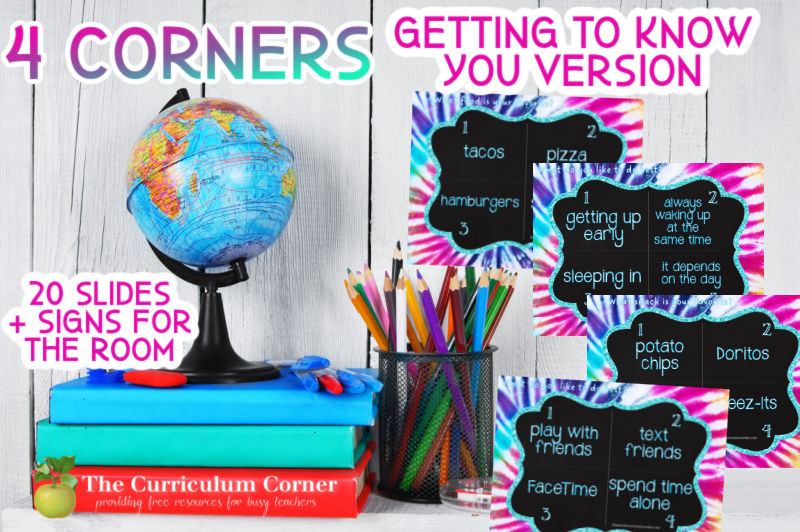 About this activity
This game was designed as a back to school activity.
While writing the questions, I worked to cover different topics so that all students would have spots where they felt included.
If you have suggestions for new questions or topics, please let me know!
As an alternative to a 4 Corners game, you could print and display a page. Students will then use a clothespin to mark their response.
This information could then be used for a graphing activity.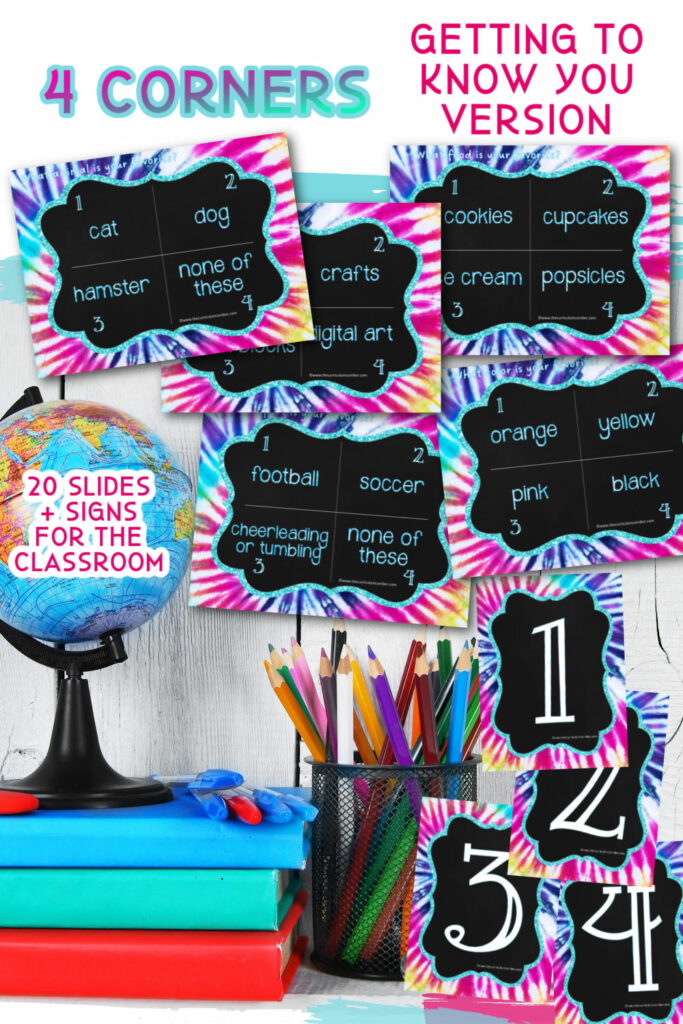 How to play 4 Corners: Getting to Know You
Get ready for this activity by printing the four number pages on card stock. Laminate these page so that you will be able to reuse them each year.
Next, hang each of the signs in the four corners of the room.
You will then display the slides on your SmartBoard. If you don't have a digital whiteboard, you might choose to print the slides.
Have students gather in the middle of the room. Display the first slide.
Even if your students are able to read each slide on their own, it might still be helpful to read aloud the slide. This will make it so students who are farther away are able to know the task.
After students have listened, they will move to the corner of the room that matches their response.
You can have students share and expand with the classmates in their corner.
The slides can be completed at once or broken into two or three sessions.
Not only will this activity allow your students to move around, it will also provide an opportunity for everyone to get to know each other a little better.
You can download this free activity by clicking on the apples below:

As with all of our resources, The Curriculum Corner creates these for free classroom use. Our products may not be sold. You may print and copy for your personal classroom use. These are also great for home school families!
You may not modify and resell in any form. Please let us know if you have any questions.