Download this back-to-school parent survey and letter to help you get to know your students as the new year begins.
This editable letter and parent survey will help save you time as you prepare for the beginning of the school year.
You will be able to edit this file using PowerPoint so that it is just right for your classroom.
This is another free resource for teachers and homeschool families from The Curriculum Corner.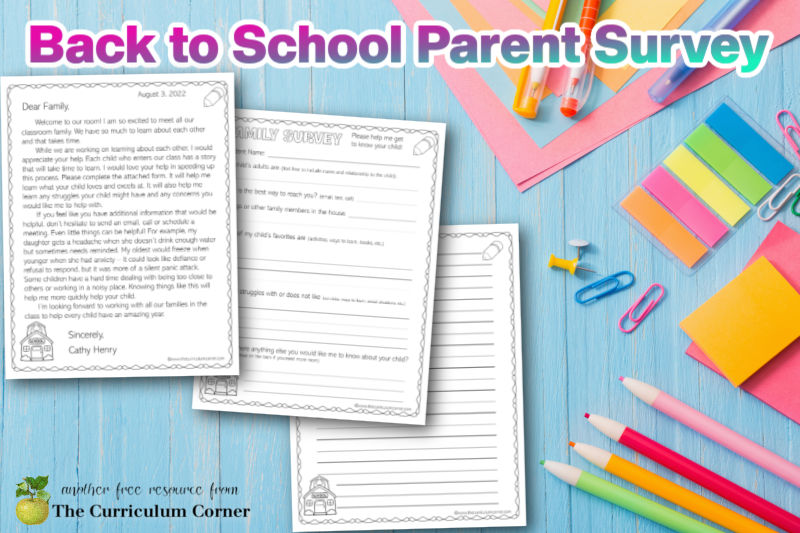 Getting to know your students
As you head back to school, one of the most important parts of your days will be getting to know your students.
What you learn and how you connect in those beginning days will set the tone for the rest of the year.
It's so important that you take the time to learn all you can!
Most teachers will plan activities where students can share their likes and dislikes. Obviously, these tasks are helpful and begin to help build that connection.
Another idea that can help you is sending home a family survey.
At all ages, parents can give you information that you might not get from your students.
Often students are good at sharing their strengths but might have a hard time telling you worries and fears they have. Of course, other children do struggle with identifying what they are good at.
It can be so important to give parents the opportunity to share these items. Maybe a child is incredibly afraid of thunderstorms, or another has not yet made connections with other students in their grade level.
What parents need to share varies from child to child but it's always a good idea to give the parents an opportunity to begin sharing.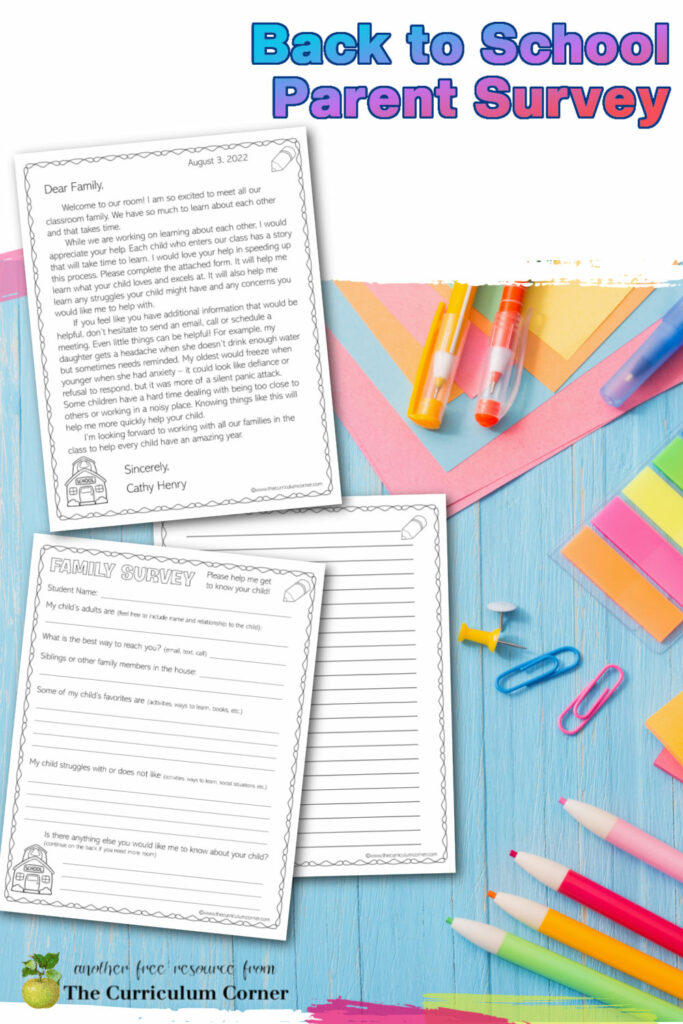 This editable parent survey
This letter and parent form are designed to be fully editable.
You will need to download and then open the file in PowerPoint.
The font used is Abadi Extra Light.
I have personalized this letter for my own classroom. You will want to make sure you edit it to fit you and your classroom.
They survey is also completely editable in case there are changes you would like to make.
I tried to write the survey so that parents had the opportunity to share what is important to their family and their child. I also wanted to make sure that the survey was not too long. There are so many papers at the beginning of the year – I wanted this form to provide the info that is helpful without creating a big job for the family. I will add the back lined page when I copy my own so parents have plenty of space to write if there is more they would like to share.
I am sharing this file in PowerPoint as an unprotected file. Please use this however is needed for your classroom. You do not have permission to rework and sell this file. This is intended to be free for all.
You can download this PowerPoint file by clicking on the apples below:

As with all of our resources, The Curriculum Corner creates these for free classroom use. Our products may not be sold. You may print and copy for your personal classroom use. These are also great for home school families!
You may not modify and resell in any form. Please let us know if you have any questions.