This free Arctic animals addition game can be added to your Arctic collection in the classroom.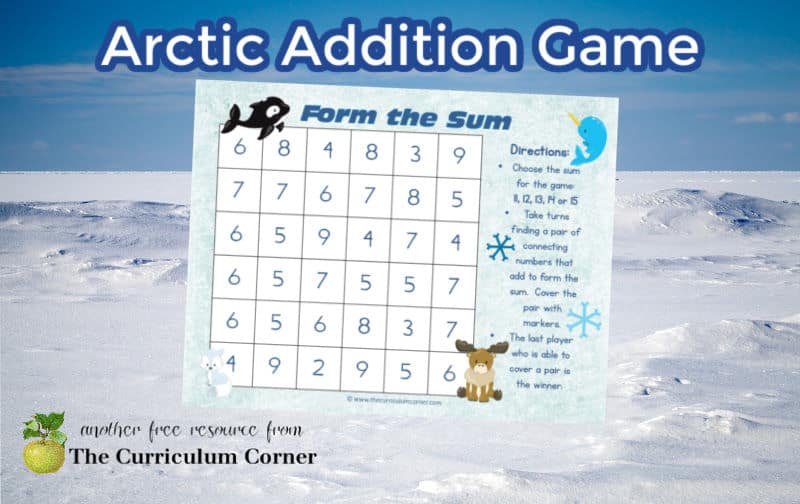 This is another free resource for teachers and families from The Curriculum Corner.
Download this Arctic animals addition game to give students addition fact practice during your math rotations.
Looking to add some math games to your Arctic study in the classroom? You've found a new one!
It can be fun for children to be immersed in a theme. If you are looking to add more math games to your focus, be sure to download this addition game.
Creating your Arctic animals addition game:
Putting together this game is simple and requires few supplies.
Begin by printing your game on heavy white cardstock.
Next, laminate the board for durability.
Add markers – a set of each color for the two partners.
How to play this Arctic addition game:
Each child will take one color of markers.
As a pair, the students will decide which number is their goal.
Once it is decided, the first player will begin. The player will find two numbers that can be added to form the chosen number. They will then cover the two numbers with their markers.
The next player repeats this step.
The final player is able to find and cover a pair is the winner of the game.
For the next round, the pair should choose a new sum.
You can download these free Arctic addition game here:
Looking for other Arctic themed resources for math? Try these freebies we have created:
As with all of our resources, The Curriculum Corner creates these for free classroom use. Our products may not be sold. You may print and copy for your personal classroom use. These are also great for home school families!
Remember, you may not modify and resell in any form. Please let us know if you have any questions.