Try these free Arctic animals fluency sentences to help your children work on fluency with your children.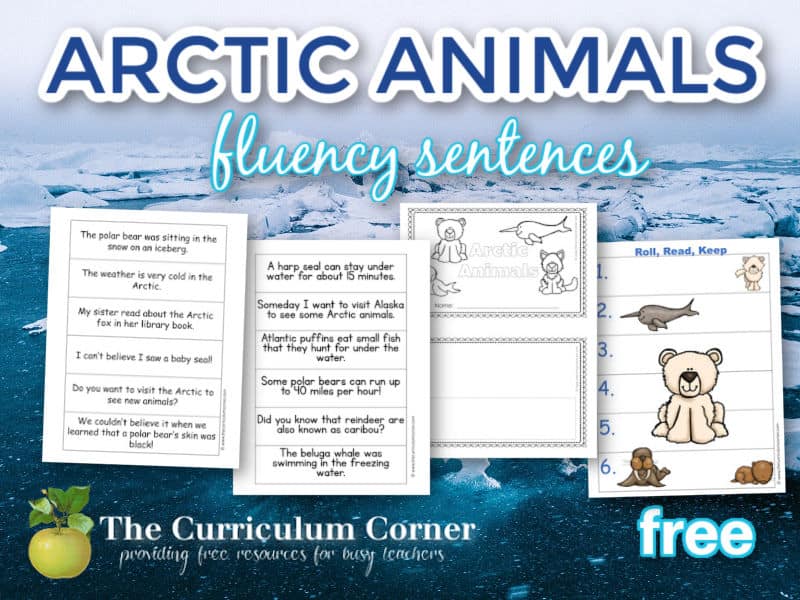 This is another free resource for teachers and families from The Curriculum Corner.
Use these Arctic Animals Fluency Sentences to give your students fluency practice.
The Arctic animals theme will fit into your unit of study or or just be a fun topic for winter.
These are ideal for small groups or send home for practice with parents.
You might want to use the fluency sentences and other printables to put together a literacy center for your classroom or for independent work.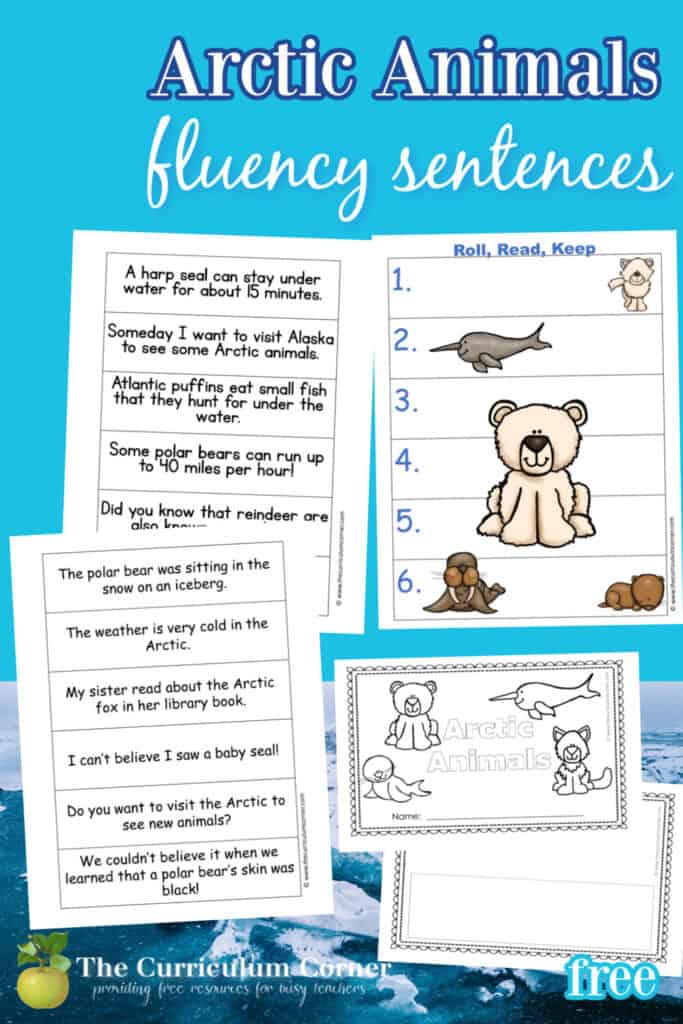 Creating your Arctic animals fluency sentences
This free download contains six pages.
We first suggest printing the sentence pages.
If students will be uses the sentence cards at a center, we like printing on card stock. Next, laminate for durability.
For those who prefer to have students create fluency booklets, print on standard copy paper. Also, print blank fluency booklets for students to use.
Using the fluency sentence cards
Place in a basket. Students can choose a sentence and practice reading to a partner.
You can also have students complete a sentence sort. Have them categorize the sentences into statements, questions, exclamations and commands.
Some children might like to use the sentences as story stems. They can read the sentence and then write a paragraph containing the sentence.
Another idea is to cut apart the sentences so students have a puzzle to complete that creates a sentence when assembled. This will create small pieces so make sure you label the back of each sentence for easy sorting.
Creating a fluency booklet
It can be so difficult to find just right books for beginning readers.
Use the Arctic Animal fluency sentences and this booklet to create a book your struggling readers can read on their own.
During small group instruction, have students practice reading a sentence then illustrate it on a page in their book.
Students can then write or glue their sentence in the booklet below the illustration.
Roll, Read, Keep game
Using your fluency cards with the roll, read, keep board.
Students place a sentence on each box. Next, they roll a die and read the sentence matching their roll.
If the student can read the sentence, it is kept.
Students take turns rolling until all of them are gone.
You can download this Arctic animal fluency set here:
Looking for other Arctic themed resources? Try these:
Thank you to EduClips for the clip art used in created these printables.
As with all of our resources, The Curriculum Corner creates these for free classroom use. Our products may not be sold. You may print and copy for your personal classroom use. These are also great for home school families!
You may not modify and resell in any form. Please let us know if you have any questions.