Ada Twist, Scientist will be a great addition to your classroom library – your young scientists will be encouraged to keep their curiosity through a reading of this book.
If you are not familiar with the science based books authored by Andrea Beaty, I suggest you give them a look. They are fun books with rhyming words that get your students thinking about scientists by telling an engaging story.
For this collection, I am focusing on Ada Twist, Scientist.
In this story, Ada Marie Twist is a baby then toddler who doesn't speak. When she turns three, she says her first word: Why? Ada develops into a very curious young girl. This story helps readers explore characteristics found in scientists. Your students will love the detailed illustrations and rhyming text.
To help you create a literacy center focused on this book, I have created a free set of resources.
I highly recommend reading the book aloud before placing at a literacy center. Enough activities have been created that you will have a range of learning materials plus you will be able to switch the focus of the center throughout the week.
Within this Ada Twist, Scientist collection, you will find the following resources:
Reading Task Cards
I have created a total of 12 task cards. You can place the card with the task for the day at a center. Some will require printable pages which are included at the end of the collection. For some classes you may choose to offer multiple tasks and allow students to choose the task that matches their abilities and interests.
Question Strips
These question strips are referred to in one of the task cards. You can cut these strips apart and allow students to talk about their answers with their group.
Graphic Organizers & Response Pages
There are a variety of pages that are designed to fit the book study. The intent is not for students to simply sit and write about the story. If you need students to write about their reading, we encourage you to choose the page or two which will add the most value to their learning.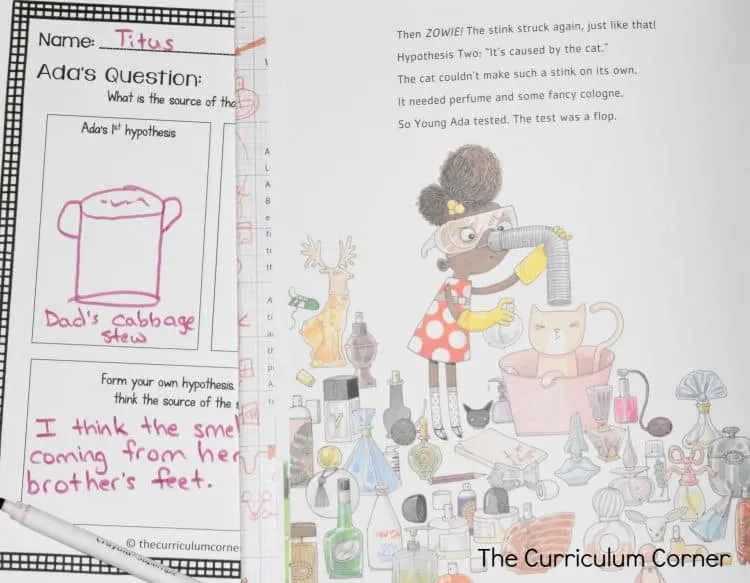 Rhyming Words
A set of 32 cards containing rhyming words from the book has been created. You can have students play a card game using these rhyming word cards.
Research Focus: Ada Lovelace & Marie Curie
These two pages can be used for students to record what they learn as they research two famous scientists. The pages are open ended so students can choose their own words and pictures to share their learning. You can provide students with books or a tablet for researching.
Blank Pages
One blank page and one page containing lines are included. These can be used as recording pages for the task cards or in other ways as needed.
My Book of Why?
Students can create their own science journal using these pages. Encourage students to ask questions about the world around them. They can record their scientific questions and illustrate their thinking.
You can download this free Ada Twist, Scientist Book Study below:
(contains affiliate links)


You might also be interested in the following books (contains affiliate links):

Your young scientists might enjoy these activities: 25 Free STEM Activities
Our Katherine Johnson book study is another good free resource for you to check out.