Find The Curriculum Corner's favorite books for partner reading below.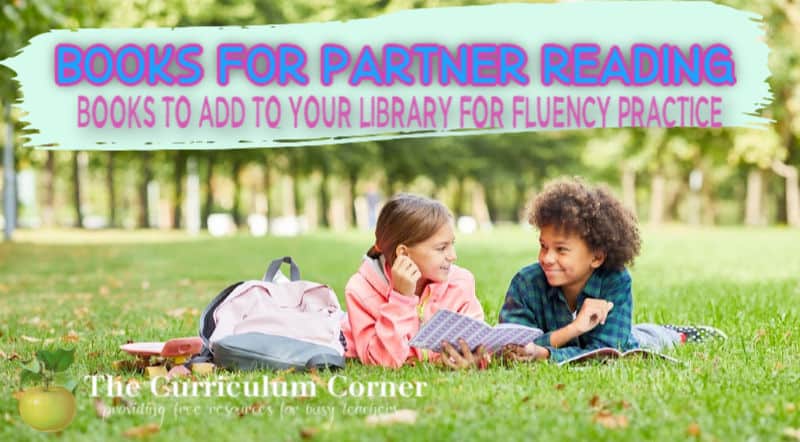 Encourage students to practice their reading fluency with this collection of books.
Looking for a new way to practice reading fluency in the classroom (or even at home?)
One of our favorite methods is stacking the classroom library with books designed specifically for students to read with a partner or small group.
Readers theater is often an engaging option for students but sometimes a less formal approach is beneficial. When this is the case, books for two voices can be a wonderful choice.
How we use these books
One of the stations we often use in our second grade classrooms during literacy centers is partner reading.
This can be a great station where students work on fluency. The key to making this station successful is providing engaging texts.
We have put together a collection of our favorites that seem to keep our students on task.
You might introduce this basket of books by modeling a partner read with a student in your class. Students might even be encouraged to practice so that they can read for the class during short periods of time you are trying to fill with meaningful practice.
The Amazon links to purchasing our choices are below. Contains affiliate links.
Our collection includes options for primary as well as intermediate classrooms.
Books for Partner Reading
Students love partner reading. It's even more engaging when the books are designed for the task. Try out some of our favorites!
This collection contains affiliate links.
This was the first book for partner reading that I purchased for my classroom. It is filled with poems for partner reading with a range of school themes. Many students thought of it as a fun book to read - it's definitely an engaging choice if you are just beginning to build a collection.
Another engaging choice if you are just getting started! These animal poems not only give students small facts about nature but also encourage students to make a little noise with a range of animal sounds.
This book is filled with poems from an insect's point of view. These poems can be wonderful for students of all ages.
These poems are not only fun and great for fluency practice, they are also perfect for practice with visualizing while reading.
This is a good choice for classrooms of older students. Students will love this book but it is most appropriate for upper elementary and middle school students.
This is another choice for upper elementary and middle school classrooms. It might be a way to engage your math lovers in the topic of poetry and help them work on fluency.
These poems focus on birds and will be a beautiful addition to your poetry library. Again, this is a good choice for upper elementary students.
Mary Ann Hoberman has a collection of books perfect for younger students working on partner reading. These can also be a motivating option for children and parents to read together.
Another favorite book from this series. This one will be great for not only your fluency work but also a good addition when focusing on fairy tales.
The fun rhyming text will make this one a favorite for your students practicing fluency.
Extending the practice
As an extension, you might have students turn other books into books for partner reading.
As with all of our resources, The Curriculum Corner creates these for free classroom use. Our products may not be sold. You may print and copy for your personal classroom use. These are also great for home school families!
You may not modify and resell in any form. Please let us know if you have any questions.
You can copy a requested poem for students and they can highlight a text using two colors of highlighters.
Just like students sometimes create their own readers theater scripts, poems and picture books can be turned into books to be read with a classmate.
Looking for additional ways to practice reading fluency in the classroom? Take a look at Fluency for Small Groups.
Terms of use
Have your own favorites? Please share your ideas below. We would love to know the books you have discovered for this activity.