Create a simple but engaging literacy center with this bugs Roll, Read & Keep reading game, a free classroom resource from The Curriculum Corner.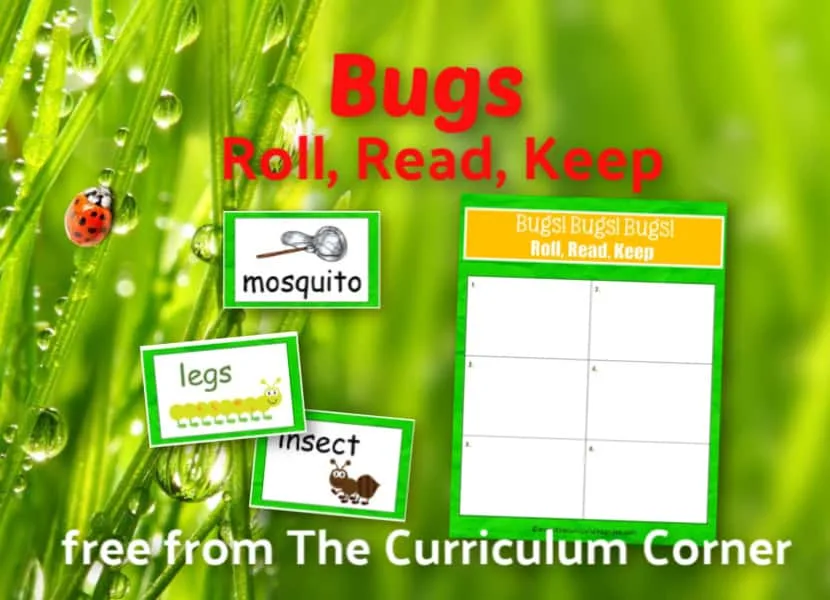 Our bugs Roll, Read & Keep game is an easy to prepare spring literacy center for your classroom.
This bugs Roll, Read & Keep set can be a great seasonal reading activity for your language arts block.
This new game is created to give your students practice reading words that are commonly used when learning about bugs. You will find an 40 word cards, including buggy body parts! If there are words that don't fit your focus, you can remove them before having your students play the game.
NOTE: The pictures on the cards are bug themed but DO NOT represent the words on the cards. Be sure your students understand this before playing so that there is no confusion.
Another way to use these cards is by printing two sets and having students play a matching game where they have to read the cards aloud as they are flipped over.
Creating Your Bugs, Roll, Read & Keep Games
Print the pages on card stock. We have provided two versions. One in full color, one with less color ink to preserve ink if needed.
Laminate the pages. Cut apart the cards.
Place the cards and a die in a bag for student use. You might store the board and other supplies in a large baggie or manila envelope.
To Play
Students need a board, die and a set of the game cards.
Children begin by placing a card on each spot on the board.
Once the die is rolled, students read the card that corresponds with the number.
If the student can read the word, he or she keeps the card. The child fills the blank spot with a new word card.
If the student cannot read the word, the word is returned to the bottom of the stack.


You can download this Bugs Rol
l, Read & Keep Game here:
Look for more bug themed resources coming soon! Or you might also like:
Gardening Read, Write, Draw Sentences
Flowers Interactive Science Notebook