Our bugs syllable sort is designed to be an easy and quick phonics literacy center for spring. Students get seasonal syllable practice with these buggy themed words!
This bugs themed syllable center set is a free classroom resource for teachers.
You can download this free seasonal syllable practice set by clicking on the bold title at the bottom of this post.
This spring themed set is designed to be a ready-to-go practice set for some seasonal practice in your classroom.
These resources include word cards with and without pictures to help you differentiate for the learners in your classroom. Some students may need some support to work through the activities.
This isn't designed to teach students about word syllables, but to give seasonal syllable practice.
Use these to reinforce what you have already taught about word syllables.
We suggest printing the collection in color on card stock and laminating for durability.
As always, these resources have been created for free classroom use. They may be printed and copied for your classroom. They may not be sold in any way.
Within this set you will find the following resources:
Syllable Sort This set contains 27 color cards. Each card contains a word and coordinating picture. There are also three category card labels saying 1 syllable, 2 syllables and 3 syllables. After laminating, cut all of the cards apart. Students will then practice sorting the cards into the correct category.
Recording Page This page is meant to be used with the syllable sort above. If you need to have a record of student work at centers, they can record the words after sorting the cards.
Syllable Games There are two versions for you to choose from. To play these games, students will each need a game piece. Depending on the game they are playing they will either need a coin or die. Directions for the games are on each game board.
Practice Page This printable practice page asked students to identify the number of syllables in each word. Students circle the correct number for each picture/word set.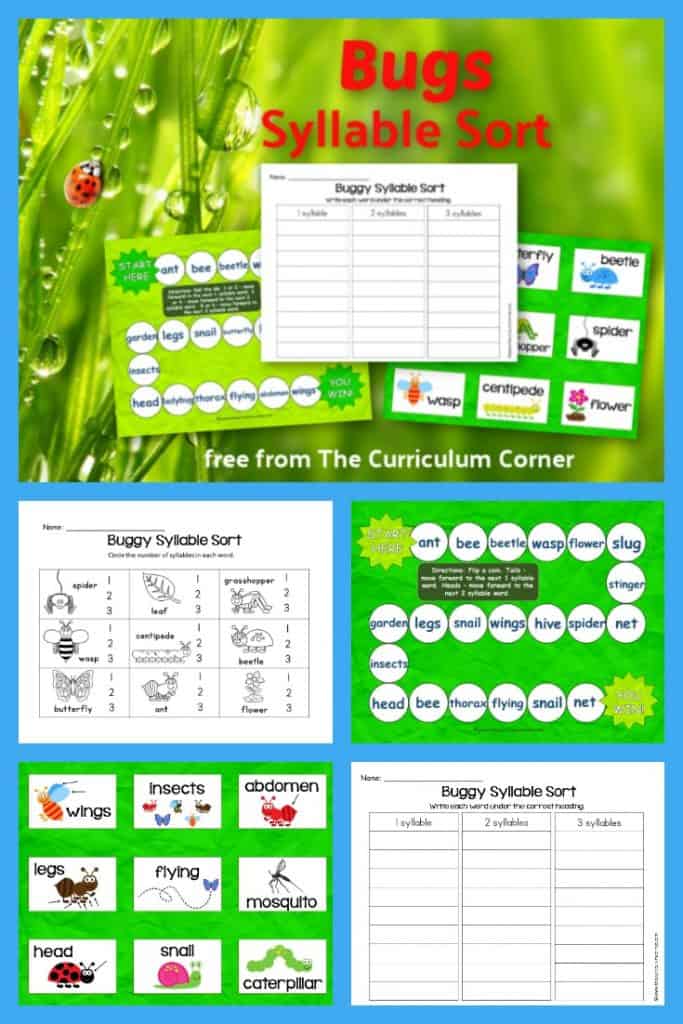 You can download this free spring syllable practice literacy center set here:
More bug/insect themed resources are on the way, but you might also like our gardening themed resources for this time of year as well:
Gardening Read, Write, Draw Sentences
Flowers Interactive Science Notebook
Gardening Multiplication BUMP!