These camping themed problem solving pages will give your students practice with adding minutes in a worksheet and a digital format.
This is another free resource for teachers from The Curriculum Corner.
These camping themed problem solving pages for adding minutes will be a fun addition to your camping focus in your classroom.
Camping is such a fun end of the year theme that lends itself to lots of thematic activities in the classroom.
We know that this year might look a little different but as you are trying to keep some normalcy, a camping theme might be fun for you to encourage your children to carry into their home.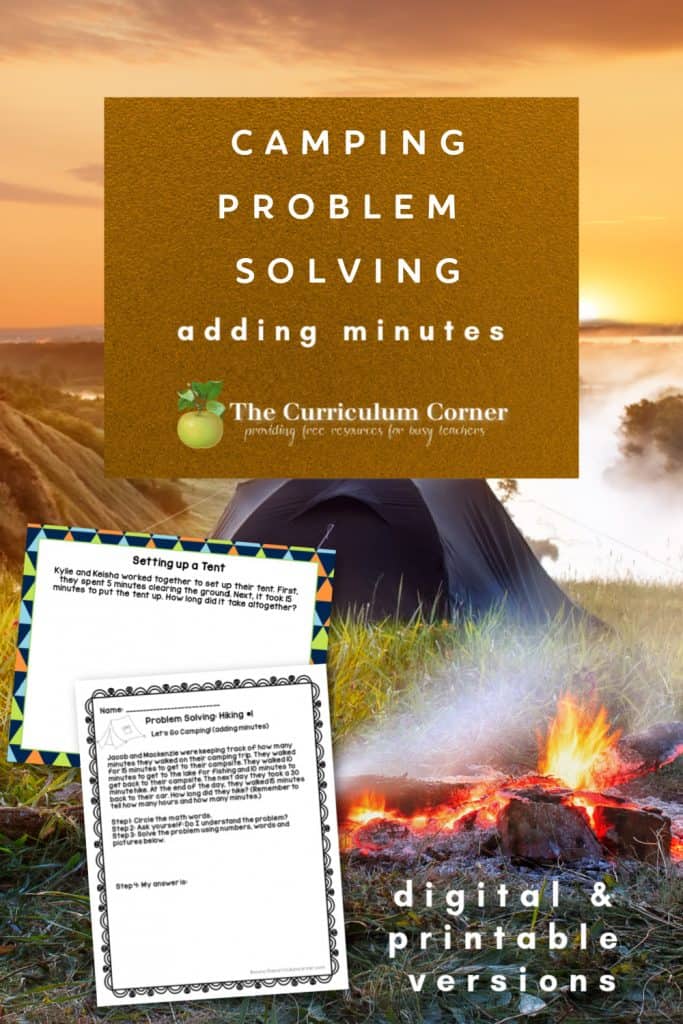 Our Camping Themed Problem Solving Pages
We are sharing 5 different word problems.
All of the problems involve adding minutes and determining an amount of time. The problems progress from simpler to more difficult.
The final two problems will require students to take an amount of time over 60 minutes and convert it to hours and minutes.
In the paper and pencil version, students will be encouraged to find the math words.
When solving the problem, ask your students to use pictures, numbers and words. This might be more difficult for the digital versions depending on the tools that your students have.
These are being presented in multiple ways. Hopefully you will find a format that works for your current teaching platform.
You will find a paper and pencil version along with multiple digital options. Choose the option that works best for you!
You can download these free camping themed problem solving pages for adding minutes here:
Looking for additional camping resources? Try these?
As with all of our resources, The Curriculum Corner creates these for free classroom use. Our products may not be sold. You may print and copy for your personal classroom use. These are also great for home school families!
You may not modify and resell in any form. Please let us know if you have any questions.