This camping literacy center is designed to provide literacy skill practice during your classroom camping unit.
Use this camping literacy center to help your students stay engaged as your school year wraps up.
This set of Camping Fun Read, Write & Draw It! pages are perfect for the beginning or end of the school year for an easy literacy center.
This camping literacy center is designed to give your students reading and sentence forming practice.
While some schools are moving away from cut and paste activities, we strongly feel that these fine motor skills are important to student development. After reading many articles about the topic, we believe that another benefit to these type of activities is the opportunity for students to practice the fine motor skills that are an important part of their development.
Students cut out the words at the bottoms of the pages. Then they create meaning by arranging the words into a sentence and gluing them in the blank boxes. Students will write the sentence on the line and read it for comprehension. They will complete the task by illustrating the sentence to further show understanding.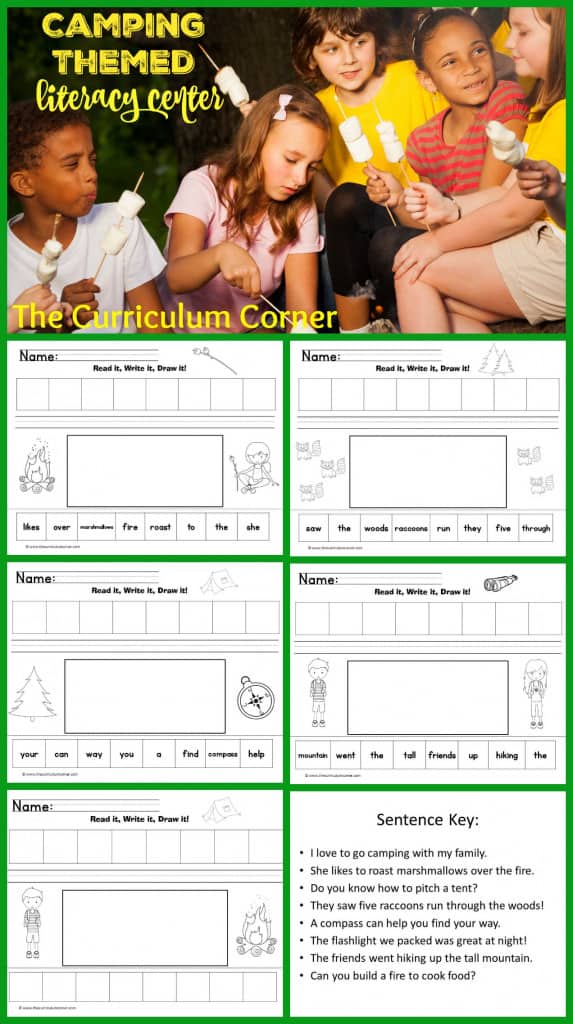 The first link for the set doesn't contain punctuation and doesn't have the first word capitalized so students will need to remember to do that on their own when they write it.
For those students who still need extra support, there is a second link provided that adds just that little bit of differentiation.
We have also again provided a blank page so that you can differentiate even further by making up your own sentences using sight words or other camping words!
Camping Fun Read, Write & Draw It!
Camping Fun Read, Write & Draw It! (with caps and punctuation)
You might also be interested in our other camping themed resources: