These camping themed acrostic poem templates will be a fun addition to your camping theme in the classroom.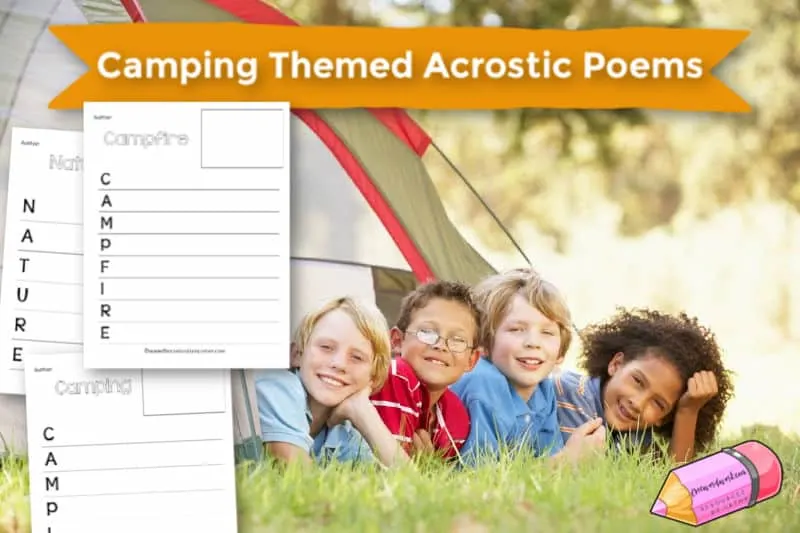 This is another free resource for teachers from The Curriculum Corner.
Try these camping themed acrostic poem templates during your camping week!
A camping classroom theme is always a fun way to wrap up the year.
We know this year looks very different than what is normal but maybe a camping theme is one you can use to engage your children, even via distance learning.
What are acrostic poems?
Acrostic poems are a great format for children to use as they begin exploring poetry.
They are great because children at all different skill levels can successfully complete this task and produce a great piece of writing. You can even have a fifth grade class partner with a first grade class to share the writings created.
Acrostic poems use specific letters in each line to spell out a word going downwards.
Typically, the letter spelling the word is the first letter of the line. However, students could choose a different letter in the line and bold or write the letter in a bright color to make it stand out.
Our Camping Acrostic Poem Templates
We have created six different templates, each with a camping focus. Copy the templates and place the templates at your writing center.
You will find each template with a small spot for a picture and a version without.
We like the idea of having each student choose their own focus. This will allow them top pick a topic that is meaningful to them. Plus, you will have a greater variety of poems to create a class poetry book when everyone is done!
Be sure to allow students to create their own templates if they think of an idea they like better.
You can download these camping acrostic poem templates here:
---
Looking for additional camping resources? You might like these:
---
As with all of our resources, The Curriculum Corner creates these for free classroom use. Our products may not be sold. You may print and copy for your personal classroom use. These are also great for home school families!
You may not modify and resell in any form. Please let us know if you have any questions.