This Hanukkah booklet is designed to help you in a December celebration of holidays around the world.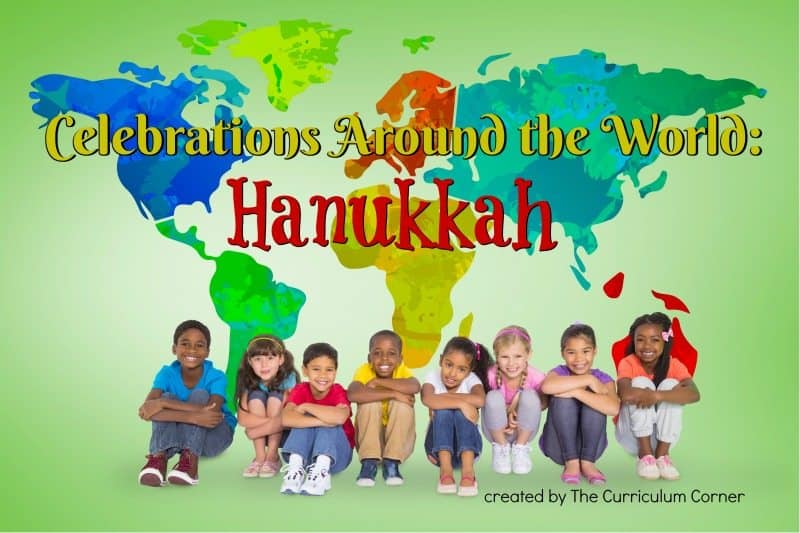 This is another free resource for teachers from The Curriculum Corner.
Add our free Hanukkah booklet to your holidays around the world study.
Some Background about Hanukkah:
Hanukkah is a holiday that celebrates the Jewish people's triumph over King Antiochus, who wouldn't let them practice their own religion. He was forcing them to worship idols in their own temples. It also celebrates the miracle of the lights, which honors the story of the eternal lamp.
Once the Jewish people had battled against Antiochus and won, they reclaimed their temple only to find the flames of the eternal lamp had gone out. They only had enough oil at that point for the lamp to burn for one day. Miraculously it burned for eight days and nights until they had enough time to prepare more oil.
You can download this free Hanukkah booklet at the bottom of the post. Look for the bold red text.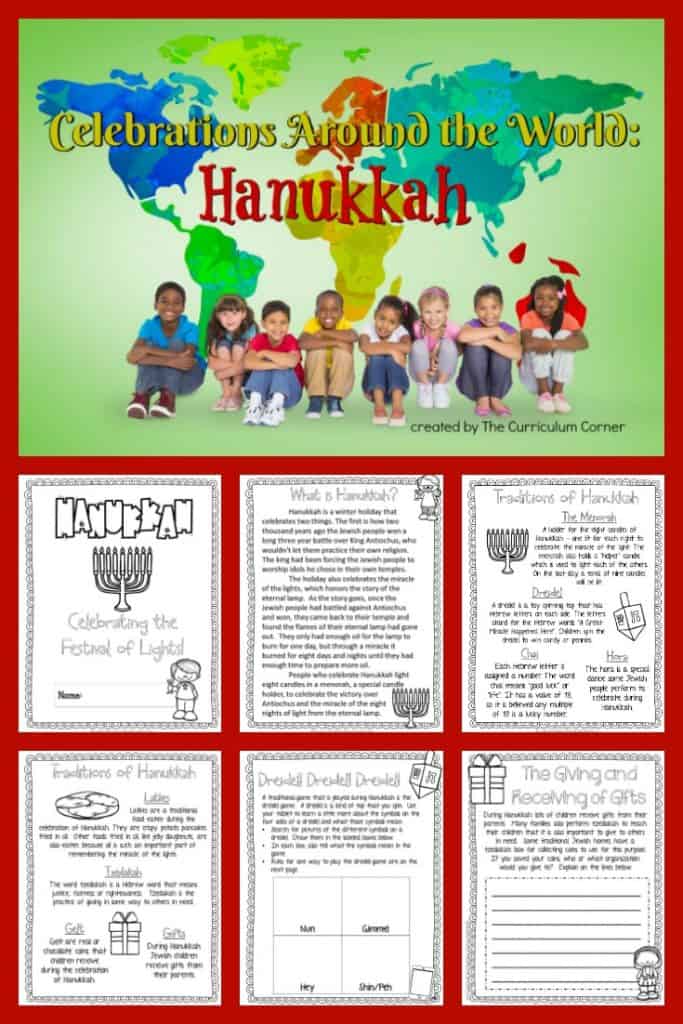 Learning about Holidays Around the World
This time of year is a great time to help children learn about differences in our world. One way you might choose to do this is by focusing on holidays in other parts of the world.
This is the sixth in a series of free booklets we are creating to help your students learn about other celebrations.
This booklet contains 8 pages and can be printed front to back to help you save paper.
The booklet begins with a passage that tells about the celebration of Hanukkah. You will also learn about the following in the pages:
Hanukkah Traditions
Learning About the Symbols on a Dreidel
Directions to Play the Dreidel Game
The Practice of Tzedakah
Common Hebrew Words Associated with Hanukkah
Some of the pages provide opportunities for children to learn more about Hanukkah traditions through additional reading, writing, drawing and even their own research. (These pages are marked with a small picture of a tablet in the bottom right corner.)
One idea that might make this booklet more meaningful to your students is to find authentic items used in the celebration of Hanukkah to share with your students.
Also, be sure to ask if anyone in your class celebrates the holiday and might have items they could bring in to show everyone.
Since directions for how to play the dreidel game are included, having several in the classroom to try is a great idea!
You can download this Hanukkah booklet here: ~Hanukkah Traditions~
We have included a few books that might fit your study here (includes affiliate links):

You might also be interested in our other booklets:
Another option that might fit into a study of other cultures is our Japan Unit of Study.
Thank you to EduClips for the cute clip art!