Create your own cereal box literacy center with these graphic organizers.
These graphic organizers will help you create your own cereal box literacy center for some engaging practice.
Add these pages and a few different boxes of cereal to a center for a fun way to work on literacy.
This is another free resource for teachers and homeschool families from The Curriculum Corner.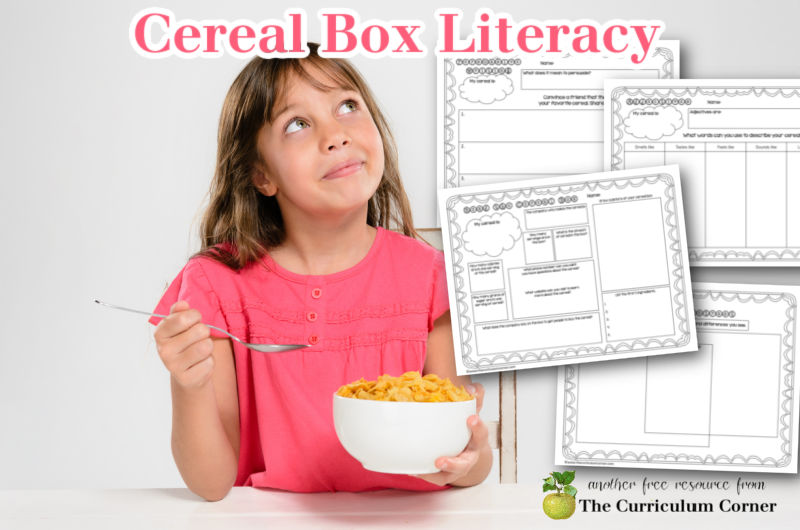 What is environmental print?
Environmental print is the print we encounter in our everyday lives.
It can be a great tool for helping students learning to read.
We see it on signs and buildings. It can be found in stores and on packages around our homes.
Other examples include ads and menus.
Using environmental print as a tool for teaching literacy can be engaging for students. This is partially because they can practice when away from school.
Think of how excited children are when they first learn to read stop and then see it on stop signs around town.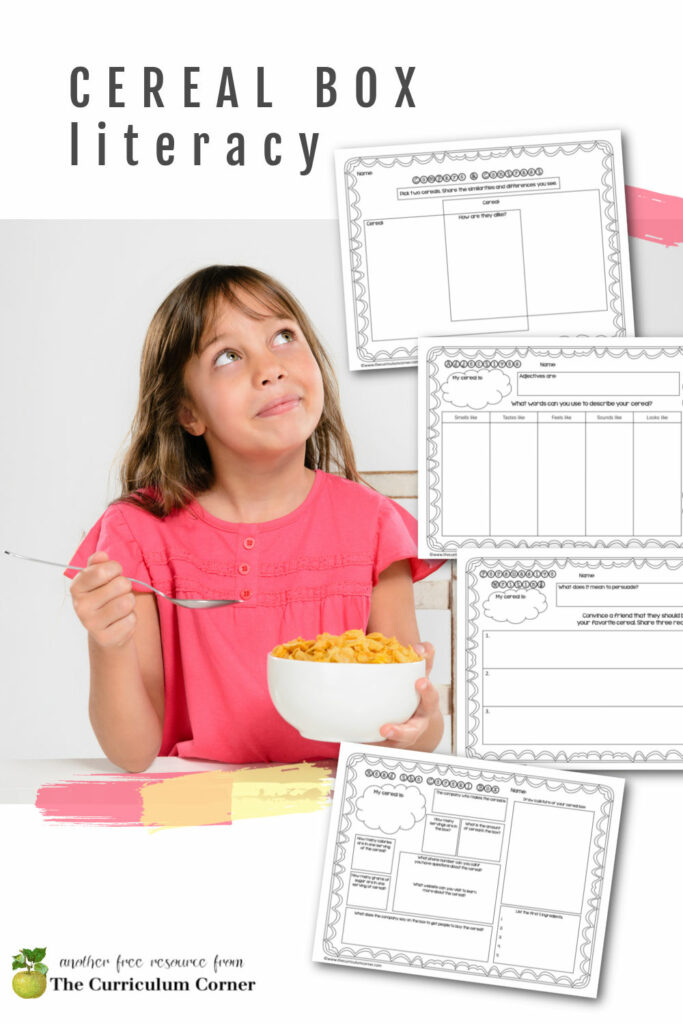 Cereal box literacy
Print these graphic organizers and place at a literacy center.
Choose a couple different boxes of cereal and add them to the center. Choosing a few different options will allow students to choose their favorite cereals.
These are a fun way to encourage children to read environmental print. They might even encourage your children to continue the reading at home next time they are eating cereal for breakfast (or possibly dinner.)
There are four different pages for you to choose from when copying the pages.
You can choose the one that fits your class or provide options.
Nonfiction comes in all forms. Make a fun nonfiction reading lesson by encouraging students to read cereal boxes. These activities can be mini-lessons or become centers for independent work.
You can download this free set of graphic organizers here:
As with all of our resources, The Curriculum Corner creates these for free classroom use. Our products may not be sold. You may print and copy for your personal classroom use. These are also great for home school families!
You may not modify and resell in any form. Please let us know if you have any questions.