Introduce and practice forming compound sentences by using these materials for writing.
Help students understand compound sentences with this collection of resources for your writing workshop.
This download will provide you with ideas to help students practice writing during literacy center time.
This is another free resource for teachers and homeschool families from The Curriculum Corner.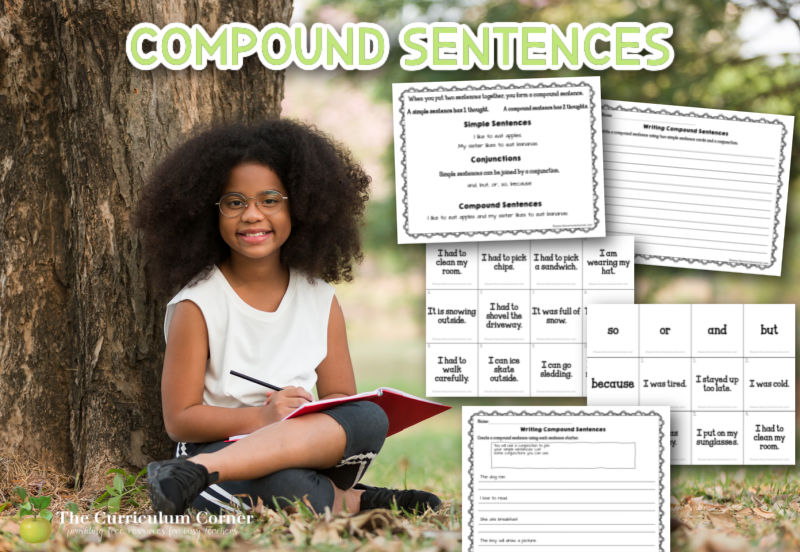 What are compound sentences?
A compound sentence is when two (or maybe more) simple sentences are joined by a conjunction.
Examples of simple sentences are:
I like orange juice.
My mom likes apple juice.
We went to the park.
We had a picnic.
You can take to simple sentences and join them with a conjunction.
Examples of conjunctions are:
Here are a couple of compound sentences using the above examples:
I like orange juice but my mom likes apple juice.
We went to the park and we had a picnic.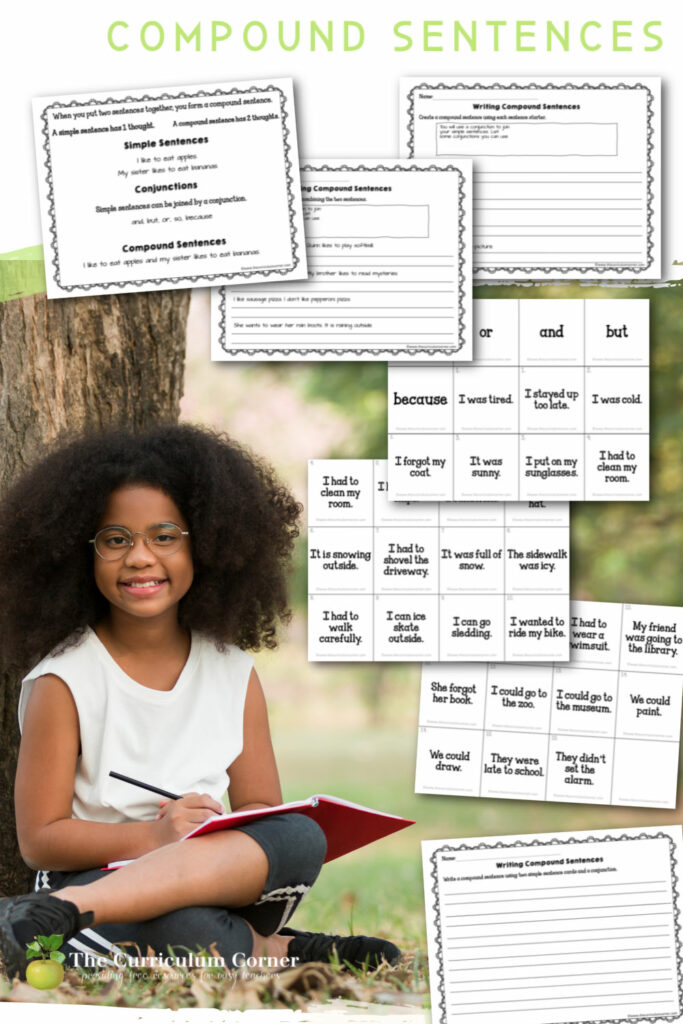 These compound sentence activities
You will find the following printables to help your students learn about and practice forming compound sentences:
Anchor Chart – You can display this at a center for a reminder or print as a poster to display. Or, you could add it to your smartboard during your lesson.
Worksheets – There are two worksheets for practicing. At the top of each, students are asked to list the conjunctions they might use. Next, they will form new sentences.
Sentence Cards – This set contains cards that can be placed at a center. First, there are five cards listing conjunctions. These are so, or, and, but and because. There are then pairs of sentences that are numbered. Children will find a pair and then combine the sentences to form a compound sentence.
Recording Page – Finally, you will find a recording page for children to record their responses.
You can download this free language set here:
These activities are designed to cover Common Core State Standards CCSS.ELA-Literacy.L.2.1f and CCSS.ELA-Literacy.L.3.1i
As with all of our resources, The Curriculum Corner creates these for free classroom use. Our products may not be sold. You may print and copy for your personal classroom use. These are also great for home school families!
You may not modify and resell in any form. Please let us know if you have any questions.