Create an engaging literacy center with this Christmas Roll Read Keep game, a free classroom resource from The Curriculum Corner.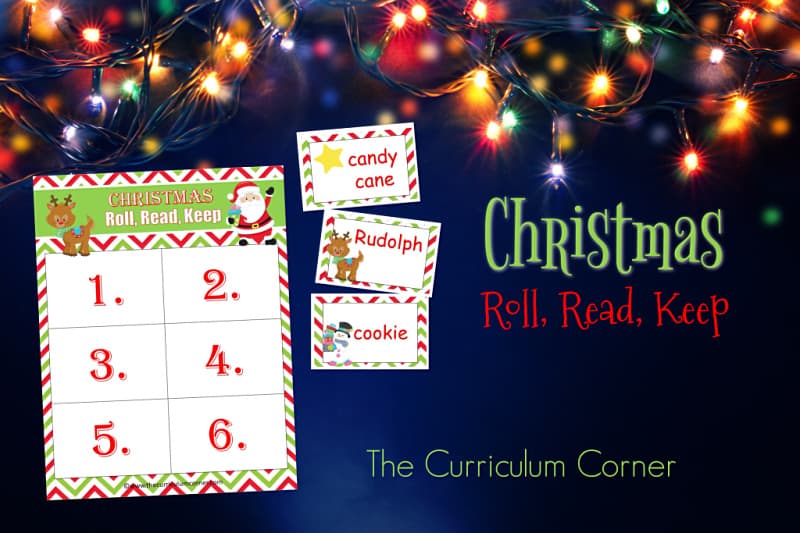 This Christmas Roll Read Keep game was created to be an easy to get together center in your classroom.
This Christmas Roll, Read, Keep set is designed to be a seasonal set without a Christian focus. It has seasonal clip art theme.
As always, we encourage you to preview the materials and see if they fit into your classroom. In our own classrooms, we did not use materials with a Christmas theme but know that in many schools this is done. We will be adding more sets without a Christmas focus that you can use instead.
This new game is created to give your students practice reading words that are commonly used during the Christmas season. You will find an assortment of 48 word cards. If there are words that don't fit your focus, you can remove them before having your students play the game.
To extend the use of the cards you are copying, you could create a second set and have students use the cards for a matching game.
Creating Your Christmas Roll Read Keep Games
Print the pages on card stock. We have provided two versions. One in full color, one with less color ink to preserve ink if needed.
Laminate the pages. Cut apart the cards.
Place the cards and a die in a bag for student use. You might store the board and other supplies in a large baggie or manila envelope.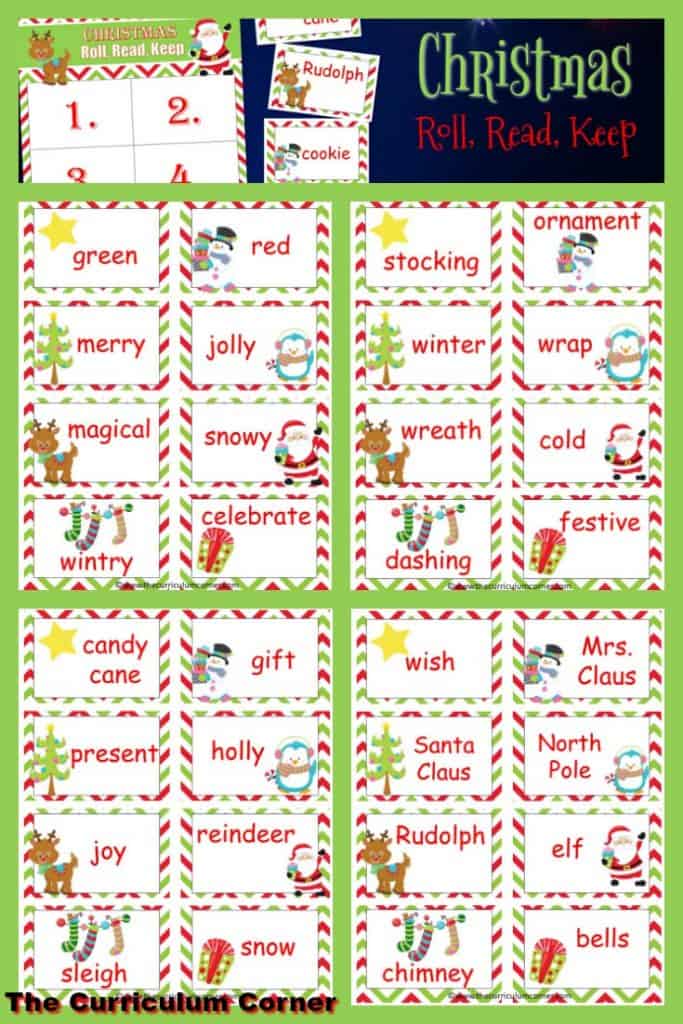 To Play
Students need a board, die and set of cards.
Children begin by placing a card on each spot on the board.
Once the die is rolled, students read the card that corresponds with the number.
If the student can read the word, he or she keeps the card. The child fills the blank spot with a new word card.
If the student cannot read the word, the word is returned to the bottom of the stack.
You can download this free Christmas Roll Read Keep Game here:
If you are looking for additional Christmas resources, you might like the following:
Christmas Print & Go Math and Literacy Practice Pages
Christmas Math and Literacy Centers
You might also like a few of our favorite Christmas books, contains affiliate links: