Help your students learn to form and read compound words with this collection of practice activities.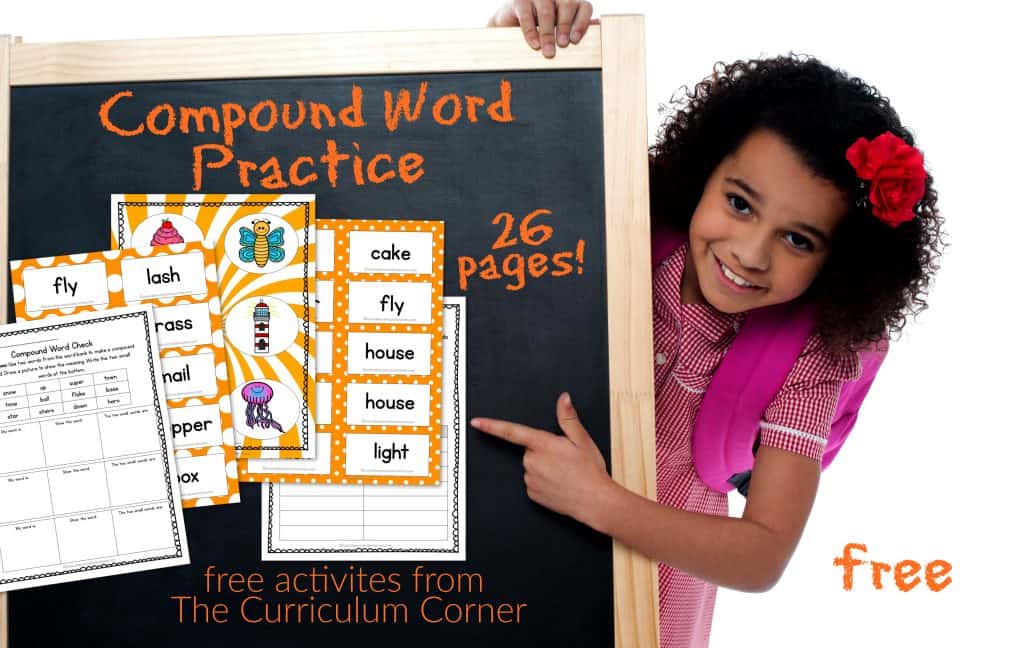 This is another free resource for teachers from The Curriculum Corner.
As students begin working on compound words, these compound word activities will give your children practice and review opportunities.
As always, we have worked to create a range of materials so that you can find free resources that best fit your students.
Why should I use these compound word activities to focus on compound words?
Once students begin to build a base of everyday, single syllable words, they are ready to move to bigger words. Compound words provide a nice transition for students moving into work with multi-syllable words.
One great thing about teaching compound words is that there are many supports you can offer. It is great to use these supports to help build student confidence.
Often pictures of small words can be used in puzzles or student illustrating to help students read larger words.
You will find the following compound word activities in our free collection of materials:
Word Checks
These pages can can be used as pre and post assessments if needed. You will find three versions.
Word Capers
This activity includes word cards with orange polka dots and a recording page.
Students use the word cards to form compound words.
You may choose to then have students to form their larger words on a white board or on the recording page.
File Folder Game
Use this printable to create your own compound word game.
Glue the two orange swirl pages on the inside of a file folder.
Students then use the cards with the small orange polka dots to form the compound words. They play the words on the folder.
Word Builders
Print and cut apart the picture and compound word cards.
Students match the word with the correct picture.
You can follow up on this activity by having students write the larger word and two small words on the recording page.
The word builder materials may be used as independent center work or as a compound word matching game.
Word Search
Students will read the passage.
They will record the compound words and contractions in the chart on the page.
Word Booklet
This booklet is designed to print front to back.
Cut the booklet in half and then staple.
You can have students use a set of word cards or find words in their reading.
They will record the word and then illustrate the meaning.
At the bottom they will be asked to record the two small words.
All of the colorful center cards are also provided with a white background to help you save color ink.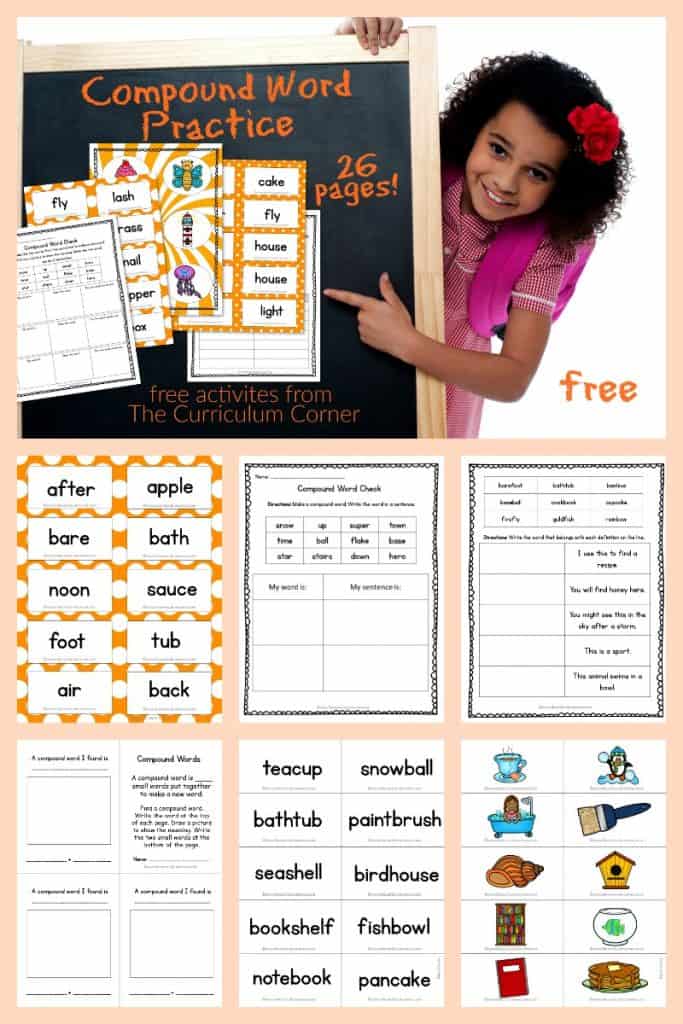 You can download this set of free compound word activities here:
---
As with all of our resources, The Curriculum Corner creates these for free classroom use. Our products may not be sold. You may print and copy for your personal classroom use. These are also great for home school families!
Remember, you may not modify and resell in any form. Please let us know if you have any questions.