Use these literacy center pocket chart cards to help you organize your center rotations.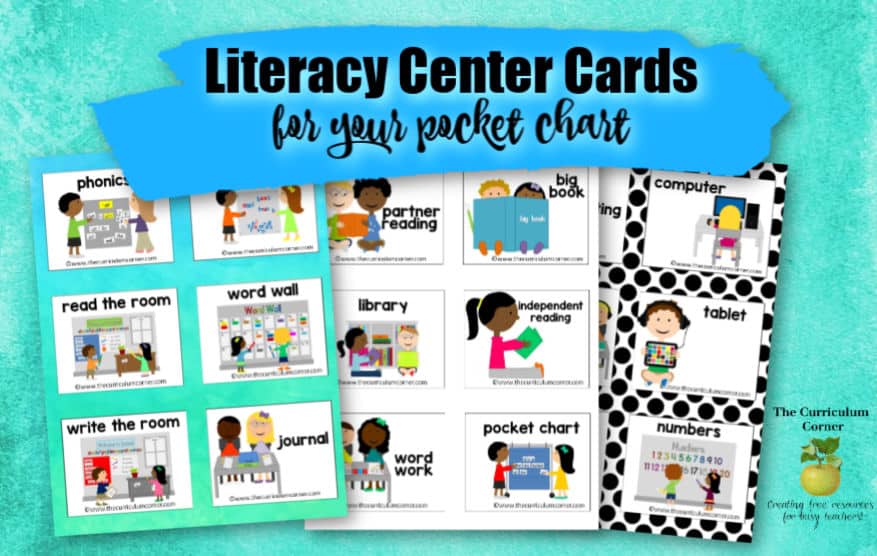 This is another free resource for teachers from The Curriculum Corner.
Our literacy center pocket chart cards are a way to help you share center rotations with your students.
A key part to organized classroom rotations for reading practice is communication with your students.
It can be a challenge for students to quickly rotate to the correct center if there is not a clear way of communicating this with students.
Adding our literacy center rotation cards to your management plan will help you make expectations for center rotations clear.
Our Literacy Center Rotation Cards
We have created our cards to include a wide range of center options.
You will find cards for a variety of literacy based centers.
The cards include a visual to assist younger readers. There are several possible centers.
Along with reading specific options, you will find many centers that are often found in first, kindergarten and preschool classrooms. These include cards for sensory and water tables. Also, play based centers such as cooking, market and puppets will be found.
Just in case we are missing one of your favorite centers, you will find a blank page that matches each set.
Choosing Your Literacy Center Rotation Cards
We are providing you with three choices for your classroom. Choose the set that is the best fit for your classroom decor!
You will find a set with blue and green watercolor. Next, we are providing a set with black and white polka dots. Finally, our last set is created with a plain white background to fit all classroom styles.
If you are looking for coordinating materials, you will find the links to each decor style at the bottom of this post.
Our reading management binder will provide you with planning pages. These pages will help you organize your rotations.
Creating Your Rotation Cards
These cards will help you share literacy center rotations with students. When students are able to visually see their next task for center work, transitions are more smooth.
These cards are made for you to print in color on heavy card stock. Laminate your cards. Then, use with a pocket chart.
Don't have a pocket chart? Try adding magnets to the back and adding to your chalkboard.
You can download these literacy center pocket chart cards here:
You might also like out other classroom decor materials:
Looking for supplies to help you create your display? Here are a few of our favorites. (Contains affiliate links.)
---
As with all of our resources, The Curriculum Corner creates these for free classroom use. Our products may not be sold. You may print and copy for your personal classroom use. These are also great for home school families!
You may not modify and resell in any form. Please let us know if you have any questions.
Thank you to Ashley Hughes for the literacy center clip art!