These insect scrambled sentences give your students literacy practice that is just right for spring.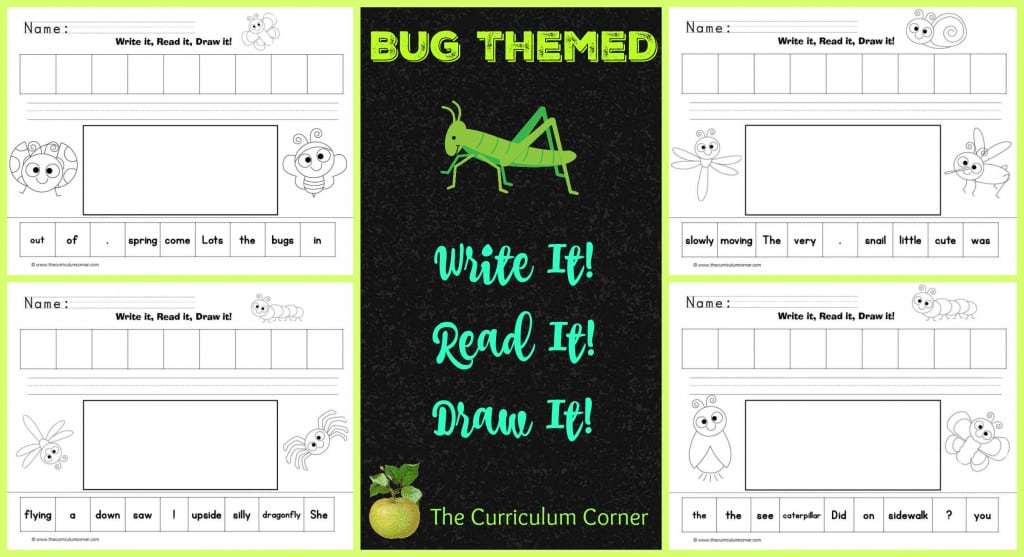 Read, Write, Draw activities are engaging for students and give your students needed practice with sentence formation. This set has a bug theme just in time for spring! These are free from The Curriculum Corner!
This set of Cute Bugs Read, Write & Draw It! pages not only give your students sentence practice, they also give your students practice with cutting which we think is sometimes hard to squeeze into a busy schedule. For schools where students are not allowed to spend literacy center time cutting, you may have students copy the words from the boxes in order and cross them out as they go.
Students cut out the words at the bottoms of the pages. Then they create meaning by arranging the words into a sentence, gluing them in the blank boxes, writing the sentence on the line, reading it for comprehension and finally illustrating the sentence to further show understanding.

The first link for the insect scrambled sentences doesn't contain punctuation and doesn't have the first word capitalized so students will need to remember to do that on their own when they write it. For those students who still need extra support, there is a second link provided that adds just that little bit of differentiation.
We have also again provided a blank page so that you can differentiate even further by making up your own sentences using sight words or other creepy crawly words and phrases.
Cute Bugs Read, Write & Draw It!
Cute Bugs Read, Write & Draw It! (with caps and punctuation)
**NOTE: If you ever have a theme or topic that you'd like a set of pages completed for, let us know! We can quickly create those for you and anyone else who might want something similar for their literacy centers.