Use this free July digital calendar during the month of July.
This free July digital calendar is being shared as a PowerPoint and as a Google Slides file.
It has been modified to fit 2023.
You can choose to use this calendar during your in-person instruction by displaying it on your SmartBoard.
Or, if you need additional resources for virtual instruction, this calendar version will be perfect for you.
Another option is to use this file at a computer center for students to work through in small groups.
This is another free resource for teachers and homeschool families from The Curriculum Corner.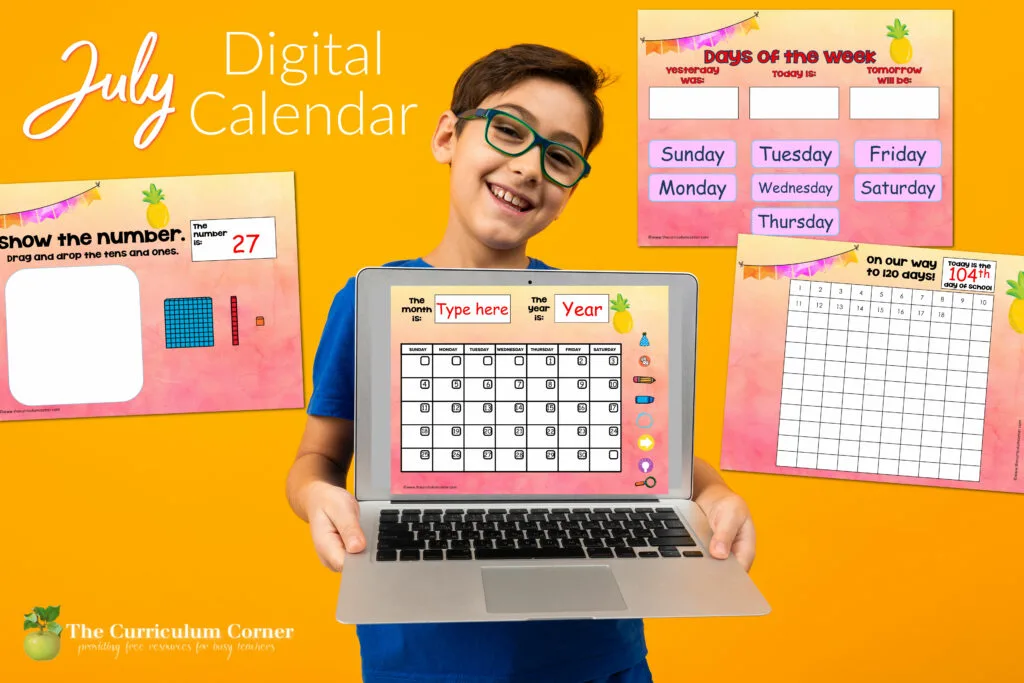 Try our monthly digital calendar for your SmartBoard!
This digital morning calendar option is a download that can be displayed on your SmartBoard.
If you are still in need of resources for distance learning, this can also be helpful for you.
This is the final installment of our collection. You will now find all 12 months on our site.
Choose from the PowerPoint file or Google Slides option below.
You must have PowerPoint installed on your computer in order to use the PowerPoint version.
If you will be using the Google Slides version, you DO NOT need to request permission to use the file. You will simply save a copy of the file to your Google Drive.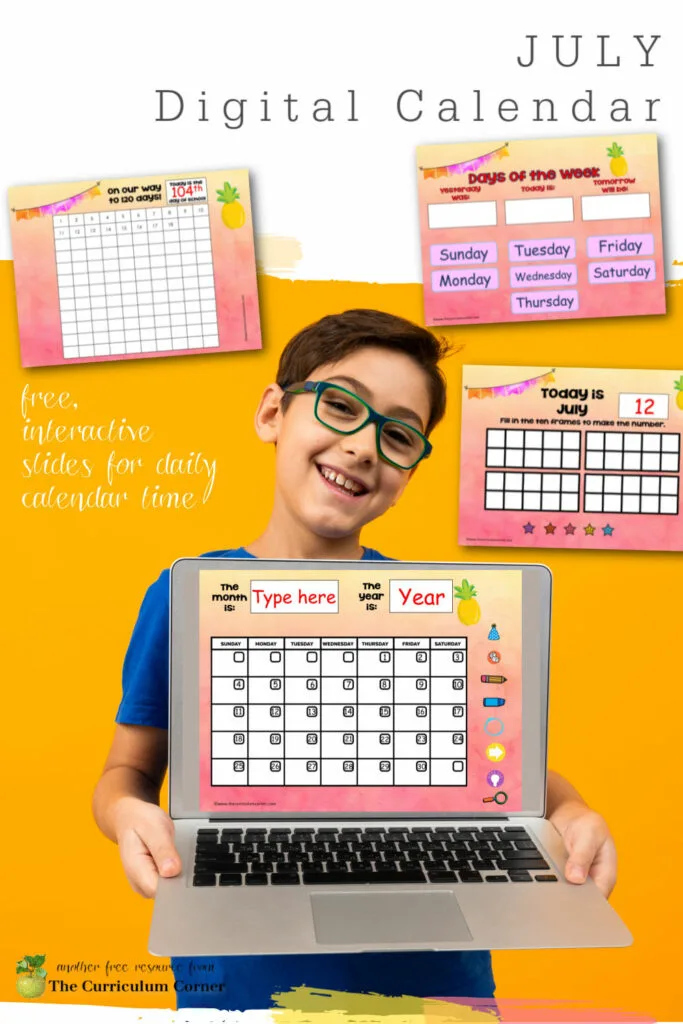 July Digital Calendar
This digital resource is being shared with you to help you add in new material for your July planning.
While we know July is a month that many are on summer break, we do know that some schools near us head back into the classroom at the end of the month.
If you are need of additional July morning resources, take a look around on our sites. We have bell ringers along with journal prompts and other ideas to help you get started.
While we originally created these slides to help you create a calendar time, we have heard that teachers are using them in different ways. Some are choosing to share these at a center where children can work together with a partner or small group to create a slide.
This July digital calendar download contains all of the following slides:
Build a calendar – children will drag and drop the number tiles to create a complete July calendar
Add the symbols – students can drag and drop the symbols to add birthdays, game days and other activities
Days of the week
About today – children can identify the season, temperature and weather
Fill the ten frames – add the date to the top, students can fill the ten frames with the stars to create the number
Show the number – add the number of the day to the box. students can create the number using the tens and ones
Hundreds chart – children can add the number to show the count of school days
120 chart – just like the hundreds chart but for those who celebrate 120 day instead of hundreds day
2 Hundreds charts – this slide contains two hundreds charts so students can continue counting the days after you celebrate hundreds day
Within this digital set you will find editable text and moveable pieces. As a result of the clipart licensing, not all slides are completely unlocks. We are not able to further unlock these materials.
Be sure to save a copy of the original download. This will make it easy for you to reset the resource each day.
It can be helpful to save the hundreds chart pages so that students don't have to start new each day. You can choose to copy and paste this slide each day.
If you would like to use the PowerPoint version, you must have PowerPoint installed on your computer.
You can download the PowerPoint file here:
You can access the Google Slides resource here:
As with all of our resources, The Curriculum Corner creates these for free classroom use. Our products may not be sold. You may print and copy for your personal classroom use. These are also great for home school families!
You may not modify and resell in any form. Please let us know if you have any questions.