Download this set of free digital August bell ringers to help you create an engaging morning entry routine using your SmartBoard.
Welcome your students with these digital August bell ringers.
Looking for a new morning routine?
This collection designed for electronic white board display might be a good starting point for you!
We are sharing a new resource for classroom teachers from The Curriculum Corner.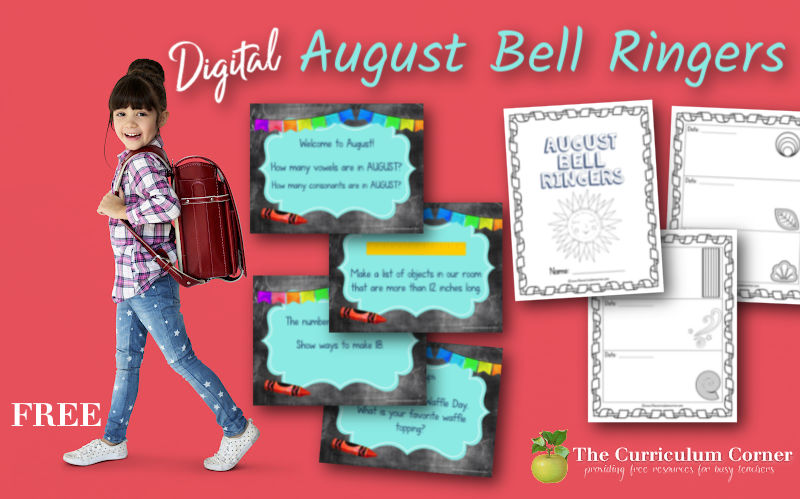 Welcoming Your Students
Welcoming your students in an engaging and meaningful way can be an important part of your day.
Finding that just right activity for your class is a big part of this. Not all morning routines will be a perfect fit for all groups of students. Be sure to try out different options to help you decide what is best.
This set will give you an option to encourage students to talk with their classmates or to record their responses in a journal.
What are bell ringers?
Not families with bell ringers? Let us help you get going!
Bell ringers are designed to help your students warm up for the day.
Each of our slides contains some sort of question or response prompt.
Use these to help you encourage students to engage with their classmates or respond with a simple written response.
These will provide a way for your students to slide into the day – they should not be stressful.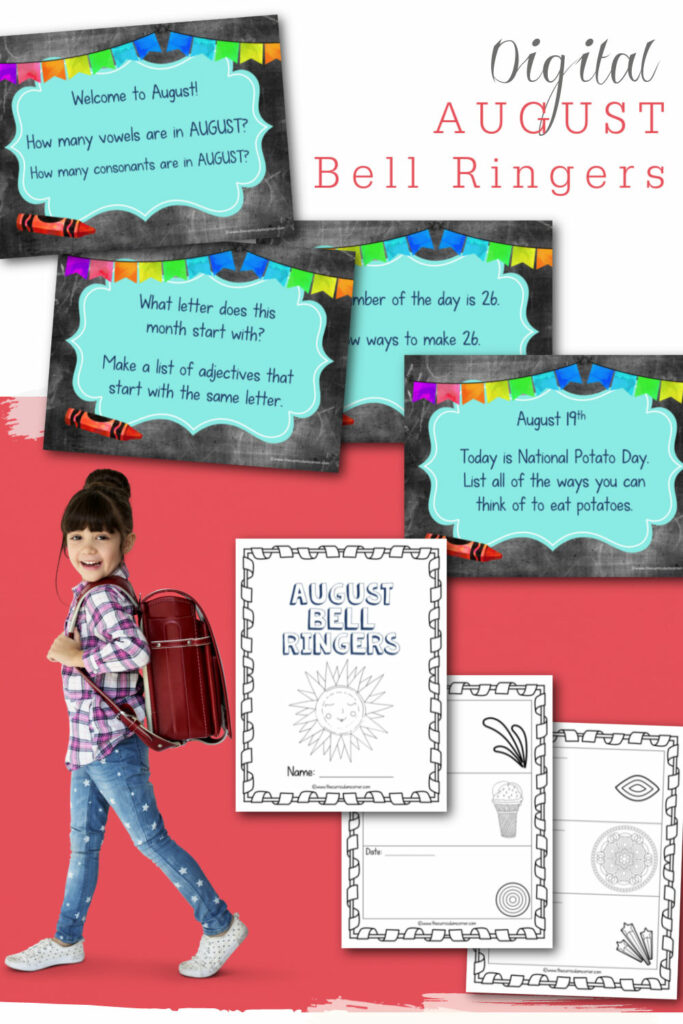 Digital August Bell Ringers
We have received some requests for a digital version of our daily bell ringer questions. We hope this set helps many of you!
THis download will provide one slide for each day of the month. Some of the slides are date specific – you can switch others around if a favorite falls on the weekend.
You can display the slide of the day on your board.
As students enter, they will read the slide and form their response.
We are providing a printable journal option. These are great for students who might not be ready to socialize in the morning.
Our thought is for these journals to be very lose. We wouldn't recommend requiring students to write in complete sentences – maybe some would even respond in picture form.
There are blank pages but also a page with a doodle for coloring.
You can download this free set here:
As with all of our resources, The Curriculum Corner creates these for free classroom use. Our products may not be sold. You may print and copy for your personal classroom use. These are also great for home school families!
You may not modify and resell in any form. Please let us know if you have any questions.