You can download this free set of Digital December Bell Ringers to add to your morning entry routine during December.
This set of digital December bell ringers are designed for you to display on your SmartBoard as students enter the classroom.
This is another free resource for teachers and homeschool families from The Curriculum Corner.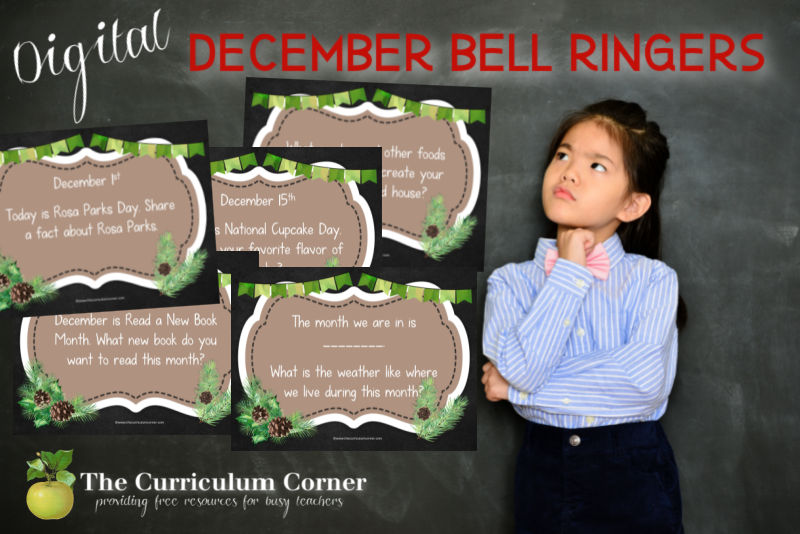 Preparing your morning entry time
As you decide what your morning entry will look like, be sure to think about how we, as adults, begin our school day,
We might fill up our coffee cup and then say hi to a neighbor. Maybe we answer a couple of emails and get ourselves ready for the day.
How we set up our student entry can be similar. As adults, we often complete other tasks before getting to our "real" work for the day. It's a little bit of a warm up time.
Our students can benefit from the same! Let them come in and say hello to their classmates. They might talk about a dance class or basketball game from the night before. Your students have things to share – letting them begin by sharing will help them be able to focus later on.
Not all students want to talk right away so maybe you offer some sort of pencil and paper task for those students who find that type of work relaxing.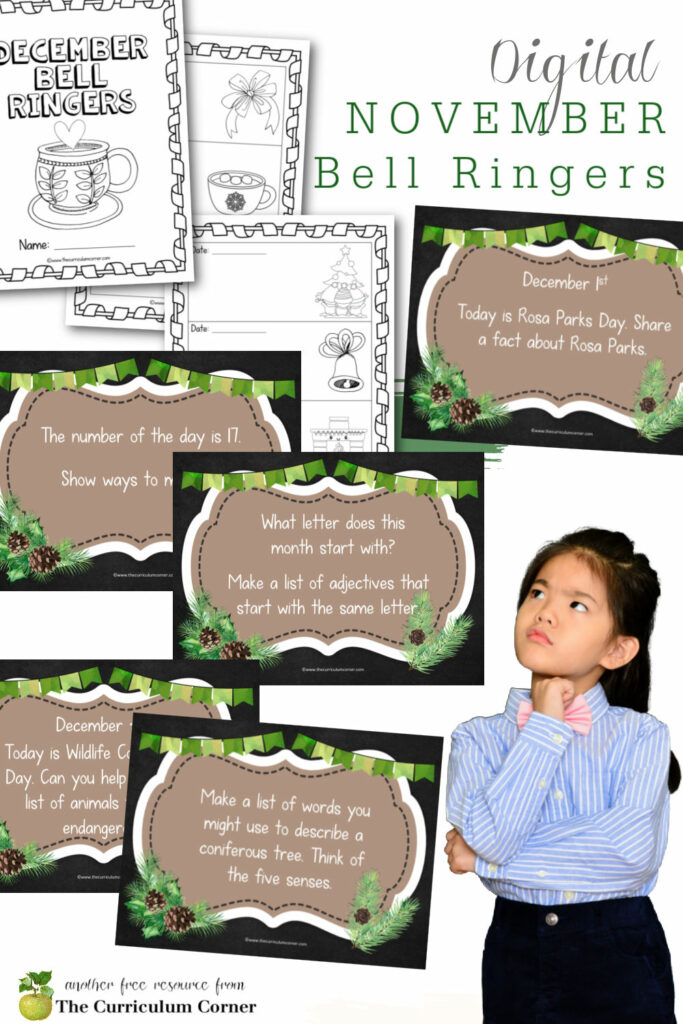 Digital December Bell Ringers
You will be able to download your own copy of these digital entry questions and a printable response journal.
If you don't have a SmartBoard or other form of electronic whiteboard, you might prefer to use the Printable December Bell Ringers.
This download will give you a set of 32 slides that have a preprogrammed message plus one blank one.
Some of the slides included will coincide with specific dates and others can be used at any time.
To use, display the slide of your choice on your electronic whiteboard each day.
As students enter the classroom, they will read the slide and talk about their response with classmates.
I am also sharing a response journal for those students who enjoy sharing their thoughts by doodling and writing.
You can download this free set here:
As with all of our resources, The Curriculum Corner creates these for free classroom use. Our products may not be sold. You may print and copy for your personal classroom use. These are also great for home school families!
You may not modify and resell in any form. Please let us know if you have any questions.