Download this set of 10 free fact and opinion worksheets to help your students work on fact and opinion.
These 10 free fact and opinion worksheets will give your students practice after the skill is introduced.
Students will practice writing their own statements and identifying given statements as fact or opinion.
This is another free resource for teachers and homeschool families from The Curriculum Corner.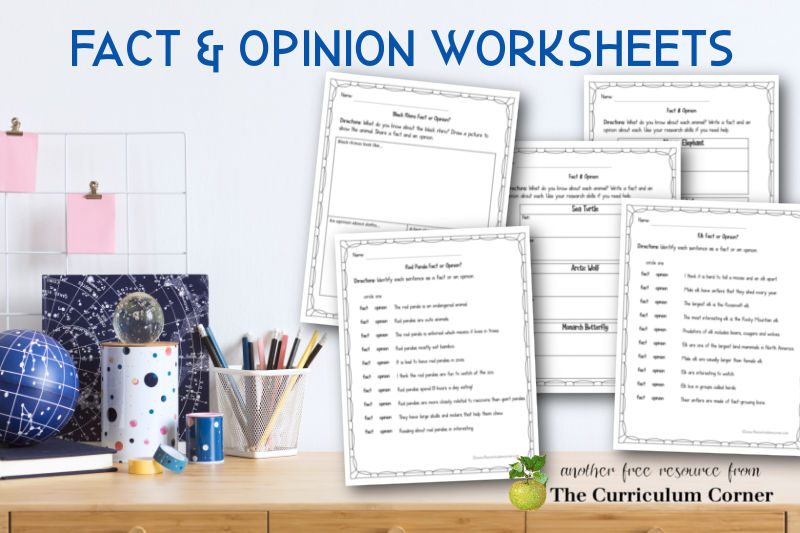 Introducing the skill
These pages are designed to provide pencil and paper review after the skill has been taught.
Children sometimes struggle with understanding the concept.
As you introduce the skill, help children understand that it will be different than true and false.
Explain that a fact is something that they can prove. They are able to find information that will support a fact.
An opinion is something they believe. Other people might have a different opinion. They are based on feelings or emotions.
One way for students to practice is by using these Fact & Opinion Sorting Cards. Students might also like this Fact or Opinion Scoot Game.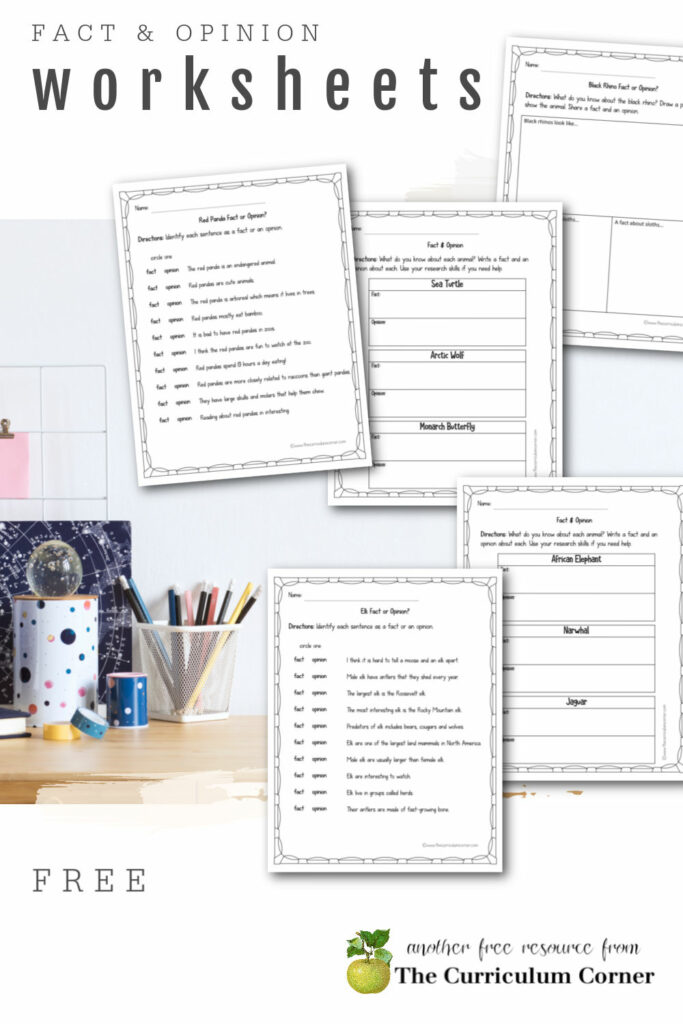 These fact and opinion worksheets
This download contains 10 different pages for practicing determining the different between fact and opinion.
All of the pages focus on animals as the subject.
First, you will find two pages that give ten statements each. Students will read the statements. They will then circle true or false.
The remainder of the pages will require students to complete simple research to complete. They will need access to a book about the animal or a tablet.
The next six pages will give students an animal. Students will begin by drawing a picture of the animal. This will help them get familiar with the animal so you can make sure they are thinking about the correct animal.
They will then either share one or two facts and opinions about each animal. (There are options provided for one or two.)
The final two pages ask students to find a fact and an opinion about three different animals.
You can download these free reading skill pages here:
As with all of our resources, The Curriculum Corner creates these for free classroom use. Our products may not be sold. You may print and copy for your personal classroom use. These are also great for home school families!
You may not modify and resell in any form. Please let us know if you have any questions.