You can download this set of Digital June Bell Ringers to help you engage your students in a fun morning routine.
This free set of Digital June Bell Ringers can be used to help keep your students excited about entering your room each morning as the year winds down.
This is another free resource for teachers and homeschool families from The Curriculum Corner.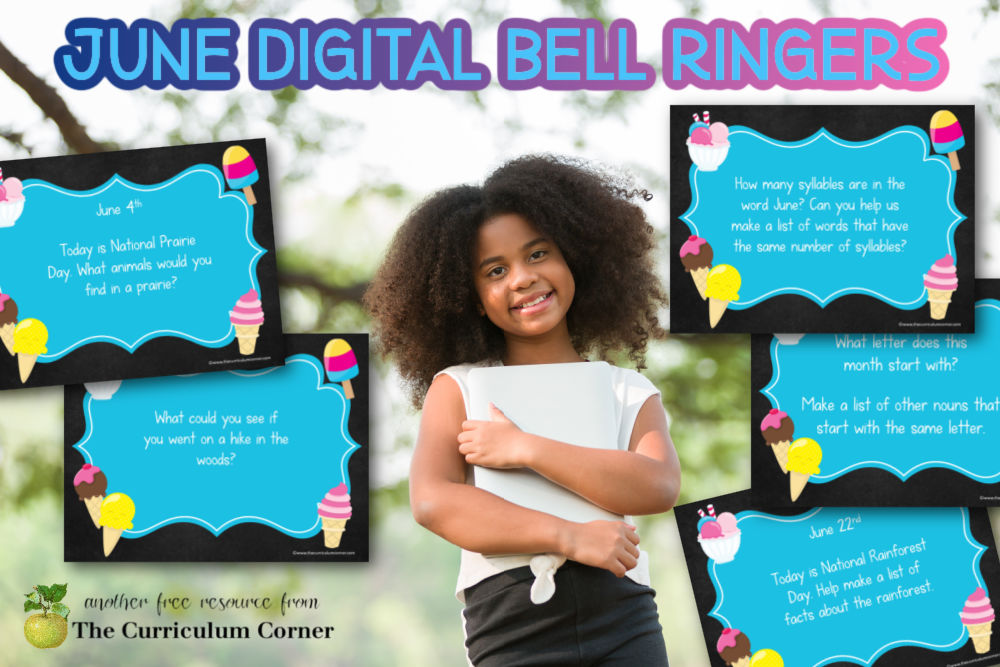 What does your morning entry look like?
Do you have a special routine your children are used to for morning entry?
I always liked offering my students options so they could choose what would help set them up for success that day.
Sometimes I would have a puzzle sitting out, paper for writing notes or LEGOS for building. My goal was to always have something that would interest different students.
Also, I liked to switch out what was available so there would be new options.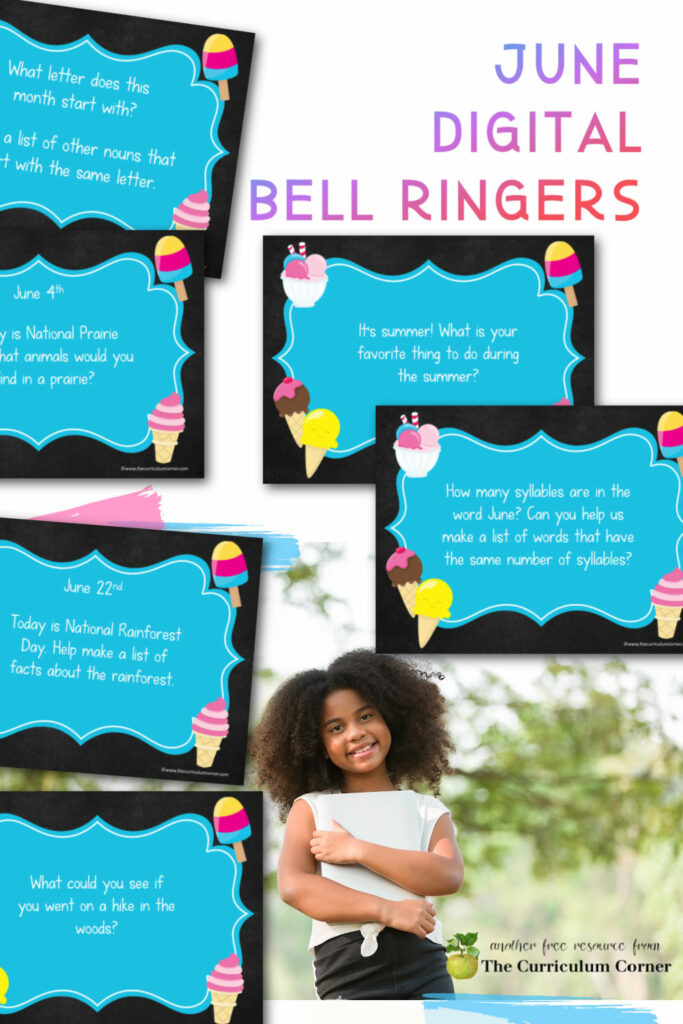 These digital June bell ringers
This download will provide you with a variety of options for each day of the month.
The file is provided as a PDF.
You will be able to download the file and display it on your SmartBoard or even a computer screen so students can see the daily bell ringer question.
There are a total of 32 bell ringers. A blank slide is also included so that you can add a text box and your own bell ringer.
The bell ringers include sharing non traditional days such as national donut day and reef awareness day.
You can have students respond in different ways depending on how your classroom is set up.
For some rooms, encouraging students to chat with a classmate about their response might be a good approach.
Other classrooms might prefer writing responses on the chalkboard or using Post-it Notes.
Another option is the journal you will find below. There are blank pages and pages with pictures for coloring. I don't envision all students using this. It could be an option for those who prefer to use written words and pictures to share their answers.
Click on the apple button below to download this free set of bell ringers:

You can download the coordinating journal here:
As with all of our resources, The Curriculum Corner creates these for free classroom use. Our products may not be sold. You may print and copy for your personal classroom use. These are also great for home school families!
You may not modify and resell in any form. Please let us know if you have any questions.