This maps classroom decor set is perfect for your classroom travel theme or classroom adventure theme.
Download this maps classroom decor set to set up your new around the world adventure as you head back to school.
This theme contains everything you need to get started with your newly themed classroom.
This is another free resource for teachers and homeschool families from The Curriculum Corner.
Get ready for your learning adventure!
(This post contains affiliate links from Amazon. When you purchase an item from Amazon using the links, I receive a small commission to help keep this site running and to keep everything free.)
I love this set because there are so many different ways it can be incorporated into your classroom.
You can simply go with a map theme and incorporate sayings such as: Where will your learning take you?
Or, maybe you will go with an adventure focus and use a saying such as: Welcome to a new adventure!
This theme can work in any classroom but could be choice if you are teaching world history or literature around the world.
The downloads being shared will be a good start but you might choose to add in your own ideas.
I would definitely make sure globes are available and I even love the idea of having inflatable globes for some activities.
I also like this bulletin board paper with a wood look to use as a background.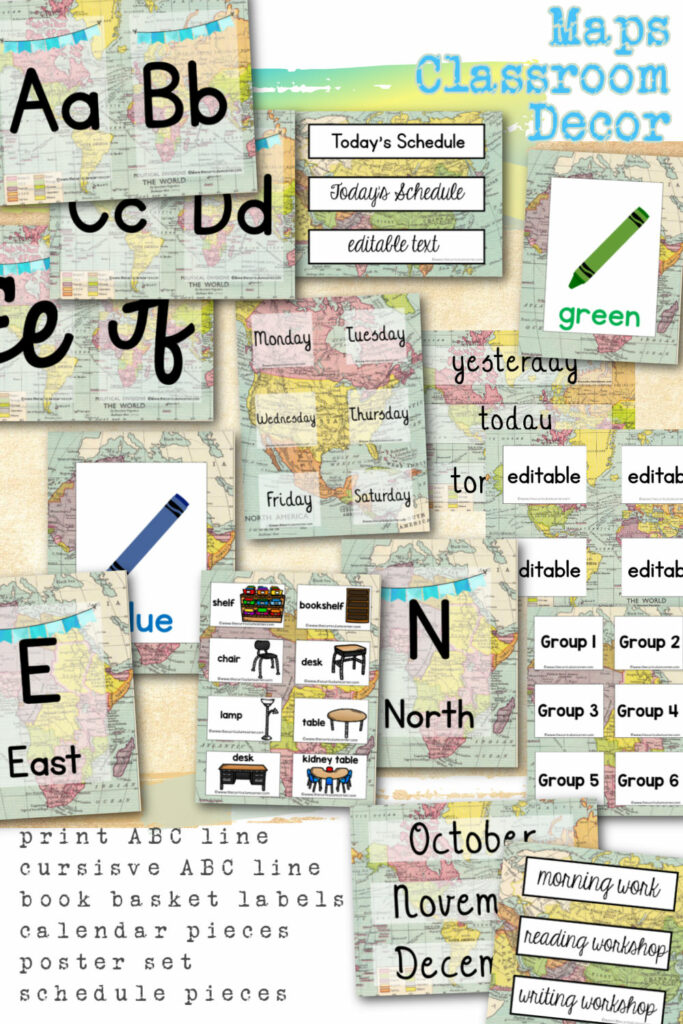 This maps classroom decor set
Within this collection, you will find many different options.
There are choices so that this theme can be adapted for many different grade levels.
Along with preformatted sets, some are editable using PowerPoint.
How can I edit this classroom theme set?
The editable files you will find in this set are being shared as PowerPoint downloads. Editing is easy to do but you must have PowerPoint installed on your computer in order to be able to use the files.
We have used free KG fonts in these files. You will need to add these to your computer in order for the files to display correctly. Another option is to switch the fonts to one of your favorites.
The three fonts we have used are KG A Thousand Years, KG Penmanship Print & KG Be Still and Know.
Simply type of the wording we have entered to make these your very own.
Need another color added to fit your classroom theme? You can change the font colors to make this set a perfect fit.
These files will allow you to create the following materials for your classroom:
classroom labels
name tags
group name signs
group number signs
hall passes
book bin lables
supply labels
classroom center signs
blank anchor chart
response posters
classroom schedule cards
The files which are not editable include:
ABC letter line in print
ABC letter line in cursive
color posters
cardinal directions posters
number line cards
number cards
ABC cards for grouping students, ordering or anything else
calendar pieces
literacy center rotation cards
You can download these free files here:
Classroom Decor: Maps
This classroom decor set has a map theme. You will be able to click on the underlined titles below to download each file. Each file is a separate download.
This set will also fit well into a travel themed classroom or a learning is an adventure theme.