These free resources are meant to support teaching about Dr. Martin Luther King, Jr.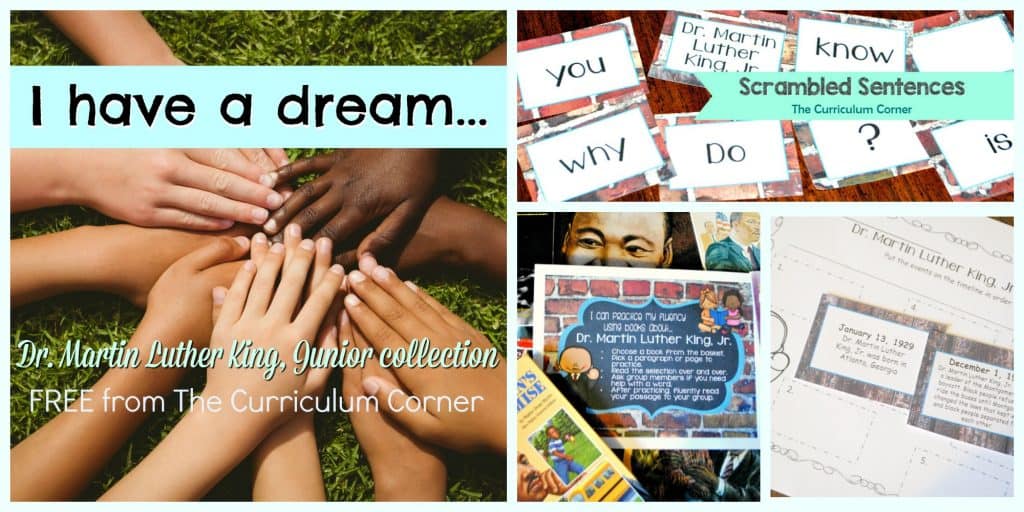 This is another free resource for teachers from The Curriculum Corner.
Whether you choose to teach about Dr. Martin Luther King, Jr. in January near the day that we celebrate his contributions to our country, in February during Black History Month or as part of a unit on great leaders during another time of the year, these resources are meant to support your teaching.
**YOU WILL FIND THE FULL DOWNLOAD FOR ALL OF THE RESOURCES AT THE BOTTOM OF THIS POST**
Dr. Martin Luther King, Jr. Center Descriptions:
I Can Read About Dr. Martin Luther King, Jr.
This center is meant to be used with the book Let's Read About Dr. Martin Luther King, Jr. by Courtney Baker, but if you have another title you prefer, any could be used as long as you have enough copies for a small group of students to read together.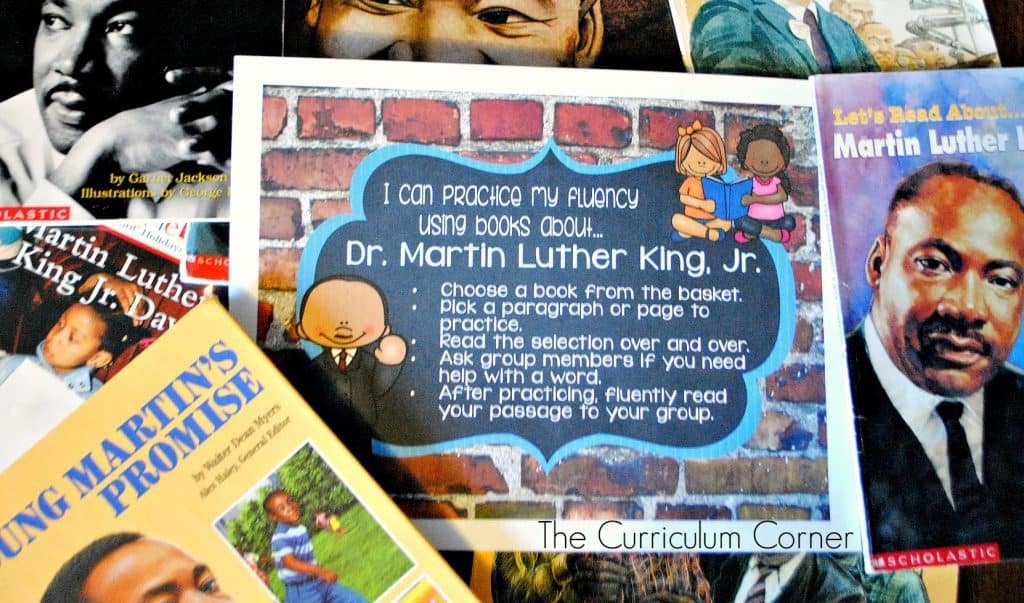 I Can Use Books to Learn About Dr. Martin Luther King, Jr.
For this center you will need to gather several books about Dr. Martin Luther King, Jr. and place them in a basket.
You will want students to have several resources to try to find the information the graphic organizer asks for.
If you have the ability to turn the graphic organizer into a bigger poster size it might work well with this activity because they are asked to fill out the organizer together. If not, each student can fill in his/her own page with help from the group if needed.

Dr Martin Luther King Jr. Fluency Practice
Use the same basket of books from the activity above or one that is similar. Students will read a book to learn more about Dr. Martin Luther King, Jr. and find a passage or two that has an impact on them.
After determining the passage(s) they like, they practice it aloud for fluency. They can then read it aloud to their group members or perhaps even the class.
I Can Write About Dr. Martin Luther King, Jr. (for interactive notebooks)
As students read and learn about the kind of person Dr. Martin Luther King Jr. was, they think about his character and examples in his life that prove that character.
You will find two different versions of this resource – one that asks students to list three different character traits with examples and one that only asks for one character trait, but asks for three examples of that trait.
Directions: The envelope shape is cut along the outer solid black lines and the three tabs get folded backwards and glued into the notebook to create an opening at the top. Students fill in the squares with the required information. The squares then get cut out and inserted into the envelope flap in the notebook.

The Life of Martin Luther King, Jr. (Timeline Activities)
You will need to make copies of our MLK information pages for these activities.
(We have provided these pages in color so you can laminate them to keep from year to year or we have also provided a black & white version you can copy back to back.)
There are a few different options for timelines described below.
Activity #1: Interactive Notebook Timeline – Students read the information pages (independently or together as a group), choose key events in Dr. King's life and then each create a timeline of those events. We have provided three different templates for this activity so that you can choose the number of events you will want students to use. (This can also be used for differentiation among various groups.) Directions: Students cut along all the solid black lines, including those that separate the flaps. The lighter gray side of the page is then glued into the notebook down the left side of the notebook page (leaving the side with the flaps free to open and close). Students close the flaps and write dates on tops of each one. When the flap is opened, the description of the key event is written inside.
Activity #2: Timeline Cards – These cards list nine significant events in Dr. Martin Luther King, Jr.'s life. The first set can simply be printed, laminated and placed in order according to the dates listed. The next two sets can be used as matching cards. (We would suggest having some books at this center so that students can check the facts and dates of the events.)
Activity #3: Timeline Cut & Paste – This activity requires students to cut out boxes with events from Dr. King's life and place them on a timeline under the correct dates.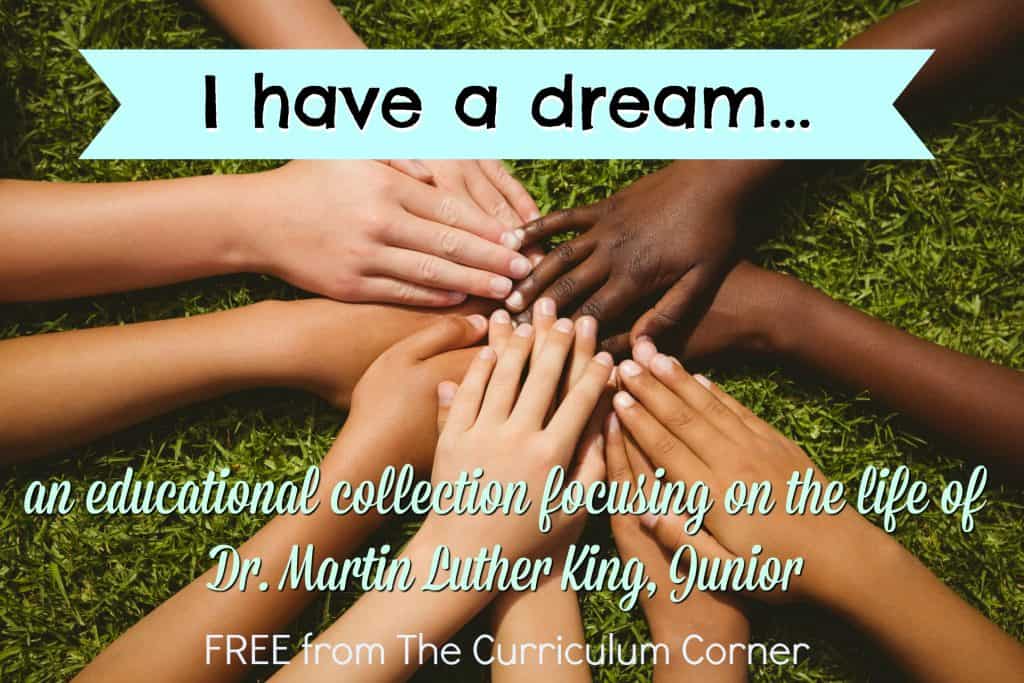 Making Words
Students use the letters in Dr. Martin Luther King, Jr. to create smaller words. Comes with a page of letters for students to cut out and manipulate to make the words.
What Would Dr. King Say?
This page requires students to use what they have learned about Dr. Martin Luther King Jr., and think about how he would have used his leadership skills in today's social media to try to make a difference.
Reading Response Pages
These two pages have simple reading response questions to be completed after the learning.
The first involves simple fact recall and the second asks students to ponder why Dr. Martin Luther King, Jr. was known as such a great leader.
Pocket Chart Sentence Cards
These five pocket chart sentence cards can be used during a mini-lesson or as a scrambled sentence center.
The borders are color-coded for easy sorting and storage.

Working Together to Make a Difference Brochure
This brochure is fairly open-ended and can be used however you feel appropriate for your class and students.
You might think of partners working together on them and then presenting and/or displaying them in your classroom.
Ideas for a Better World Puzzle
Get students thinking about ideas for how they can make our world a better place just like Dr. King did.
Print the puzzle templates on card stock.
Students write their ideas on puzzle pieces, color them & cut them out, place the pieces in an envelope and then trade with a friend to solve.
Lined Paper for Writing
We have provided some lined paper that you can use for any type of writing assignment you wish to give during your study of Dr. Martin Luther King, Jr.
You will find the full download of our MLK resources here:
We are also providing these resources without the chalkboard and brick backgrounds for printing without color ink: Black & White Version
Looking for books to add to your classroom collection? Here are a few of our favorites. (Contains affiliate links.)
---
As with all of our resources, The Curriculum Corner creates these for free classroom use. Our products may not be sold. You may print and copy for your personal classroom use. These are also great for home school families!
You may not modify and resell in any form. Please let us know if you have any questions.
---
Thank you to Educlips, Tracee Orman & Tangstar Science