Download this free end of year memory book PDF to help your children celebrate the last day of school.
This free end of year memory book will be a fun addition to your end of year celebrations in the classroom.
Help children record memories of the past year by giving them time to complete this memory book.
This is another free resource for teachers and homeschool families from The Curriculum Corner.
Looking forward to wrapping up the school year?
As you are preparing to end the school year and make sure your students are ready to move on, this booklet can be a fun addition to your planning.
This booklet might be a last day of school activity.
Or, you could have students work on completing this booklet during your morning entry time over the last two weeks of school.
However you choose to have your students record their memories, we are sure they will be thankful in the future for a booklet like this one.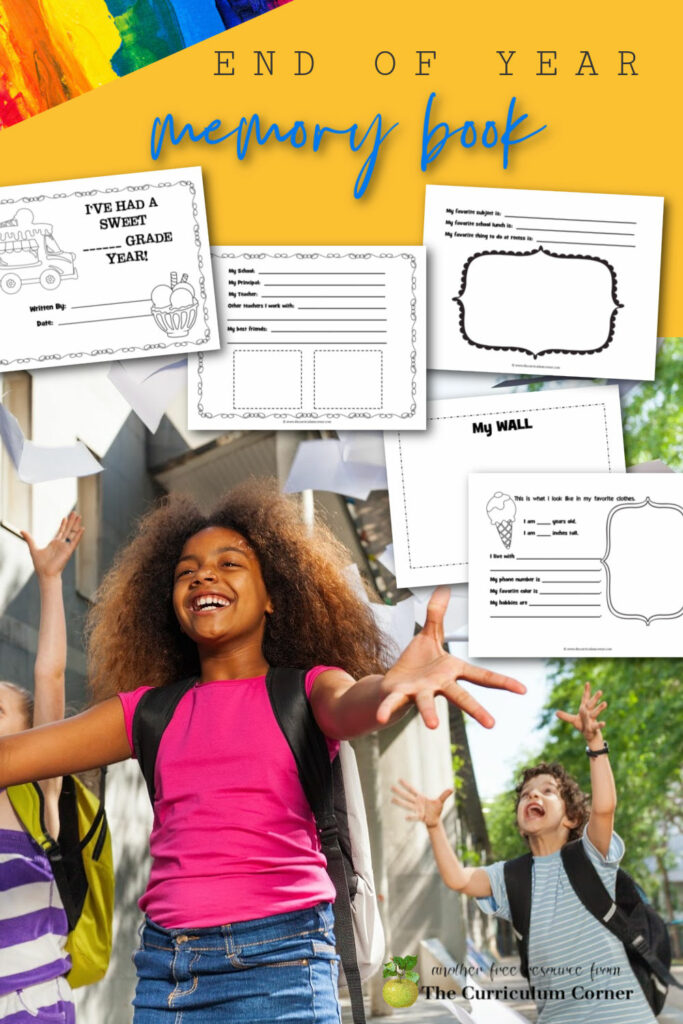 About this printable end of year memory book
Wrap up your school year with this SWEET ice cream themed Memory Book.
This memory book can be a great, meaningful time filler for those last days of school. Students will enjoy sharing memories with their classmates and will be making a fun keepsake of their school year.
For added fun, provide students with printed copies of photos you have taken throughout the year. They can add these photos to their books. Not only will students enjoy this project, parents will appreciate getting an already assembled memento to add to memory boxes!
If you are allowed, have an ice cream party in your classroom while students create their books. Or, have an autograph party as they finish up that includes ice cream.
Print the pages that your students will enjoy and assemble the books. We think the ice cream theme is perfect to accompany an end of the year ice cream party!
If your students are younger, you might provide a word wall on chart paper or your board so that students are not avoiding words they are not sure how to spell.
Use this ice cream themed memory book to help your students create a fun memento of this school year.
You can download this free PDF here:
If you are looking for additional end of the year ideas, please check out our round up post: End of the Year
We have a similar end of the year book with a music theme here: Rockin' End of Year Book.
As with all of our resources, The Curriculum Corner creates these for free classroom use. Our products may not be sold. You may print and copy for your personal classroom use. These are also great for home school families!