This free writing workshop unit of study focuses on using Eric Carle (Eric Carle Lesson Plans) as a mentor author. Created by The Curriculum Corner
Eric Carle is an amazing author who has created countless books children simply fall in love with.
These books can be a great way to spark the imaginations of young writers.
We have put together this collection of lessons to help you in using Eric Carle books during your writing workshop.
Using a favorite author during your writing workshop can encourage your writers to try new skills in writing.
These free Eric Carle Lesson Plans will allow you to help your writers explore writing while using Eric Carle as a mentor.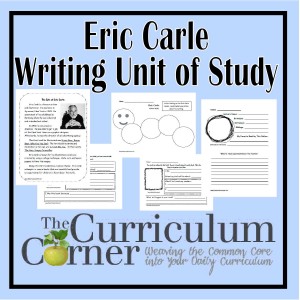 As this is an older collection of resources, each material is provided as an individual download below.
Click on the bold title to download each file.
Using Eric Carle as a Mentor Author
Biography Organizer Use this with the Eric Carle biography to help students organize what they have learned about Carle.
Eric C Noticings Pull together a stack of Eric Carle books and give students the opportunity to explore. Students "notice" features of Eric Carle books and record them on the caterpillar.
Making Connections with Eric C Books After time has been spent reading Eric Carle books, students practice the skill of making connections. Students are asked to make a text to text connection, text to self connection and text to world connection.
Animal Organizer Many Eric Carle books teach children about animals. Have students choose a favorite animal book written by Eric Carle. They then complete the organizer to share what they have learned during reading.
Animal Organizer for Writing This organizer is similar to the above Animal Organizer except it is designed to be a planner for writing. Students choose their own animal and outline the book they will write using Eric Carle's style.
Collage Book After studying the art work of Eric Carle, provide materials for students to create their own collages. Students write a sentence about their animal using two adjectives and then create a collage of their animal. These papers can be stapled together to create a class book (we have included a cover) or displayed on the wall.
If you need blank books and lined papers to allow your students an opportunity to practice your writing, you will find them here:
If you are in need of Eric Carle books to add to your classroom library, you will find a few of our favorites below (contains affiliate links):