These free main idea and details resources have been created to help your students develop a main idea and details when writing.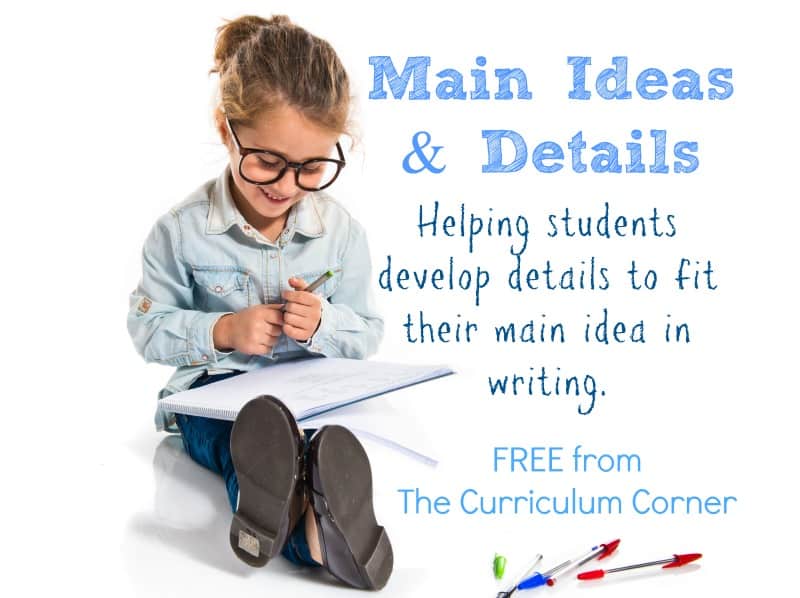 Teaching children how to write a good paragraph can be a difficult task. We've created this set of lessons to help guide your teaching.
The resources we have created are provided in separate download links below. Click on the title of each resource below to download each item.
Within our collection you will find a main idea and details sort. There are also three recording pages that will make it easier for you differentiate the assignment for your students.
We have provided sorting activities that contain pictures and sentences.
You might also create your own sort using real objects. For example, put a toothbrush, toothpaste and floss into a bag. Pull out the items and have students tell you what the main idea would be.
The resources focus on informational text.
As always, these resources have been created to be a free classroom resource for teachers. You may print and use in your classroom or home.
You may not sell or modify and sell in any way. Please contact us with any questions.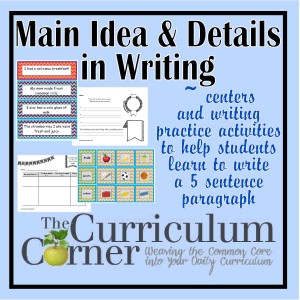 The following main idea resources have been provided:
Main Idea Sorting Cards A great starting point to help children understand how to categorize items under a main idea. Print the cards in color and laminate. We have three different recording pages – this will allow you to differentiate this center for students. Recording Sheets: Beginning Intermediate Advanced
Sorting Main Ideas & Details Print in color and laminate these cards. Students then sort the cards. Each set includes a main idea and three details. You may also choose to remove the main idea cards. Students sort the cards and then must write their own main idea sentence.
All About Me Students create an outline for a paragraph about themselves.
My Favorite Animal Students create an outline for a paragraph about their favorite animal.
A Rainy Day Students create an outline for a paragraph about what they would do on a rainy day.
Paragraph Page Have students practice turning their outline into a paragraph on this lined page.
If you are looking for additional main idea resources, you might be interested in our main idea collection for small reading groups:
Main Ideas