Help your students learn to write a summary with these free printable pages for your reading workshop.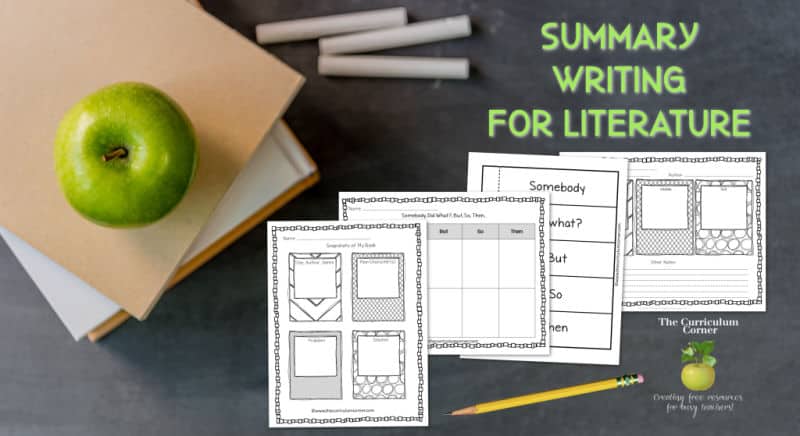 This is another free resource for teachers from The Curriculum Corner.
Help your students work towards being able to write a good summary with these printables.
Retelling vs. Summary Writing
Retelling is different than summary writing. Retelling involves more details than summary writing.
The problem students have in summary writing is that they tend to want to tell EVERYTHING that happened in a story.
Summary writing needs to be much more concise. We need to teach our students how to share only important events when they write summaries.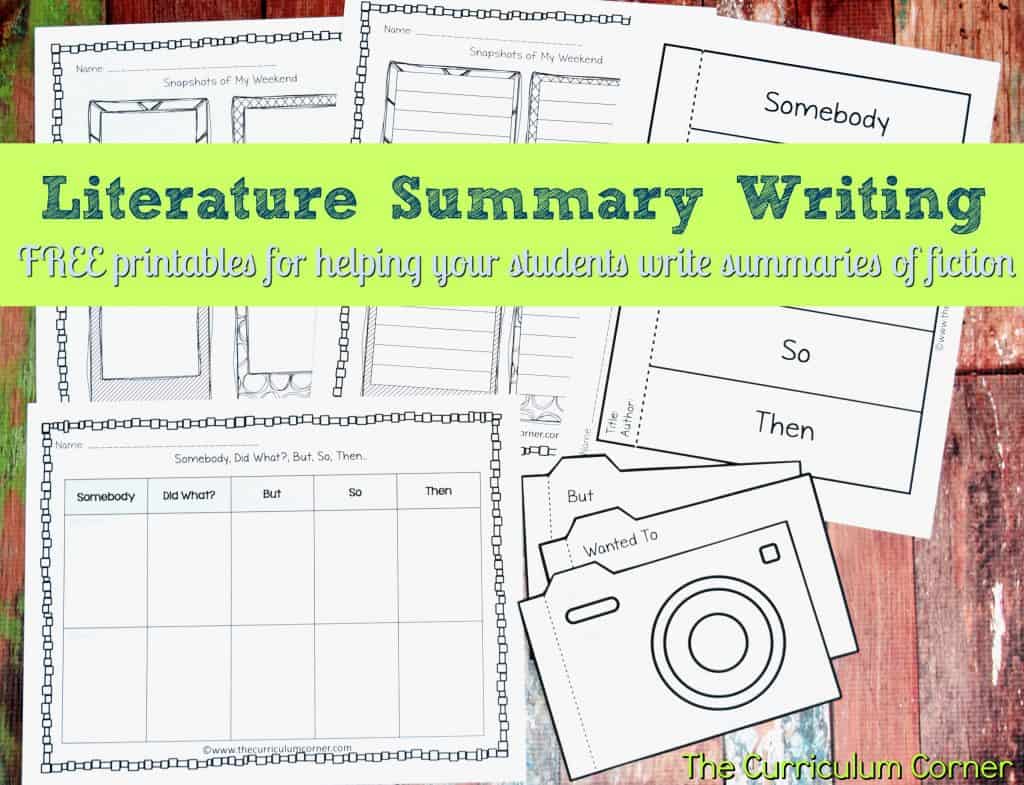 *** How to Write a Summary – You will find the download at the bottom of the post in

BOLD BLUE

letters.***
Introductory Lesson
For an introduction to summary writing, one fun idea is to bring in some pictures from a trip you or your family has taken. Be sure to include pictures of only the highlights or most important or memorable parts. Stay away from those that were just for fun…such as selfies in the car or meals. 🙂
Begin by shower your students your pictures and talking about where you were, what was happening and why it was so memorable/enjoyable. Continue with a discussion about other things from your trip that are more detail-oriented – driving, stopping for meals, buying souvenirs, etc.
Explain that although you may have enjoyed these details of the vacation, they are not what "tell the story" of the destination and it's purpose – relaxing, sight-seeing, visiting with family, etc.
Follow Up Lesson: Snapshots of My Weekend
To follow up the introductory lesson, we have created a page called "Snapshots of my Weekend". This will allow students to practice a more structured type of writing before working on summarizing texts.
To start this lesson, you must first draw pictures of highlights from a recent weekend you had.
We have provided four "instant picture" templates on our page. (There is also a page of templates with lines for those students who feel more comfortable writing a few sentences instead of drawing.)
Share all of these pictures (or sentences) with your students and discuss how, once again, you didn't necessarily talk about smaller details of your weekend such as sleeping or watching TV.
These were the highlights, or big events, of your weekend. (You might fee the need to plan a fun weekend to make sure you have something cool to write about! LOL!!)
Next, use the lined page provided to model how to write a summary of your weekend for your students. Model whatever expectations and guidelines you want them to use in their writing.
Be sure to refer to your weekend "pictures" to make sure you stay on topic during your writing
Modeling Lessons
You are now ready to help students practice their summary writing.
Each day, for several days, read a different book aloud to your students.
Then display the very similar "Snapshots" graphic organizers, have students visualize key events from the story, and write them in the picture templates.
Follow that with modeling how to write a summary of that book on the lined pages. The hope is that the "snapshots" will keep the students focused on the big events in their summary writing and guide them away from telling all of the details of a story.
Pass out the organizers and give students an opportunity to practice this on their own with fiction stories they are reading.
Conferencing will help you to see how students are doing and whether or not you need to continue with more modeling.
Summary Sentence Frames
Another effective way to teach summary writing is to introduce students to the following sentence frame: "Somebody….Did What?/Wanted To/Tried To…But…So…Then…"
Again, this takes modeling, but helps students to stick to the major events in a fiction story.
We have provided the sentence frame format (including all three of the different "action" phrases) in different ways – a picture & word chart, interactive notebook cut & glue page, and camera template mini-book.
Choose the one that you feel will be most effective and engaging for your students. Or introduce all three so students can choose the format that is right for them.
Additional Organizers
We have provided two additional organizers you might like for summary writing.
They both contain the picture templates. One has students focusing on main character & setting/problem/solution and then other has beginning/middle/end.
These might be good for your students who don't need quite as much guidance with summarizing.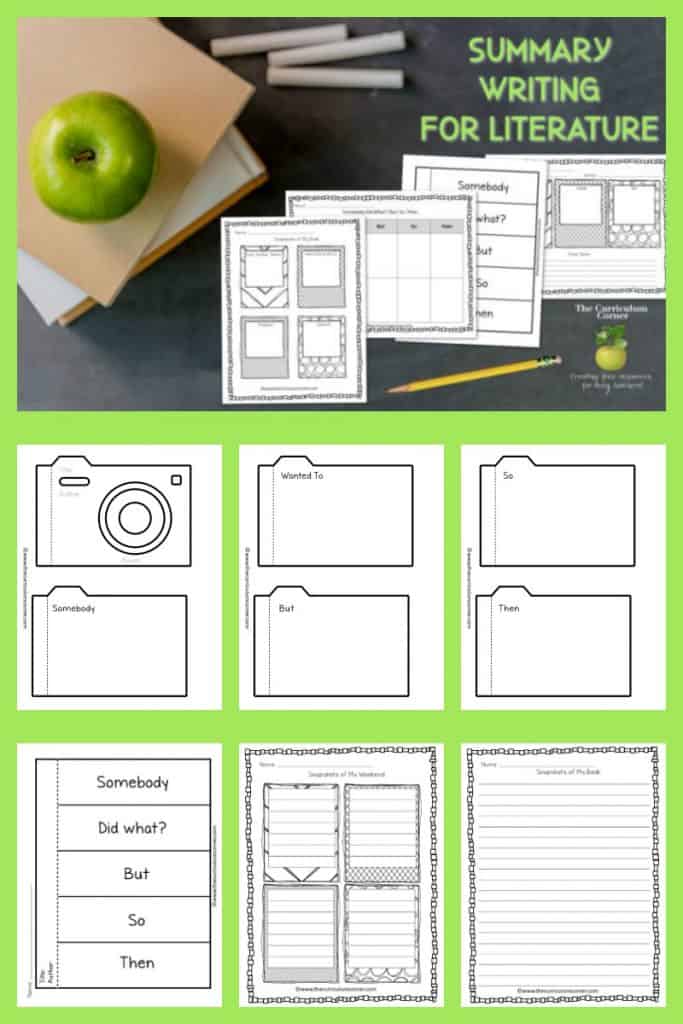 Here is the link to the full download of resources

:
Thanks so much to Tracee-Orman for the camera template: www.teacherspayteachers.com/Store/Tracee-Orman
And also to The 3AM Teacher for the Doodle Frames: www.etsy.com/shop/The3AMTeacher