These writing strategies and resources will help your reluctant writers build their confidence and have fun writing.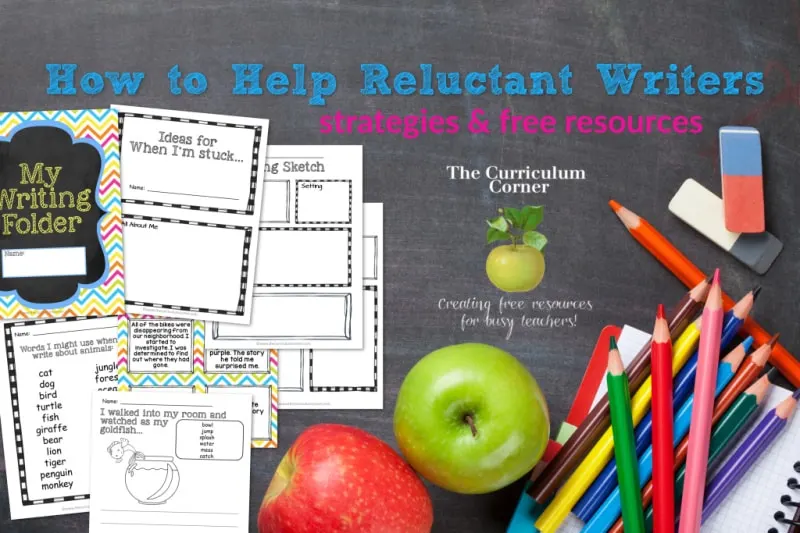 This is another free resource for teachers from The Curriculum Corner.
Help your reluctant writers with these free writing strategies and resources.
We have all had students who seem to get stuck when it comes to independent writing time. We have developed these resources with those students in mind.
Our goal is for you to be able to get them past their struggles, and so that they have some "go to" and hopefully engaging ideas to help them start.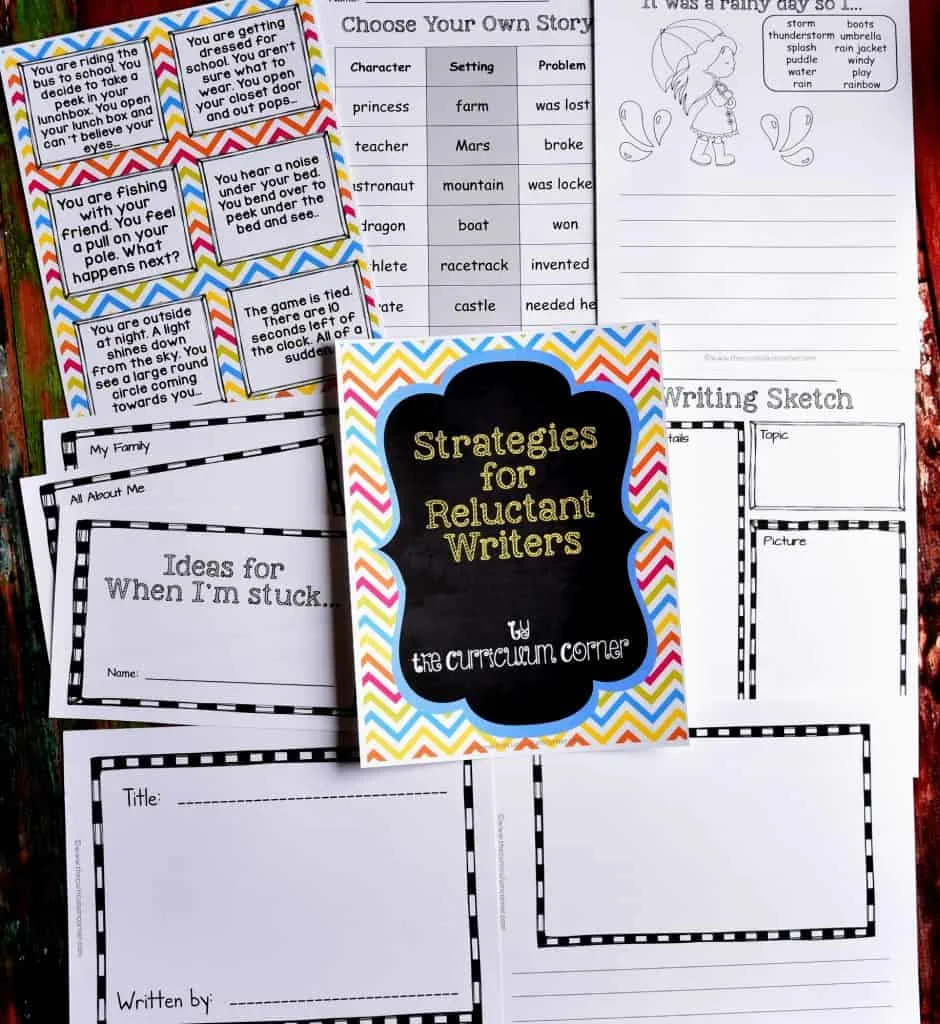 ***You will find the FULL download for the resources described below at the bottom of this post. Click on the title words to access the download.***
How to Help Your Reluctant Writers
Writing Folder
If you haven't already, make sure your reluctant writers (if not all your students) have a folder or binder to keep their ideas for writing. They can add some of the other items you will find in this post. This will give your students a way to help themselves when you are conferencing with other students.
You might use our Writing Folder title page to create student folders.
Writing Idea Booklet
Print, cut and staple these eight pages for your students.
Spend some of your mini-lesson time brainstorming the types of ideas that they could add to the pages.
Model how you would like for them to record their ideas on the pages. Give them time to work on the booklets so they have lots of ideas ready to go for independent writing time.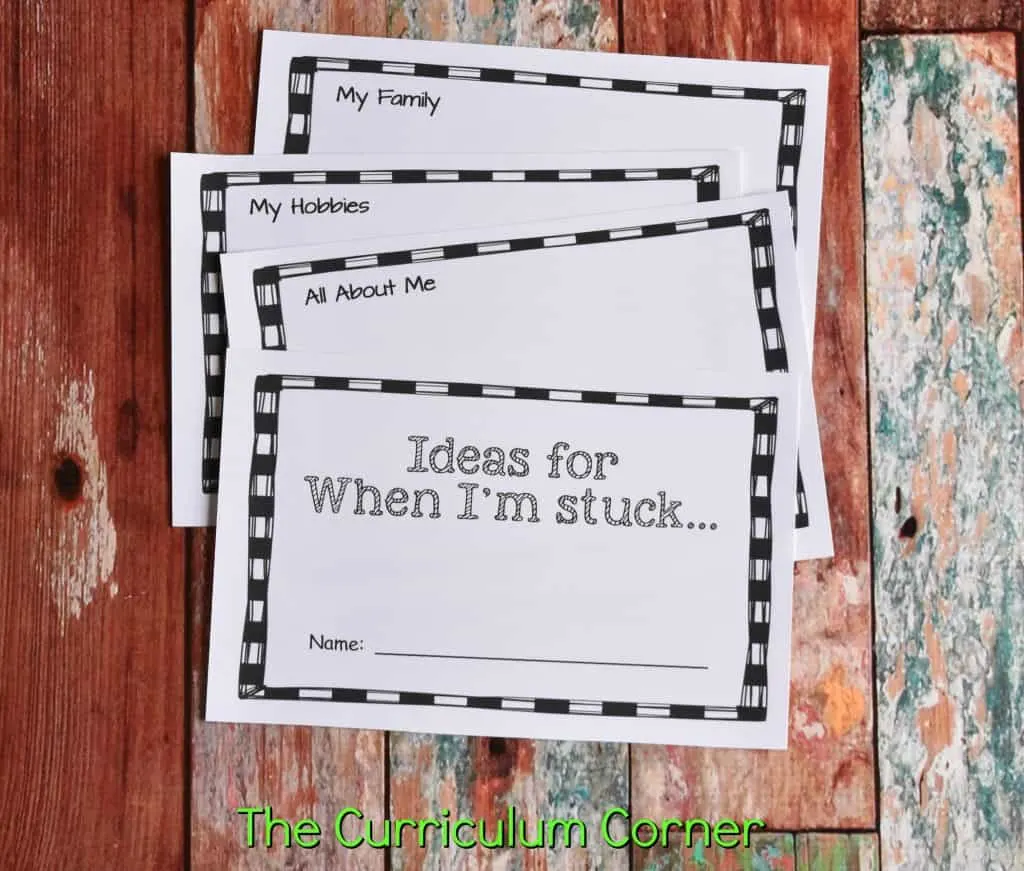 Draw Your Story First
Sometimes it's the thought of writing all the words for a story that stops readers in their tracks.
If that seems to be a problem, encourage them to think of a story they can tell with pictures first.
We two blank booklet styles – one that is full page and one that is half a page. These have boxes for students to draw pictures to tell their stories.
The full page option even has a few lines for writing some descriptions or to go back and tell the story.
Encourage your reluctant writers to think about a story they want to tell and draw a succession of pictures first – before the words.
They can then follow up with filling in the writing to go along with it. (This might be done within a one-on-one conference with your help.)
Post It Note Scaffolding
This strategy is used in a one-on-one conferencing situation.
Put together a blank book that suits your student's needs. (Think through what type of blank book you will use first.)
Sit with the student during conferencing and discuss an idea for a story. Then walk through the story and write words, phrases or notes on Post-Its that you will stick on each page.
The idea is that after they have talked through an entire story with you, they will use your Post-Its as the scaffolding they need to write the words for their story on their own.
Writing Sketch Organizers
These organizers are meant to help students think through stories from beginning to end before they begin their writing.
We have provided four organizers that you can use while you conference with your students to help get them started.
Choose Your Own Story Elements
This page has three columns labeled character, setting and problems.
Students circle or color the elements they want to use in a story they will write.
We have tried to provide elements that might be more engaging for reluctant writers to choose from in the two pages that are provided, but we have also created a blank page that you can use with your class to brainstorm some fun elements for new pages. (You may do this three or four times so that you have several for your reluctant writers to choose from when they are struggling.)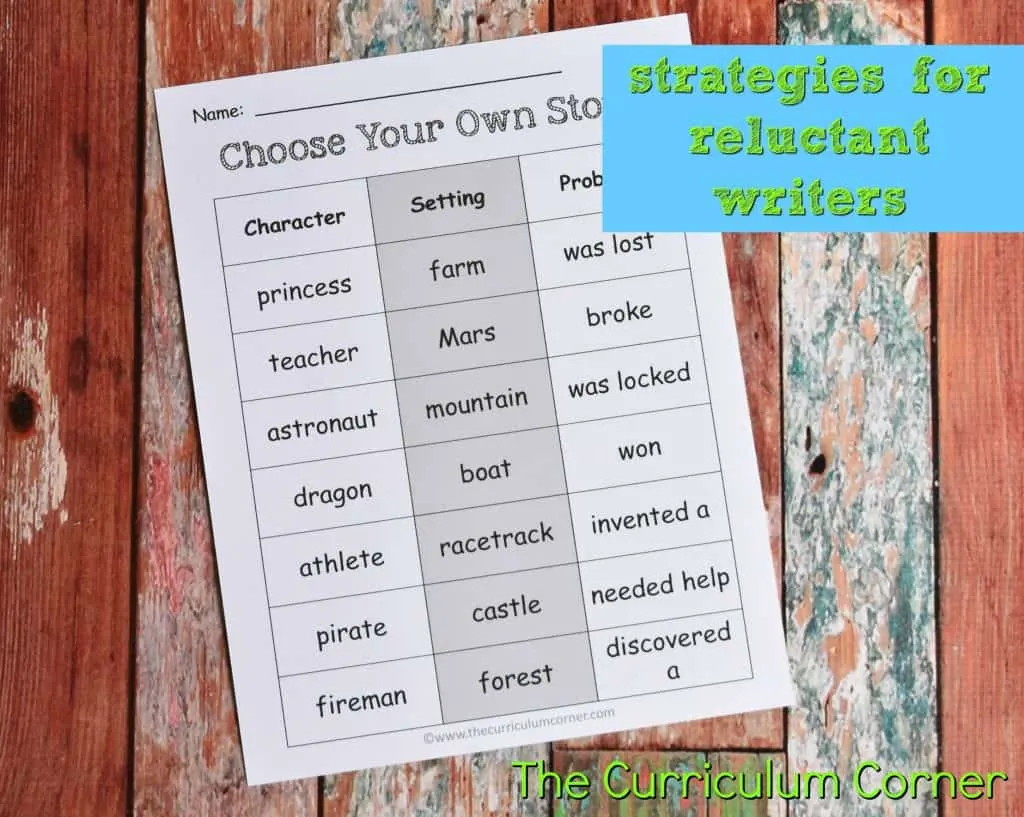 Story/Writing Prompts
This set of cards gives students the beginnings of potential stories or pieces of writing.
Sometimes just getting first words on a page is what blocks students.
Being able to write the words the prompts might be all writers needs to get their stories flowing.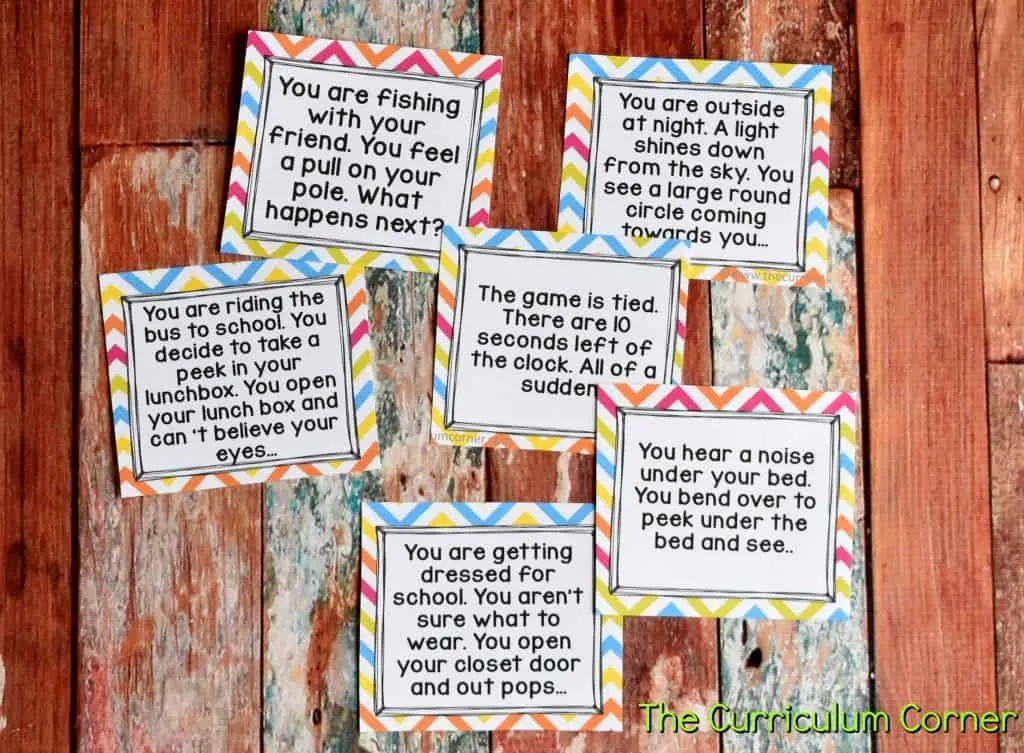 Word Walls for Narratives
Some of your writers might be reluctant because spelling is a struggle.
For this issue, we have some word walls for relatively standard stories younger students might want to write about.
We have also provided a blank word wall page so that you can sit with your writers and create word walls specifically tailored to something they choose to write about.
Picture Prompts
If students are truly struggling with starting, they may find one of these picture prompts engaging.
The prompts provide a simple picture to color, a title/story starter and even a small related word wall to help with spelling if needed.
Round Robin Story Ideas
This idea is for groups of three students.
Sometimes writing as a group can be much less stressful and more motivating for students.
Use our Character, Setting & Problem cards to start this activity.
Place a set of three face down for the group.
Each students picks a card and will be in charge of that part of the group story.
This can sometimes lead to some very funny and creative pieces of writing! We have also included a group story map the students can use to plan, as well as a full and half page (book) option for them to write their stories.
Letter Writing
This is a very simple brainstorming page where students think of people that they might want to write letters to.
After filling it out, they put it in their folders.
If they are stuck for an idea for independent writing, they can pull it out and write a letter to someone.
We have also provided a friendly letter template if you want to give students that added level of support.
Comic Strips
We have created a page that has picture boxes with word clouds attached that students can use as a simple comic strip template.
If you have students who are really into this type of writing, you might want to check out our Comic Strip Writing Template Post for more resources.
Pre-Made Books and Templates
Our youngest writers are very familiar with pre-made books to write in, but sometimes we forget that they can be very helpful for older primary students too.
Seeing a stapled book can sometimes be much less daunting than staring at a blank piece of lined paper.
For students you feel might benefit from starting with stapled books or even pages they can staple into a book, check out our Blank Books & Papers Post to get some templates that might work for your students.
***You will find the full download of all the resources described above here: Resources to Help Reluctant Writers
If you are looking for additional resources for your writing workshop, take a look at our
Thank you to PrettyGrafik for the fun clip art!