Build informational text reading skills with this FQR (fact, question, response) strategy for your reading workshop.
This collection of resources focuses on the FQR reading strategy (fact, question, response.) It will help children build reading skills.
Reading and understanding informational text is important as children build their reading skills.
This is another free resource for teachers and homeschool families from The Curriculum Corner.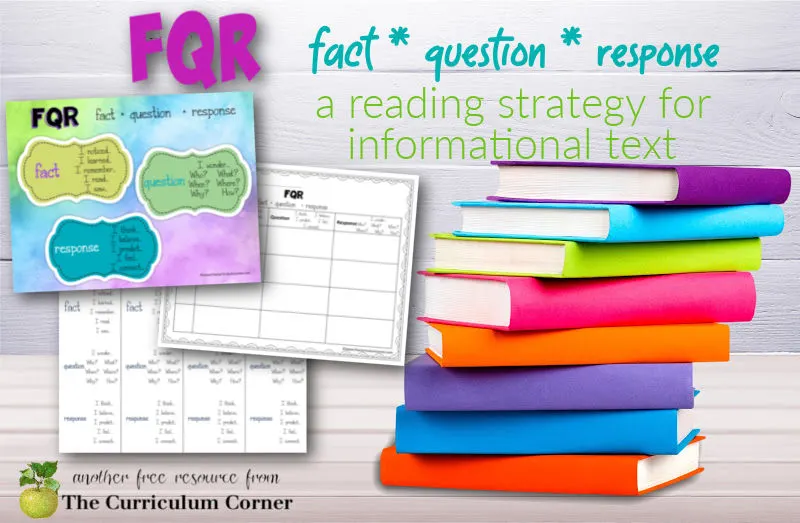 About Fact, Question, Response
This strategy is designed to help children think about and process what they are reading. It will help as you encourage your students to become stronger informational text readers.
This collection can become a part of your close reading instruction.
Teach children to think as they read with these FQR activities. Students practice finding facts, questioning and responding to the text they read.
*This resource, originally published in 2013, has been updated to include a more complete collection.
Using these resources
You will find a selection of materials to help you get started with this strategy. The goal is for students to use the prompts shared here automatically, without the use of an anchor chart of cards.
As you work through this strategy, children are learning how they think as they read.
First, you will find an anchor chart. There are three which will use different amounts of color ink. The black and white version might also be helpful for students needing a copy in their reading binder.
This anchor chart breaks the strategy into three groups.
First students will be looking at facts. The prompts for identifying include: I noticed, I learned, I remember, I read and I saw. Students will identify a fact in the text that responded to while reading.
Next, is the question section. The prompts for responding include: I wonder, who, what, when, where, why and how. Here, students will form a question related to the fact that previously caught their attention.
Finally is the response section. The prompts for this section include: I think, I believe, I predict, I feel and I connect. For this part, students will respond to their question they have formed or to the fact they are focusing on.
Not every part of the text that students will focus on will have a fact, question and response.
Along with the anchor charts, you will find two different graphic organizers that can be used. Instead of the organizers, you might choose to have students mark the text with post-it notes instead.
There are bookmarks that can be shared with students if you would like them to have a smaller version of the anchor chart.
Finally, there are prompting cards. Students might use these during group discussions. Or, they might use them to mark parts of the text.
We hope these resources help you build strong informational text readers!
You can download this free reading collection here:
As with all of our resources, The Curriculum Corner creates these for free classroom use. Our products may not be sold. You may print and copy for your personal classroom use. These are also great for home school families!
You may not modify and resell in any form. Please let us know if you have any questions.