These funny animal photo activities will give you engaging ideas for the classroom.
Take a look at these funny animal photo activities for your primary classroom.
Download this set of 30 free photos to use with different activities.
This is another free resource for teachers and homeschool families from The Curriculum Corner.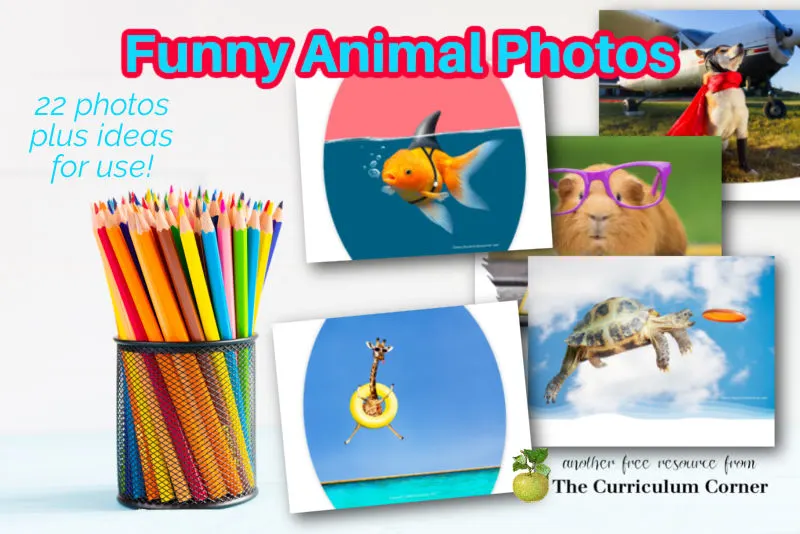 Using these Photos
These pictures are designed to be used however they fit into your classroom!
You can print them and laminate for future use. Or, you can display a slide on your projector.
These images are photos I have purchased. I have a commercial use license for these photos. You can use them for your classroom. You may not use them to create your own resources to sell.
Funny Animal Photo Activities
There are endless possibilities for these photos. Here are a few to get you started!
Parts of Speech: What part of speech is your current focus? Have students make a list of words fitting your focus. For example, if you are working on adjectives, they will make a list of adjectives that will tell about their photo.
Animal Acrostic Poems: Students will write the name of their animal. They will then create an acrostic poem using the name of the animal. Each letter in the animal's name will be the beginning of a word or phrase about the animal.
Tell About It! Students can share the likes and dislikes of their animal. They can give their animal a name, tell about their favorites, and tell what they dislike. They can get creative on this one!
Sentence Writing: Students can write one sentence to tell about their photo. As an extension, you can have students work on stretching their sentences. They could be instructed to add an adjective or more descriptive verb to their writing. This activity can also be done by passing sentences with photos around the room. Each student has to create a more descriptive sentence by adding to the original.
Story Starter: These photos work great as story starters! Students can use the photo to write a creative story about what is happening in the picture.
Shared Story Writing: Similar to the above, students can each write a sentence and then pass the story around. Each student is responsible for expanding the story.
You can download this set of animal photos by clicking on the green apples below:

As with all of our resources, The Curriculum Corner creates these for free classroom use. Our products may not be sold. You may print and copy for your personal classroom use. These are also great for home school families!
You may not modify and resell in any form. Please let us know if you have any questions.