These free geometry scrambled sentences can be used to weave literacy with math practice in the classroom.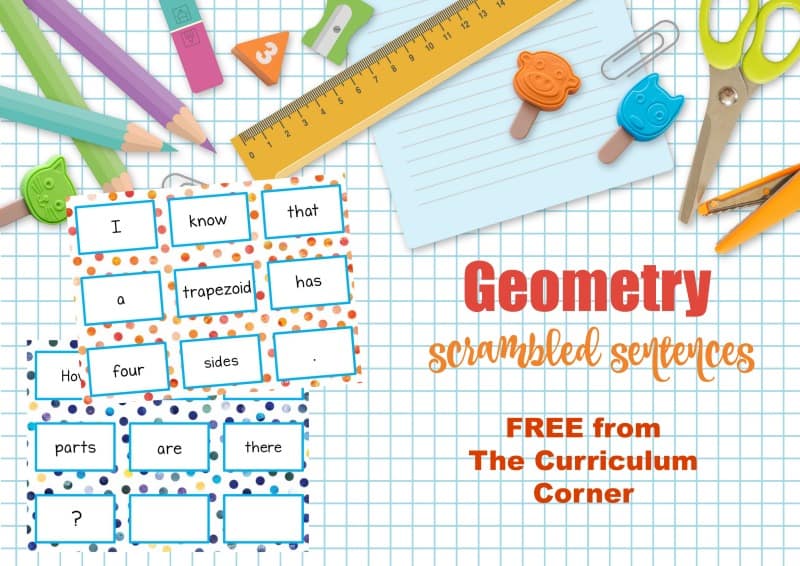 This is another free resource for teachers from The Curriculum Corner.
These free geometry scrambled sentences are another free classroom resource for teachers created by The Curriculum Corner. Print these on card stock and laminate for durability.
You can reinforce math skills with these scrambled sentences.
You might choose to use these during math or language arts centers to help students integrate math with literacy.
These sentences have been designed with different colored backgrounds. The idea behind this is that it will make for easier sorting if the cards get mixed up. We all know no matter how well you organize, this will always happen!
The scrambled sentences might be used on a table or could be displayed in a pocket chart.
For some of the sentences, you are able to remove adjectives provided to make the sentences simpler. This might be helpful for students who are still working on sentence structure.
Along with 8 scrambled sentences, we have created two different recording sheets for you to choose which is best for your students.
For older students, you might omit punctuation marks and ask that they add these on their own.
Modify this activity as needed to make it best fit the needs of your students.
One recording page provides a spot for three sentences. The other page provides room for students to record one sentence and illustrate.
Some teachers might choose to use the sentences without requiring students to copy the sentence – for others, we know written proof of center work is required. We like to avoid making students spend more of their time copying words than thinking whenever possible.
You can download the set of free sentences with recording pages here:
Geometry Sentences
You might also be interested in the following free geometry resources on our site: