This free ocean themed parts of speech sort is a fun way to give your students or children a little practice with a seasonal theme.

This free collection of colorful, ocean themed cards will be a fun, new addition to your literacy centers.
We suggest printing these cards on card stock and laminating for durability.
This collection of cards will become an easy to assemble, parts of speech sort.
This set has been designed with an ocean theme – great for summer or an ocean themed classroom.
Our card set includes green cards with parts of speech labels. We have also provided a blank page of cards. You can challenge students to add their own words.
Another option is expanding this sort as you focus on different parts of speech. You can program blank cards with words fit what you are focusing on in your classroom.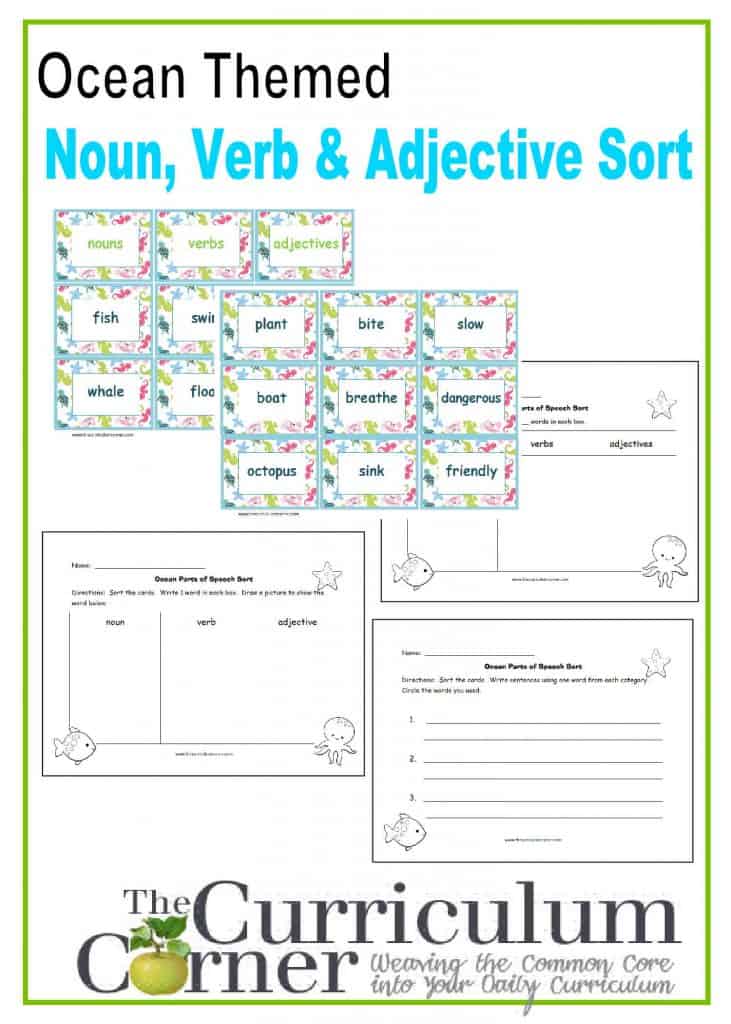 We have also created three different recording pages so that you may select the page that is best for your class. Or, easily differentiate this center by assigning an appropriate page to each student.
As this is an older set of resources, each is provided as an individual link. You will need to click on the bold title to download each resource.
You can download these resources here:
Recording Page 1 Students sort the cards and then record each word in the correct category
Recording Page 2 Students sort the cards and then record one word in each category. Students then illustrate each word.
Recording Page 3 Students sort the cards and then create sentences using one word from each category.
Looking for more summer resources, check out our June Collection.
You might also like our Beach Color Key Addition pages.
Do you have other ways you will be using these cards? We would love for you to share your ideas below.