This set of gingerbread literacy centers is the perfect collection of gingerbread word work for December!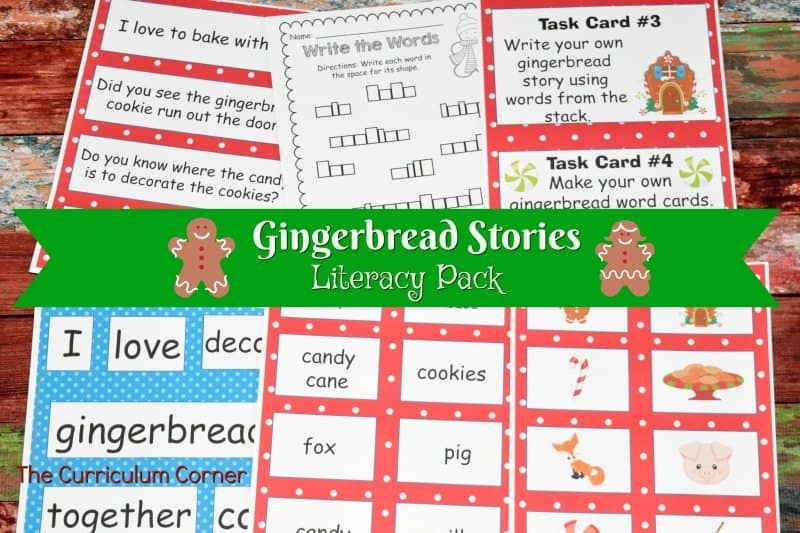 These gingerbread literacy centers word work set is designed to fit into your December classroom curriculum.
We love using gingerbread stories in the classroom in December. We like them as an alternative to Christmas themed materials. It provides a fun theme that is not specific to any religion or holiday.
We have included a variety of materials to make your planning faster and easier!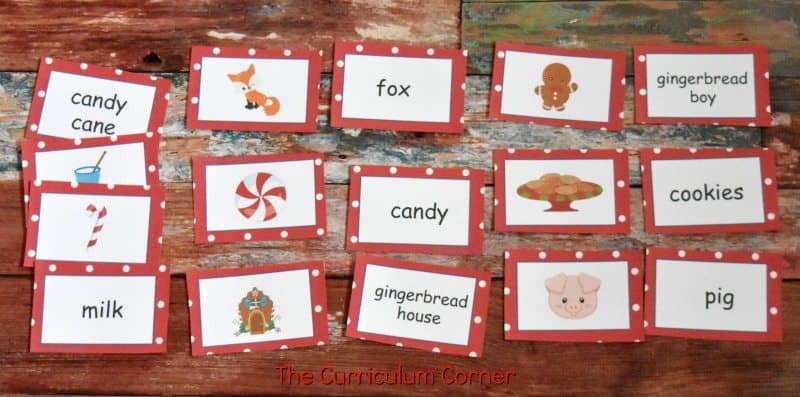 To download the whole, free gingerbread literacy centers set, scroll to find the bold, red text at the bottom of this post. (Look for Gingerbread Set.)
Here's the resources you will find within these gingerbread literacy centers:
Word cards with matching picture cards – use these as matching cards or use with our write the room recording pages. There is also a blank page so you can add additional words.

Pocket chart sentences – we have created four different sentences, each on a different background page to make sorting easier. If you don't have an available pocket chart, simply have students create their sentences on the floor.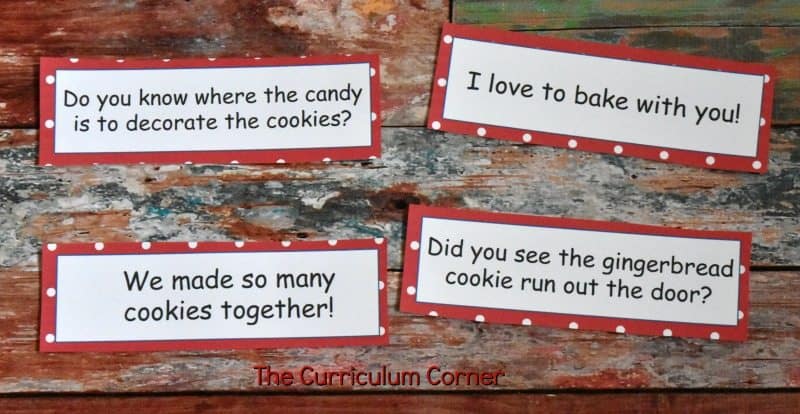 Fluency sentences – these are centered slightly to the right so that you can print, cut apart, hole punch on the left and place on a ring. Students might use these at a fluency center during literacy rotations or you might add to individual student book bags for practice during independent reading.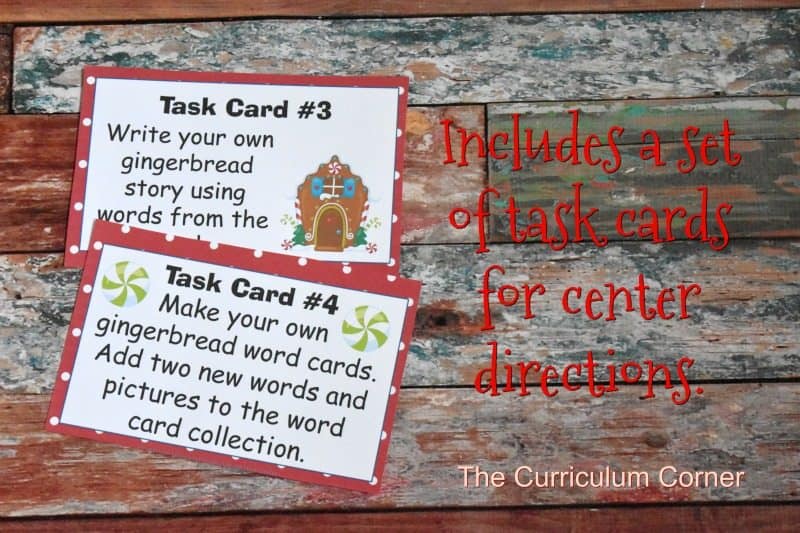 Task Cards – you will find 6 different task cards that can be used at literacy centers. Pick the ones that fit your classroom!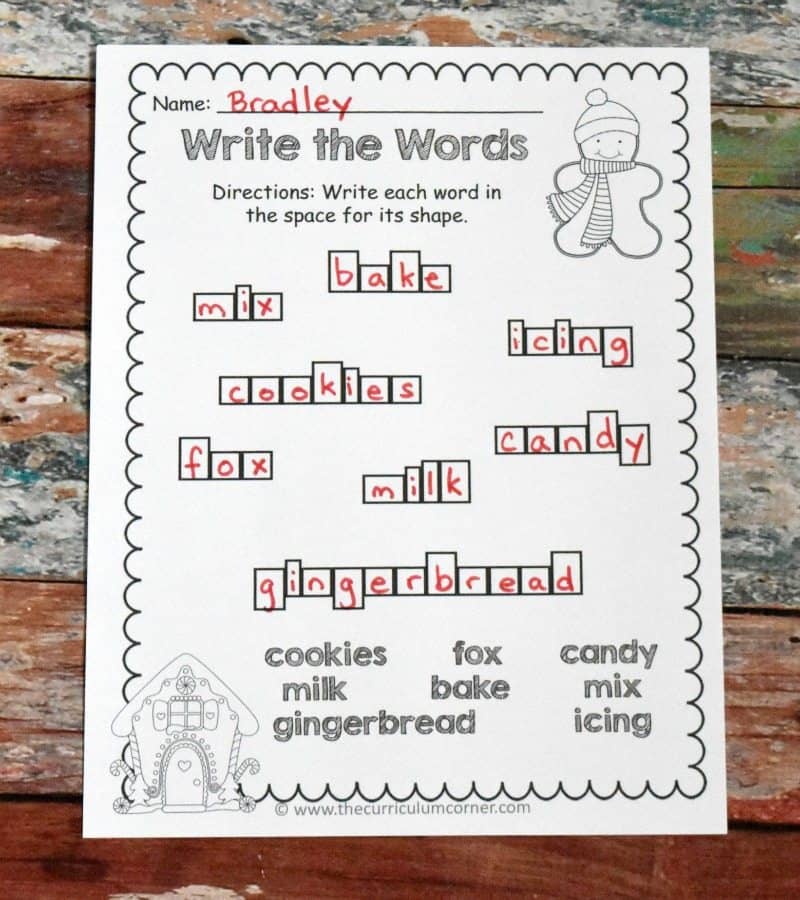 Word Shapes, Write the Room & ABC Order Practice Pages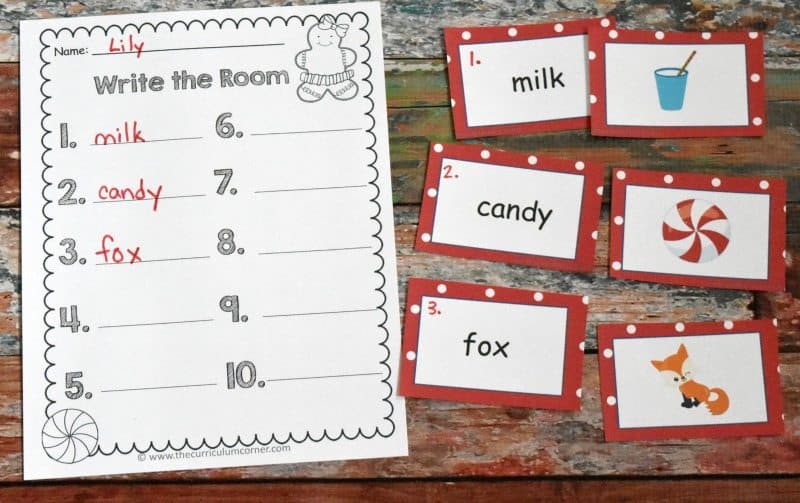 To set up Write the Room: You will choose 5 or 10 word cards (or picture cards or picture cards already matched up with word cards.) Number the cards 1 – 5 or 1 – 10 depending on the recording page you give you students. Place the cards around the room. Students go on a hunt around the room and write the correct word on their recording pages. This is a great way to get your students up and moving during word work time!
Lined Writing Paper – We have included four options so you can use the ones that fit your students.
You can download this Gingerbread Literacy Centers Set Here: