These NWEA goal setting pages help your students focusing on how to become a better reader.
Students will work on identifying how to become a better reader with the help of these goal setting pages.
This is another free resource for teachers and homeschool families from The Curriculum Corner.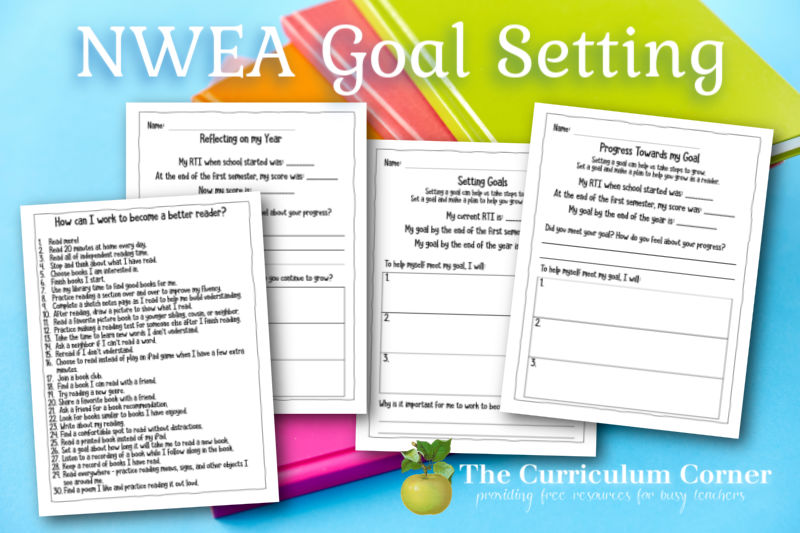 Setting goals with students
An important part of helping students become better readers is goal setting.
As the school year began, I sat with my students and helped them identify ways they could work to become better readers. They completed a goal setting sheet and made a plan.
However, as I am coming back to our original goals, I am finding that I do not think I spent enough time working with my students on making a plan.
Many simply had read more but no plan on how to make this happen. Of course reading more is a good way to help yourself become a better reader but I think my students need to pinpoint what this will look like for them.
As we return to school this semester, we are going to revisit our original goal setting. Students will look at their progress and their original plan.
This time I am going to introduce the activity with a list of 30 ways students can work to meet their goal. I tried to include a wide range of ideas so that students could find ways that that are interesting to them. My hope is that this makes the activity easier and more effective.
The free download I am sharing includes this list along with three goal setting pages. You will find one for the beginning of the year, middle of the year, and the end of the year.
The list of ideas is printable but I plan on displaying it on my screen.
How can I work to become a better reader?
1.Read more!
2.Read 20 minutes at home every day.
3.Read all of independent reading time.
4.Stop and think about what I have read.
5.Choose books I am interested in.
6.Finish books I start.
7.Use my library time to find good books for me.
8.Practice reading a section over and over to improve my fluency.
9.Complete a sketch notes page as I read to help me build understanding.
10.After reading, draw a picture to show what I read.
11.Read a favorite picture book to a younger sibling, cousin, or neighbor.
12.Practice making a reading test for someone else after I finish reading.
13.Take the time to learn new words I don't understand.
14.Ask a neighbor if I can't read a word.
15.Reread if I don't understand.
16.Choose to read instead of play an iPad game when I have a few extra minutes.
17.Join a book club.
18.Find a book I can read with a friend.
19.Try reading a new genre.
20.Share a favorite book with a friend.
21.Ask a friend for a book recommendation.
22.Look for books similar to books I have enjoyed.
23.Write about my reading.
24.Find a comfortable spot to read without distractions.
25.Read a printed book instead of my iPad.
26.Set a goal about how long it will take me to read a new book.
27.Listen to a recording of a book while I follow along in the book.
28.Keep a record of books I have read.
29.Read everywhere – practice reading menus, signs, and other objects I see around me.
30.Find a poem I like and practice reading it out loud.
You can download these free materials by clicking on the green apples below:

As with all of our resources, The Curriculum Corner creates these for free classroom use. Our products may not be sold. You may print and copy for your personal classroom use. These are also great for home school families!
You may not modify and resell in any form. Please let us know if you have any questions.