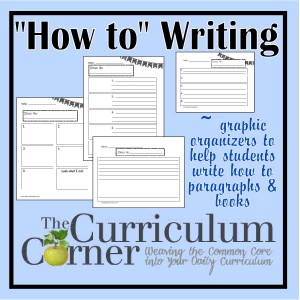 We have created these graphic organizers to assist you in teaching "how to" writing to your students. Differentiate by choosing the right organizer for each student's level. We have also included a page that can be used for your students to turn their organizers into complete paragraphs.
If your students like to write books instead of paragraphs, you will find our blank books here… http://www.thecurriculumcorner.com/2012/05/17/blank-books-papers/
For reluctant writers, try allowing them to write a how to paragraph or book about drawing. This can be a great motivator!