This informational text passage collection along with graphic organizer activities focuses on class pets.
Children can read these class pets informational text passages as they work on vocabulary and build their reading skills.
The reading is designed to be high interest while providing children the opportunity to think about what they are reading.
This is another free resource for teachers and homeschool families from The Curriculum Corner.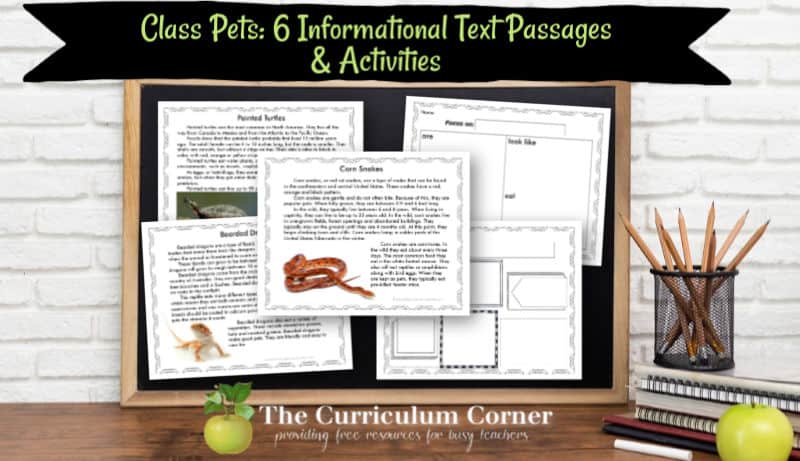 Add these informational text class pet passages and graphic organizer activities to your nonfiction collection in your classroom.
This collection is designed to help you when focusing on informational text in the classroom. Below we will share some ideas we have created. However, you might just choose to use the nonfiction passages and create your own!
This set contains six text passages. Each passage focuses on an individual class pet. The collection contains a range of class pets so students will learn about a variety of possibilities.
I will admit that some of the included pets might seem a little strange for a school. However, I have taught in a school where each of these animals could be found – even a Vietnamese pot-bellied pig!
To extend the learning, students can choose their own class pet and write a passage about the animal of choice.
Maybe this study can turn into a persuasive writing piece where students write about the class pet they think your class should get.
Within each of the passages we have written students will learn about the diet and habitat of each animal.
For many students there will be new words along with clues in the text students can use to determine the meaning.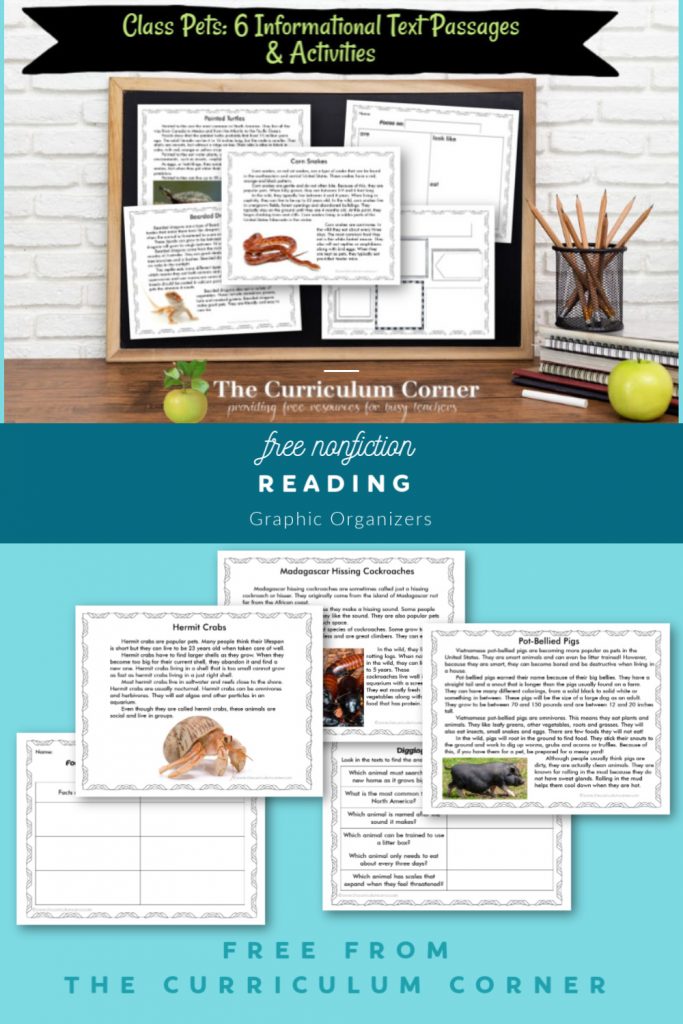 The passages will be helpful if you are working on close reading skills with your students.
Before students begin reading, we like to work on activating schema. This can be a meaningful way to engage students and help them get ready to read. The connections they can begin to create before they read can be helpful in building understanding as the text is read.
While students are reading you might choose to offer them a note-taking page of some sort. There are a few provided. We like to give students spaces for words and pictures or doodling.
Other printables included with our class pets informational text
Digging up the Answers This is a quick quiz for student to identify the animal described.
Fact & Opinion
Compare & Contrast
Are, looks like, lives, eats
Breaking Down the Topic Students identify nouns, verbs and adjectives that tell about the bird they choose.
Word Maps
Animal Encyclopedia Students will share what they have learned about each animal. When they finish, they will have a booklet that tells about each animal. As an extension, have students research a new class pet to add to the booklet.
All About Children will focus on one class pet. In this booklet they will describe the class pet's habitat, diet and more.
You can download this free class pets informational text collection here:
Looking for a digital twist? Try these graphic organizers designed for digital learning.
Images in this post are stock photos purchased from ShutterStock. We can not give permission for the photos to be extracted from the materials and used in any way other than as provided.
---
As with all of our resources, The Curriculum Corner creates these for free classroom use. Our products may not be sold. You may print and copy for your personal classroom use. These are also great for home school families!
You may not modify and resell in any form. Please let us know if you have any questions.