These digital graphic organizers are created to be used with informational text during your distance learning.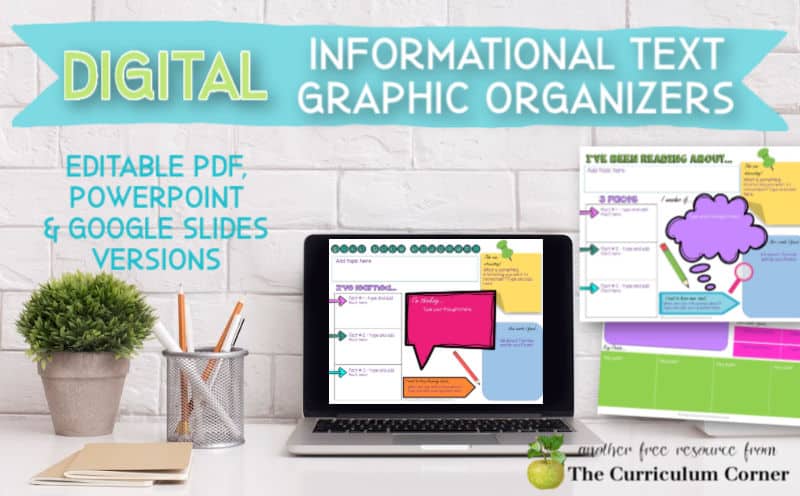 This is another free resource for teachers and homeschool families from The Curriculum Corner.
These digital note-taking graphic organizers can be used with students who are reading informational text.
This digital collection for distance learning contains 8 choices each provided in Google Slides, PowerPoint and an editable PDF. They are perfect for nonfiction reading.
While some pages are specific to reading a book, there are a couple of options you can use for a general science or social studies lesson.
There are eight total graphic organizers.
Students will be asked to identify the topic or book title.
Pages include options for identifying the main idea, details and vocabulary.
Children can share their thoughts on surprising things they learn and ask questions for future learning.
The final slide does not have headings so students are able to use this slide in a way that makes the most sense to them.
Our Digital Graphic Organizers
These slides are provided in three different digital formats so you can choose the version that fits your distance learning.
You will be able to download the following:
PowerPoint File
Editable PDF
Google Slides File
You will find a variety of note-taking pages along with other prompts. Students can pull out a main idea and details. They can share facts and opinions.
Also, students can share vocabulary words they are using.
There is one highlight circle that is moveable on some slides. Other pieces of clip art are not moveable.
Using these Digital Graphic Organizers for Informational Text
When it comes to distance learning, one key point is that students should be working in programs they are already familiar with.
You will want to choose the option we are providing that will work for the technology your students have.
You can download these Digital Informational Text Organizers here:
***If you are using the Google Slides version, you do not need to request access to edit our file. You will save to your Google Drive and then be able to edit.
Looking for additional digital resources? Try this collection:
Distance Learning from The Curriculum Corner
Thank you to Erintegration for the digital clip art.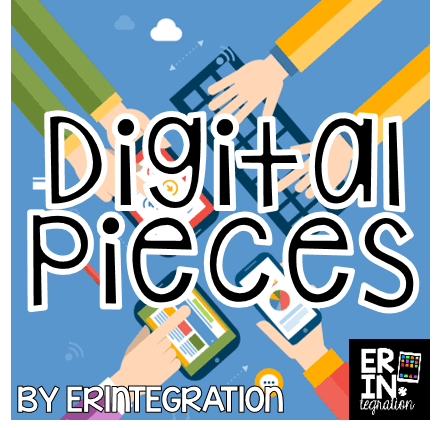 ---
Have requests for future digital resources to help you in your distance learning planning? Please message us with your ideas!
As with all of our resources, The Curriculum Corner creates these for free classroom use. Our products may not be sold. You may print and copy for your personal classroom use. These are also great for home school families!
You may not modify and resell in any form. Please let us know if you have any questions.