Give your students the opportunity to practice with these irregular plural noun worksheets.
You can add these free irregular plural nouns worksheets to your collection of practice resources for students.
This is another resource for teachers and homeschool families from The Curriculum Corner.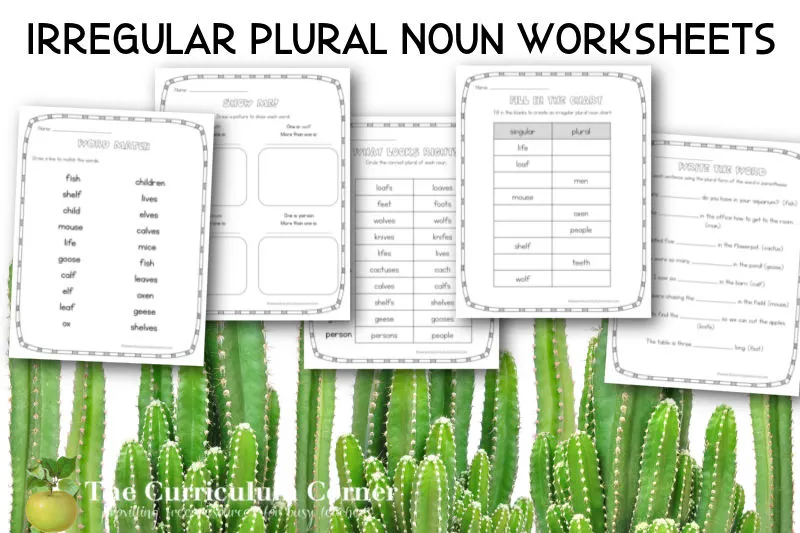 Working on irregular plural nouns
As students begin learning about making singular nouns plural, there are a group of words that don't always follow the rules they are learning!
You can find a printable chart of irregular plural nouns here: Irregular Plural Nouns Chart.
Here are some examples of words that have an irregular plural form:
cactus/cacti, calf/calves, child/ children, elf/elves, fish/fish, foot/feet, goose/geese, knife/knives, leaf/leaves, life/lives, loaf/loaves, man/men, mouse/mice, ox/oxen, person/people, shelf/shelves, tooth/teeth, wolf/wolves
As you introduce these nouns, you could begin by making an anchor chart that lists the singular noun. Students can then fill it in with the plural form. You might also write the words on cards and give students a card. Students can then find their partner.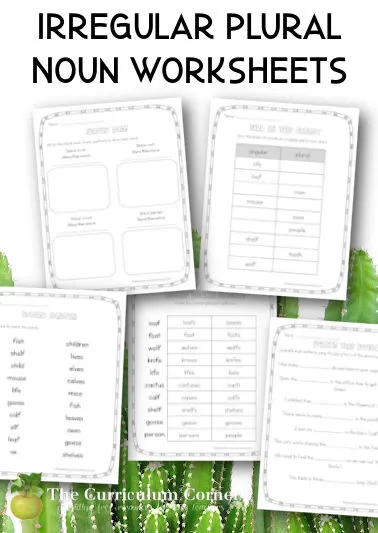 About these irregular plural noun worksheets
This collection includes 10 pages for practice. You will find two of each style.
Word Match – students will match the singular and plural forms of the nouns with a line.
Show Me! – students will write the plural form of the noun. They will then draw a picture showing the plural noun.
Fill in the Chart – students will complete the chart by writing in the singular or plural noun in each spot.
What Looks Right? – students will circle the correct form of each plural noun.
Write the Word – students will complete the sentences by writing the plural form of each noun.
Some nouns are easy to make plural, others don't follow the rules! We have provided activities to give students practice with words that don't fit the rules.
You can download these free language skills sheets here:
As with all of our resources, The Curriculum Corner creates these for free classroom use. Our products may not be sold. You may print and copy for your personal classroom use. These are also great for home school families!
You may not modify and resell in any form. Please let us know if you have any questions.