You can use these resources on zoos to help create engaging literacy centers for your students in second and third grades.
Print these zoo-themed centers to help you create learning centers in your classroom.
Your students will learn about zoos, main ideas and vocabulary with this collection of resources.
This is another free resource for teachers and homeschool families from The Curriculum Corner.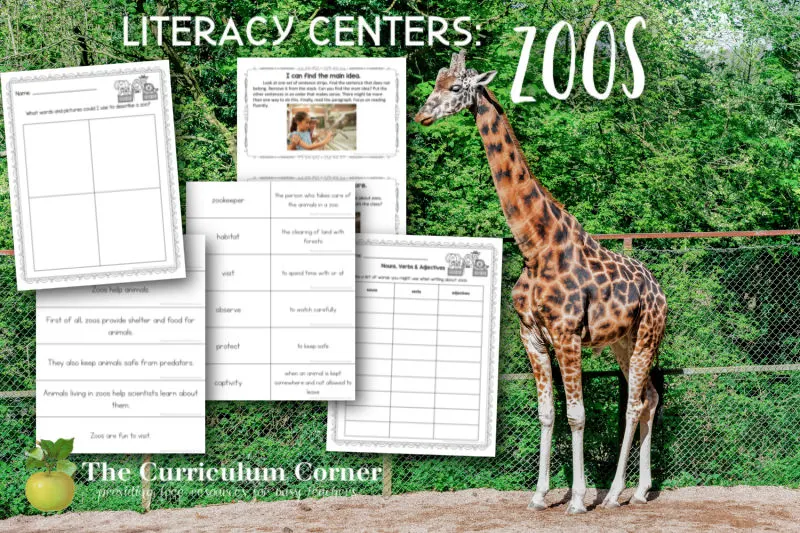 Learning about Zoos
The main activity in this collection is a scrambled writing resource.
You will find a set of five paragraphs – an introduction, three supporting paragraphs and a conclusion.
Each paragraph page gives you five sentences – one of the sentences is off topic and does not belong.
Below, I have left out the sentences that do not below.
The completed paragraphs should look like this:
Do you like going to the zoo? Zoos are good places for animals and people. At zoos, animals are taken care of and people learn about animals.
Zoos help animals. First of all, zoos provide shelter and food for animals. They also keep animals safe from predators. Animals living in zoos help scientists learn about them.
Zoos help people. Many people go to the zoo because they enjoy visiting. However, zoos also help people learn about animals and the environment.
Zoos teach people about different animals as well as different habitats. It is important for humans to learn about habitats so that we can protect them. Often human actions destroy the habitats where animals live. Learning about these habitats can help people learn how to keep them healthy for the animals and plants.
Do you think zoos are important places? I do! I'm glad there are zoos where scientists can learn about animals and protecting them. I'm also happy that zoos will help people learn about the importance of taking care of animals.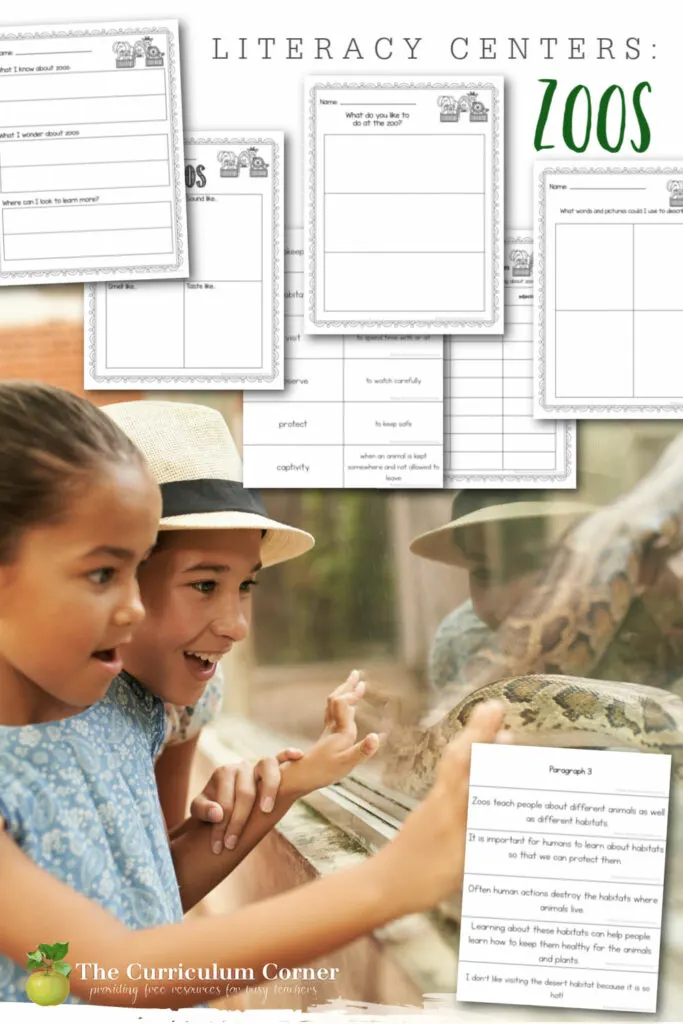 Helping children learn through literacy centers
Within this download of materials, you will find resources that will help your students learn about zoos while working on reading and writing skills.
Here is what you will receive:
Graphic organizers to help your students share their thoughts and begin a focus on zoos.
These include a page that is similar to a KWL chart. Students can also explore the senses with the "Zoos Look Like" page. You can also request that children share words and phrases they might use when writing about zoos.
Next, you will find the scrambled sentence pages. I suggest printing each page on a different color of cardstock.
You can laminate the pages if these centers will be reused.
During their center time, students will work to find the main idea and the sentence that is off topic. Then, they will put the sentences in an order that makes sense. I have the suggested order in the text above. However, there might be other layouts that will work and make sense.
On another day, children can work together to create lists of parts of speech they might use when writing about zoos.
Finally, there is a lined page for writing in case you need it. Also, you will find two task cards to provide directions at centers.
You can download this work here:
As with all of our resources, The Curriculum Corner creates these for free classroom use. Our products may not be sold. You may print and copy for your personal classroom use. These are also great for home school families!
You may not modify and resell in any form. Please let us know if you have any questions.
You may not modify and resell in any form. Please let us know if you have any questions.