We are providing a collection of cause and effect examples and graphic organizers to use during your reading instruction.
Needing cause and effect scenarios and graphic organizers to help your students practice this skill? Start by taking a look at this collection.
You can introduce and practice this skill using these resources.
This is another free resource for teachers and homeschool families from The Curriculum Corner.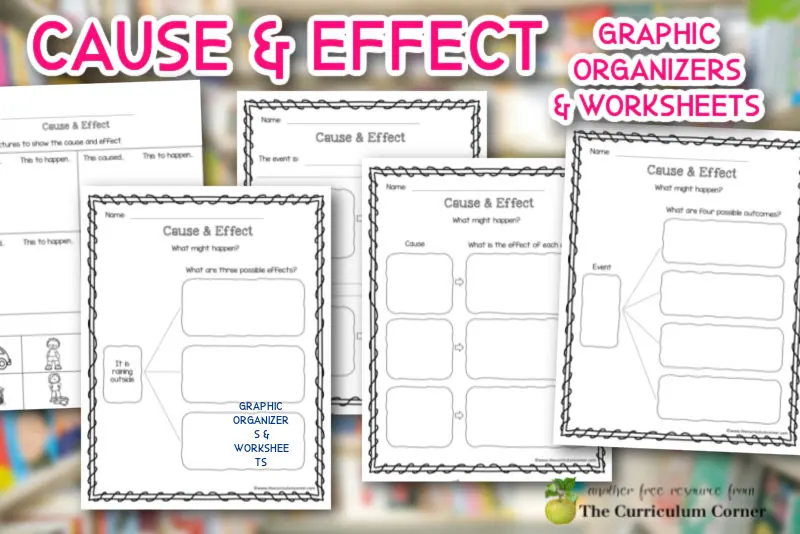 Cause and Effect Examples
Looking for a list of cause and effect scenarios to use during a class discussion or other activity? Try some of these ideas:
Because we received rain everyday last week, my flowers are growing and blooming.
Because it snowed overnight, the snow plows had to clear the streets.
Because my sister broke her arm on the playground, she had to get a cast.
Because we forgot to set the alarm last night, we did not wake up in time for the bus.
Because it was raining outside, I took my umbrella and raincoat to school.
Because I was sick, I stayed home from school.
Because it was library day, I took my library books back to school.
Because I had a math test, I studied with my mom last night.
Because we had a late lunch, I was starving.
Because I forgot to set the timer, I burned the muffins in the oven.
Because we were throwing a baseball by the house, we accidentally broke a window.
Because I practiced everyday, I was good at playing piano.
Because I couldn't find my missing shoe, I couldn't leave for school on time.
Because I ate too much junk food, my stomach hurt.
Because I left the ice cream on the counter, it melted.
Working on cause and effect
(Contains affiliate links.)
To begin practicing this skill with your students, try sharing a favorite read aloud such as The Red Bicycle or If You Take a Mouse to School.
As you read the book, talk about the cause and effect events occurring in the story. You might create a cause and effect map on your easel to record each cause and effect students see in the reading.
I have also created a variety of pages for students to use as pencil and paper practice.
You will find matching cause and effect, a cut and paste page and a making predictions page.
Next, there are three graphic organizers where students are asked to share three possible outcomes.
Finally, there is an assortment of cause and effect graphic organizers.
You can use these cause and effect graphic organizers to fit into your reading workshop and possibly even science or social studies lessons.
You can download this free collection of printables here:
As with all of our resources, The Curriculum Corner creates these for free classroom use. Our products may not be sold. You may print and copy for your personal classroom use. These are also great for home school families!
You may not modify and resell in any form. Please let us know if you have any questions.