This free making connections set of graphic organizers can be used as you encourage your children to connect what they know with what they are reading.
Download these making connections graphic organizers to help you during reading workshop.
These pages can be used to help you as you are creating your mini-lesson.
Students will find these helpful as they are practicing the skill.
This is another free resources for teachers and homeschool families from The Curriculum Corner.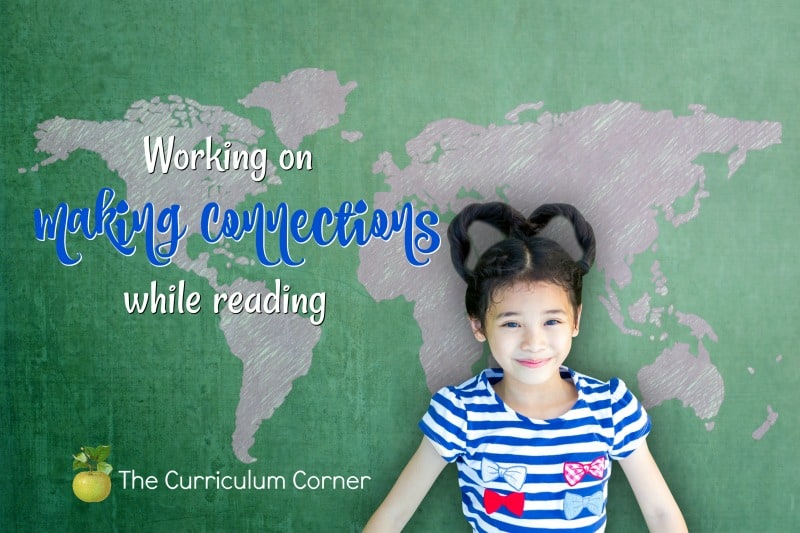 Making connections is a skill that good readers automatically do as they read to build schema.
By helping children focus on making connections when they are younger, you are instilling a skill that will help them become better readers as they get older.
The set of resources we have created includes a set of organizers for:
Text-to-Self Connections
Text-to-Text Connections
Text-to-World Connections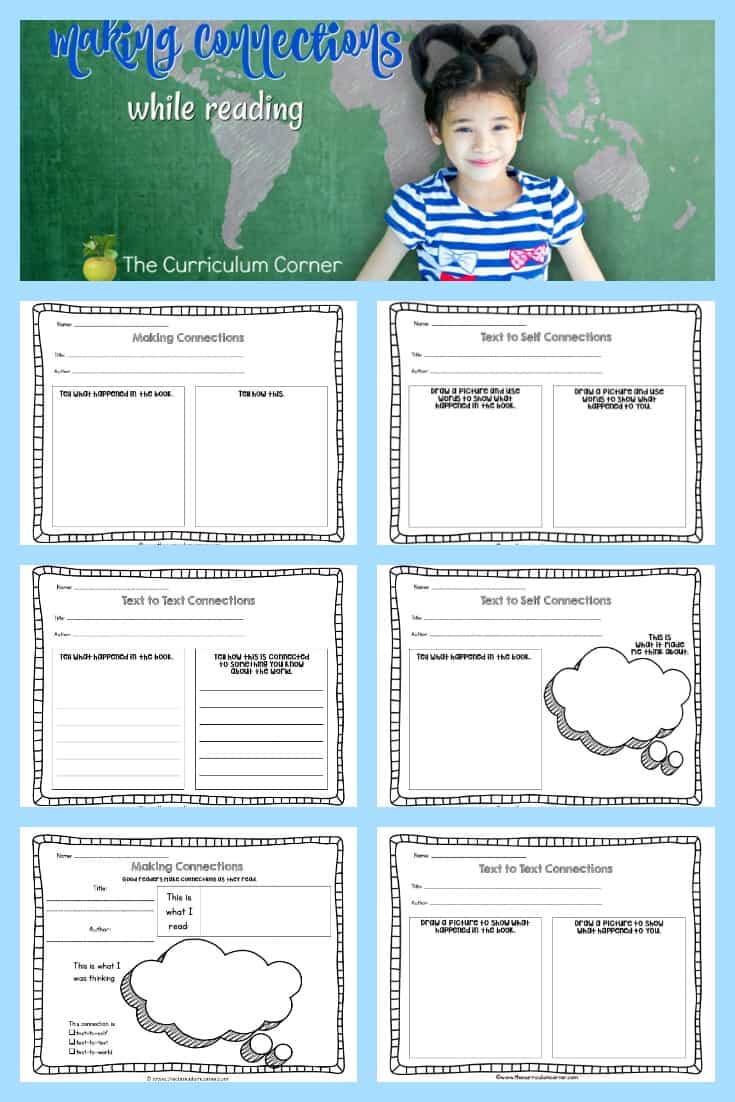 Text-to-Self Connections
When introducing the concept of text-to-self, you are working to help children connect what they are reading with their life experiences. Children are thinking – "Oh, this reminds me of when this happened…" or "This character is similar to this person in my life…"
One book we like to use when introducing making connections (specifically text-to-self) is an oldie but a goodie! What student can't connect with Alexander in Alexander and the Terrible, Horrible, No Good, Very Bad Day? Everyone has had a day that hasn't gone just right so it is a good book to begin with. You might also find another book that fits into your classroom and your students' experiences.
You want to choose a book to use for modeling that will be easy for your students to connect with.
Text-to-Text Connections
This type of connection occurs when a student is reading and a passage in a book reminds them of a part in another book. They might notice similarities between characters, setting, events or other parts of the story.
When you are working on text-to-text, you can choose two books that have obvious similarities. Again, your goal is to make it easy for students to find similarities as they are learning this skill
Text-to-World Connections
A connection like this one occurs when a student connects what they are reading to an event or fact about our world.
Finally, when you begin working on text-to-world, choose a book that fits into a topic you have studied or connects to your school. For example, if your class is studying frogs, you might choose a book about frogs.
You can download our free materials here:
---
If you are looking for books to fit your study, you might like some of these (contains affiliate links):
As with all of our resources, The Curriculum Corner creates these for free classroom use. Our products may not be sold. You may print and copy for your personal classroom use. These are also great for home school families!
You may not modify and resell in any form. Please let us know if you have any questions.