Modify this free virtual meet the teacher presentation to welcome your families to your classroom.
As you get ready for another virtual meet the teacher night? Take a look at our free PowerPoint to help you get started.
While it is always great to meet families in person, we understand that right now keeping everyone healthy is most important.
As you are creating your own meet the teacher night, these slides will help you get started.
This is another free resource for teachers from The Curriculum Corner.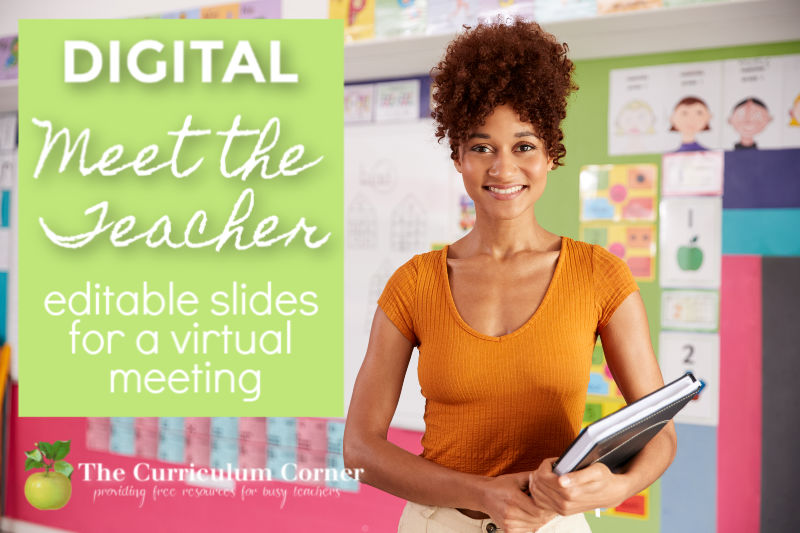 Need help preparing your virtual meeting? We can help!
Download this free virtual meet the teacher presentation to help you create a presentation that fits your classroom.
We know meeting parents in person can be a great start to an important relationship. Since it might not be possible this year, try to focus on the benefits.
Hosting a virtual open house can be a great opportunity for those families that work evenings – those parents who care just as much as parents who work during the day but often miss these important opportunities.
It is much easier for a working parent to be able to request a short break for a quick virtual meeting than take the hours off of work to travel to and attend the in person meeting.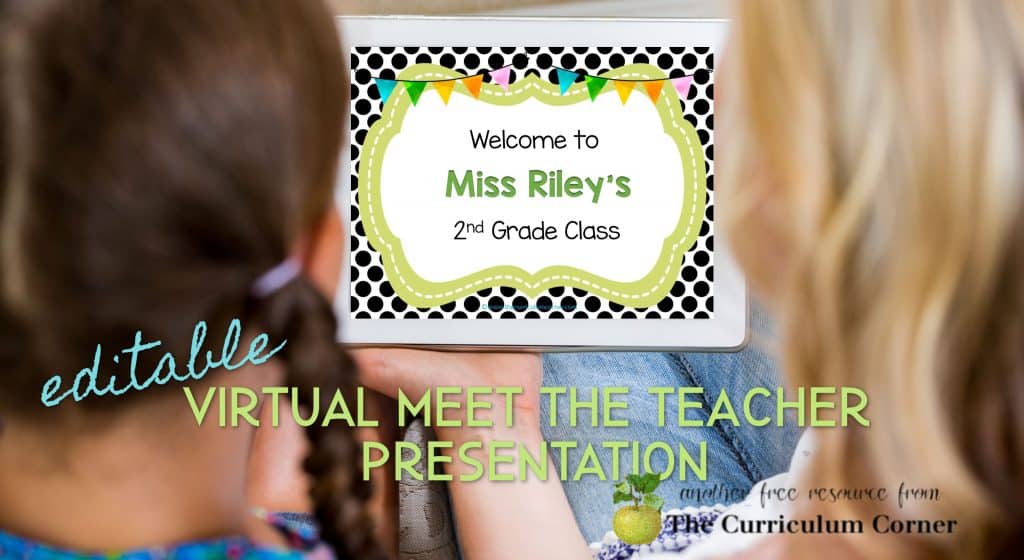 We know that many meet the teacher nights will again be happening virtually this year. This is disappointing as teachers because we know that parents look forward to getting to see where their children will be learning.
Our hope in creating this free resource was that you would be able to give families a glimpse inside your room from a distance.
Also, schools will have many new guidelines that need to be shared. You can include these in your presentation.
Along with procedures such as daily temperature checks, you can include procedures you will be following to keep the room clean and healthy. Share your disinfecting procedures with parents to offer reassurance.
Ideas for Editing this Virtual Meet the Teacher Presentation
We have included some of our ideas but you will want to modify this PowerPoint to fit your school and classroom.
Add your own photos and modify the text so it will introduce your families to your room.
On the contact page, include the information you are comfortable with. We know handing out your cell phone is one that is a personal decision. If you don't typically include this, it might be helpful during distance learning.
Not only will this be great for your initial introduction, you can share a copy of your edited presentation for future reference. Simply save the PowerPoint as a PDF for easier sharing.
This resource can also be shared with new students you might get throughout the year. Simply send the PDF version as an introduction.
You can download this free PowerPoint here:
You will need the following two, free fonts to edit the presentation:
KG Miss Kindergarten and KG Blank Space
Looking for other resources to help you with this school year? Try these:
Looking for matching resource with a black polka dot theme? Try these other freebies for your classroom:
As with all of our resources, The Curriculum Corner creates these for free classroom use. Our products may not be sold. You may print and copy for your personal classroom use. These are also great for home school families!
You may not modify and resell in any form. Please let us know if you have any questions.